This post contains MAJOR spoilers for Downton Abbey: A New Era.
Downton Abbey: A New Era hit UK screens recently, and fans have been reeling about the events of the film ever since! Because there is an air of ~finality~ to the sequel, let's say, I thought now would be a good time to compare main cast in the first ever episode of the TV series vs. the sequel.
1.
Michelle Dockery as Lady Mary Talbot

ITV/Universal Pictures/Ben Blackall
Mary has had a rocky road, but she's certainly grown from her experiences and matured into a much more resourceful and fair-minded person. Since losing her first husband Matthew in series three of Downton Abbey, Mary went on to marry race car driver Henry Talbot at the end of series six. Mary also has two children – George and Caroline.
In A New Era, Mary tries her hand at acting and nearly has a dalliance with suave movie director Jack Barber. In the end, she remains faithful to her conspicuously absent husband, Henry.
2.
Maggie Smith as Violet Crawley, The Dowager Countess of Grantham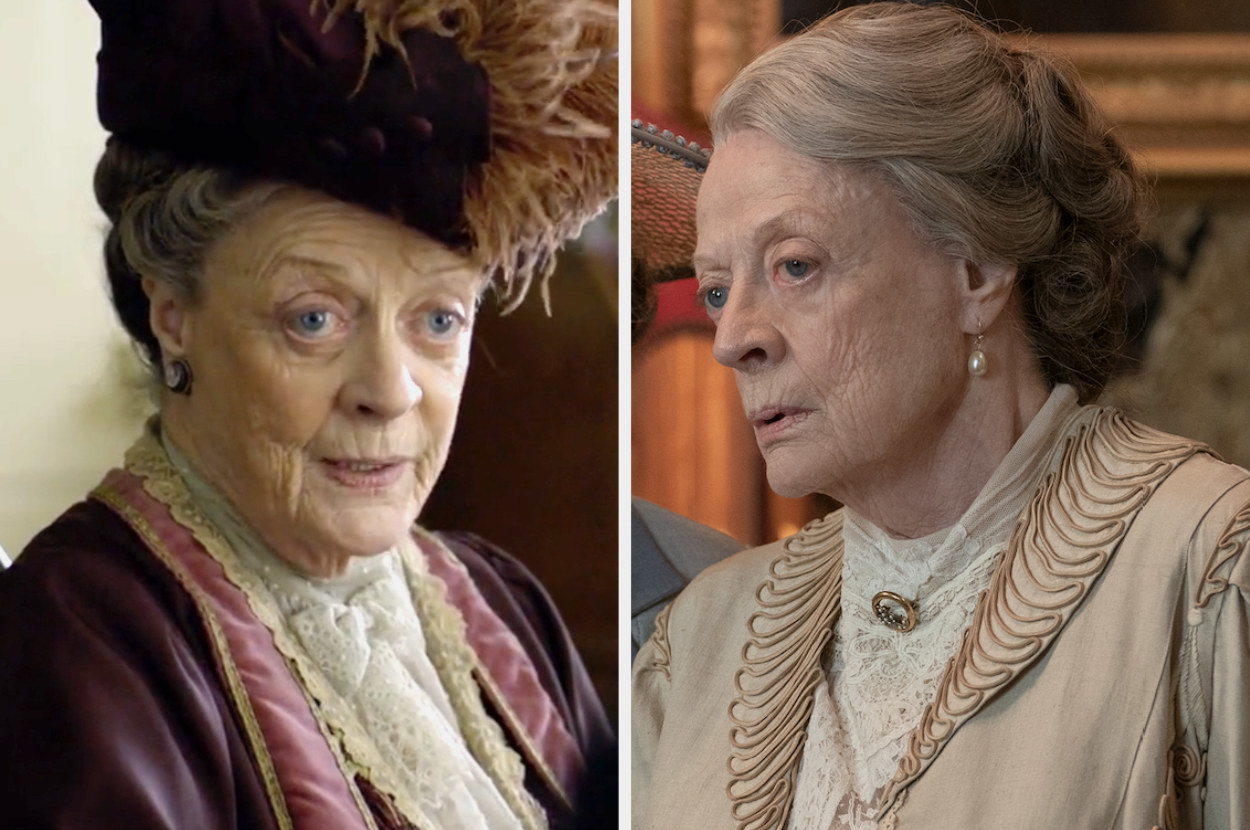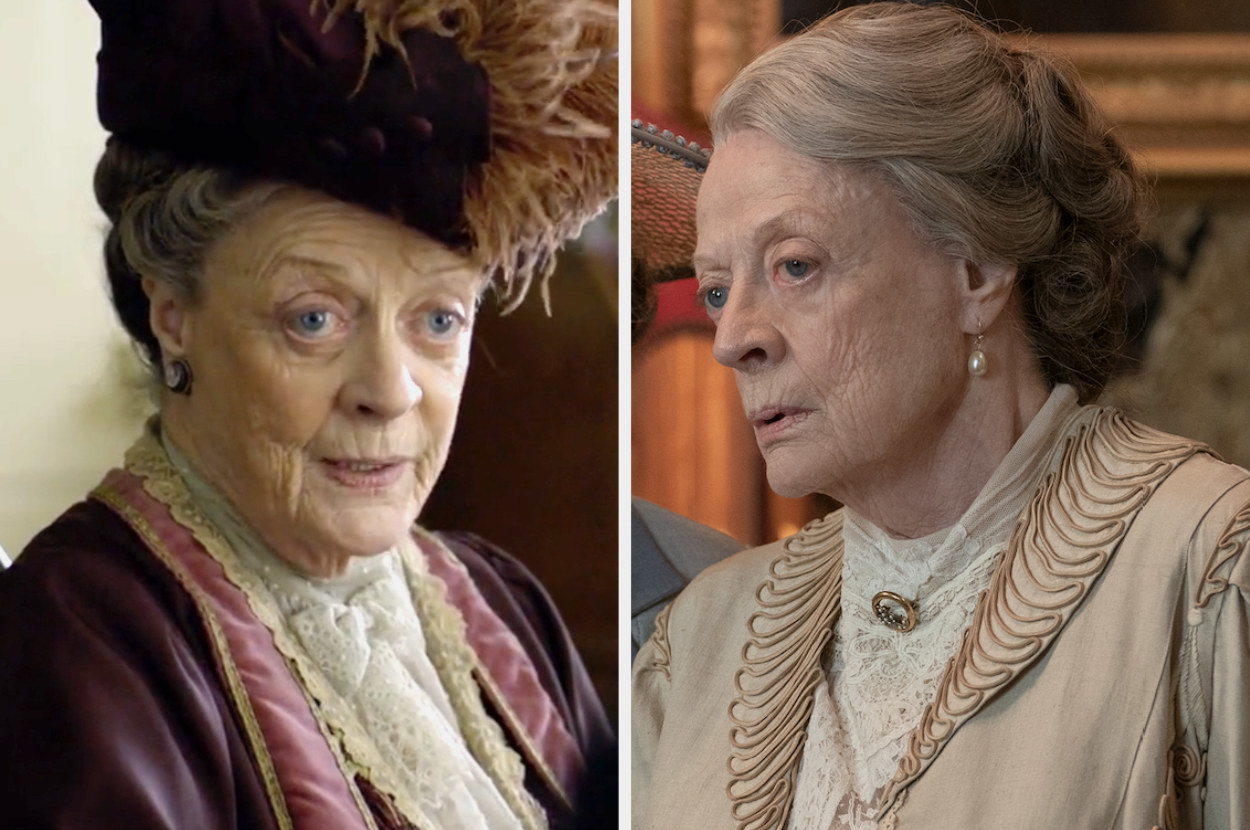 ITV/Universal Pictures
Possibly the most iconic character to come out of the franchise, the silver-tongued Dowager has delivered most of the series and movies' comic relief. Although she has clashed with other characters including Cora, Tom, and Isobel, Violet remains faithful to her family and always puts them first.
MAJOR SPOILER: In the film, Violet has inherited a gorgeous villa in the South of France, which is a catalyst for most of the action in the film. Her benefactor is an old flame who is briefly theorised to be her son Robert's real father, but that turns out not to be true. Sadly, towards the end of the movie, Violet passes away surrounded by her family.
3.
Hugh Bonneville as Robert Crawley, The Earl of Grantham

ITV/Universal Pictures
Over the years, the Earl has gone from head of the Crawley estate, opposed to any and all change, to a benign family patriarch happy to hand over control of everything to his daughter and son-in-law. He's suffered loss, marital problems, and battled bad health, but he's still here!
In A New Era, Robert must comprehend a potentially major change in his personal history, and also support his family as they go through the loss of his mother.
4.
Elizabeth McGovern as Cora Crawley, The Countess of Grantham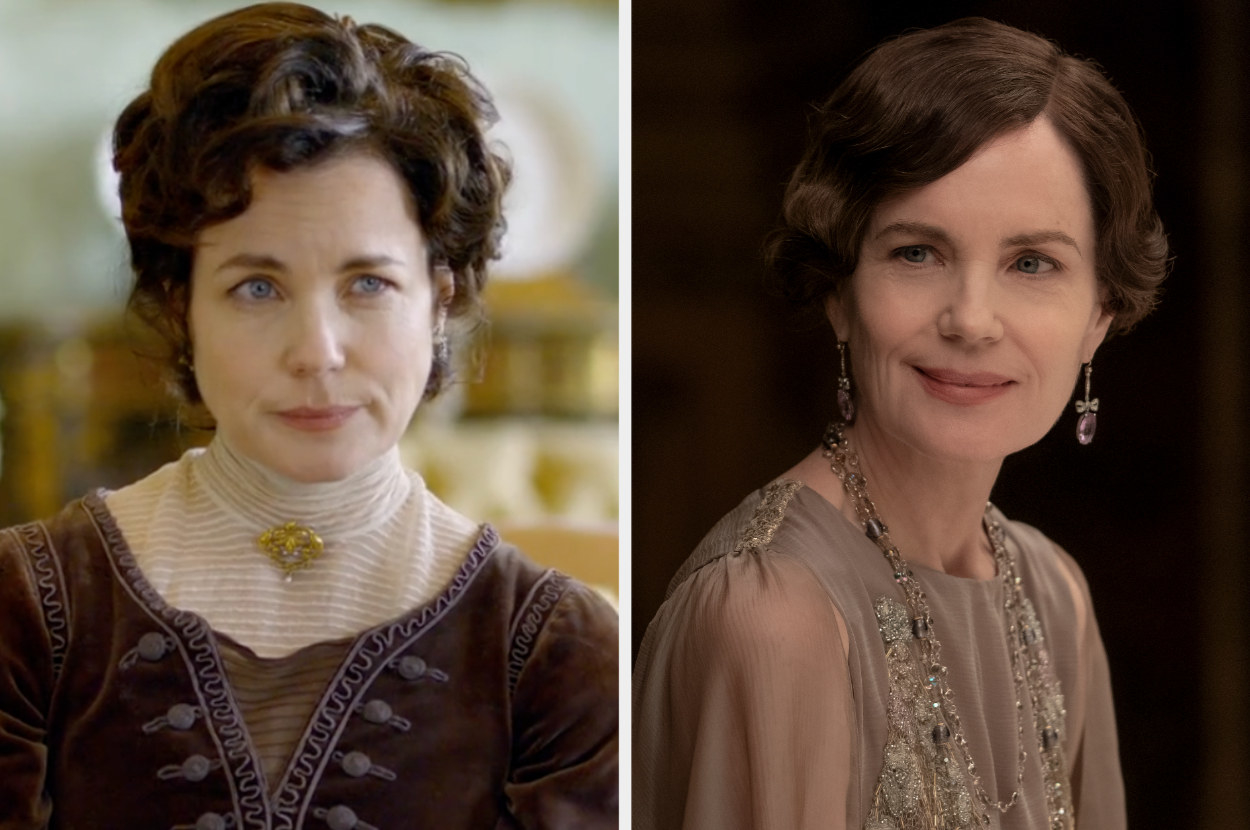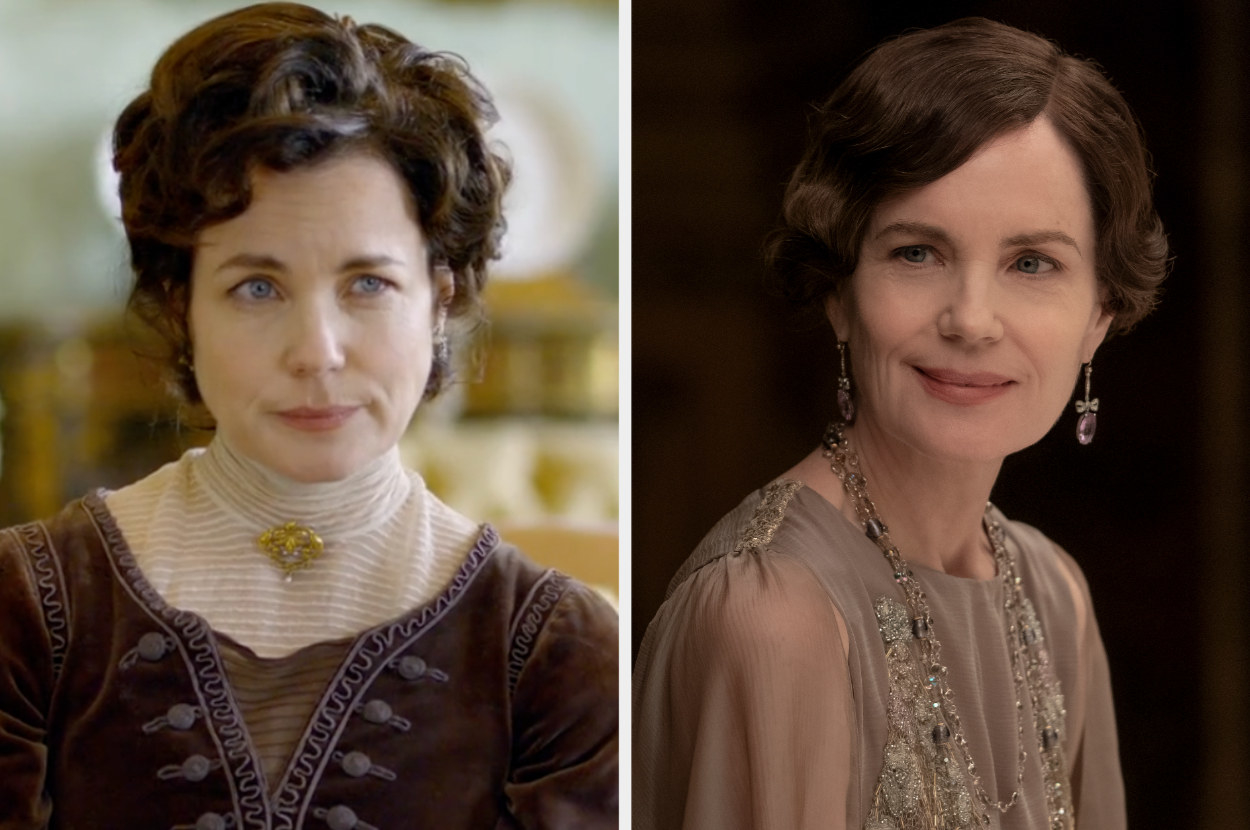 ITV/Universal Pictures
Cora's sunny optimism and progressive views initially contrasted with her husband's preference for traditionalism, but throughout the series the pair were shown to be the perfect team. She's very supportive of her family and her community, opening up Downton to soldiers in need of convalescence during the First World War. She later becomes the president of the Downton hospital board in the final series.
In the movie, Cora believes she may be suffering from cancer, but she is actually diagnosed with anaemia, and projected to make a full recovery.
5.
Laura Carmichael as Edith Pelham, Marchioness of Hexham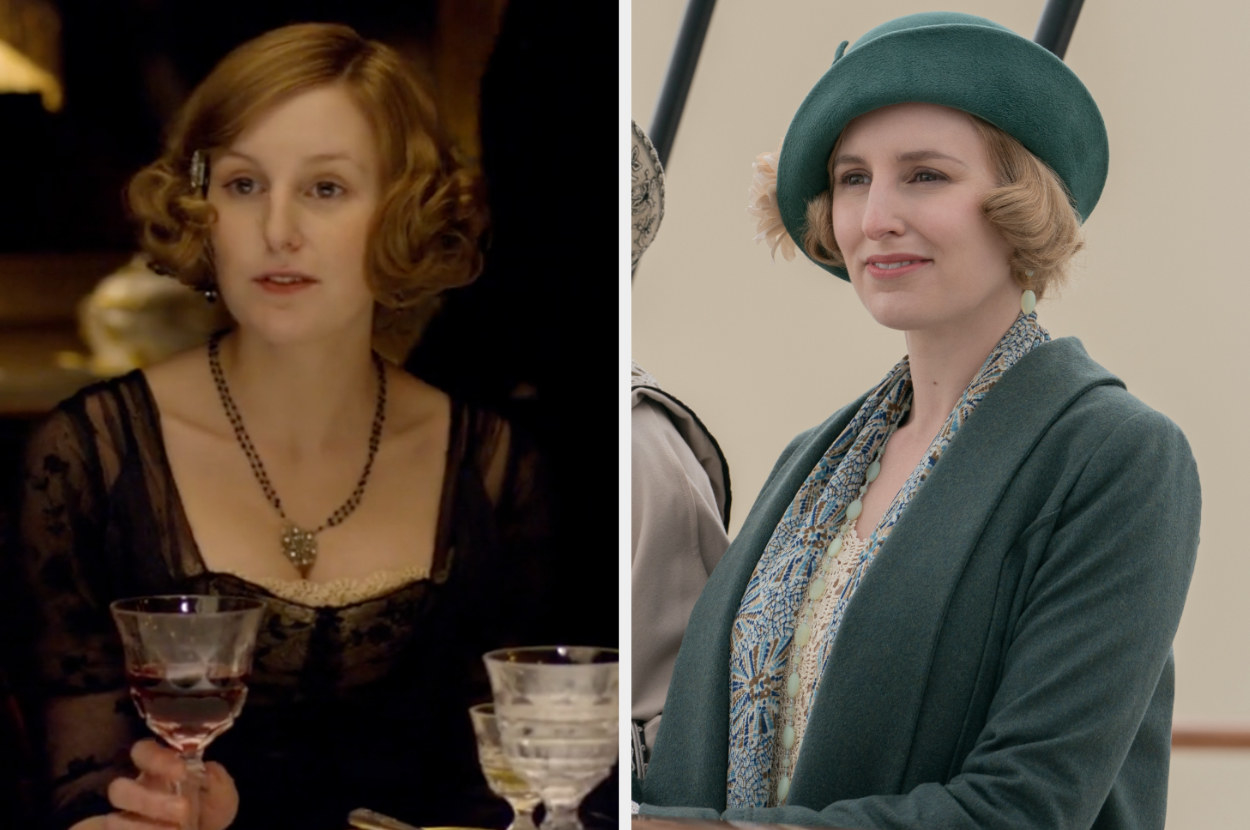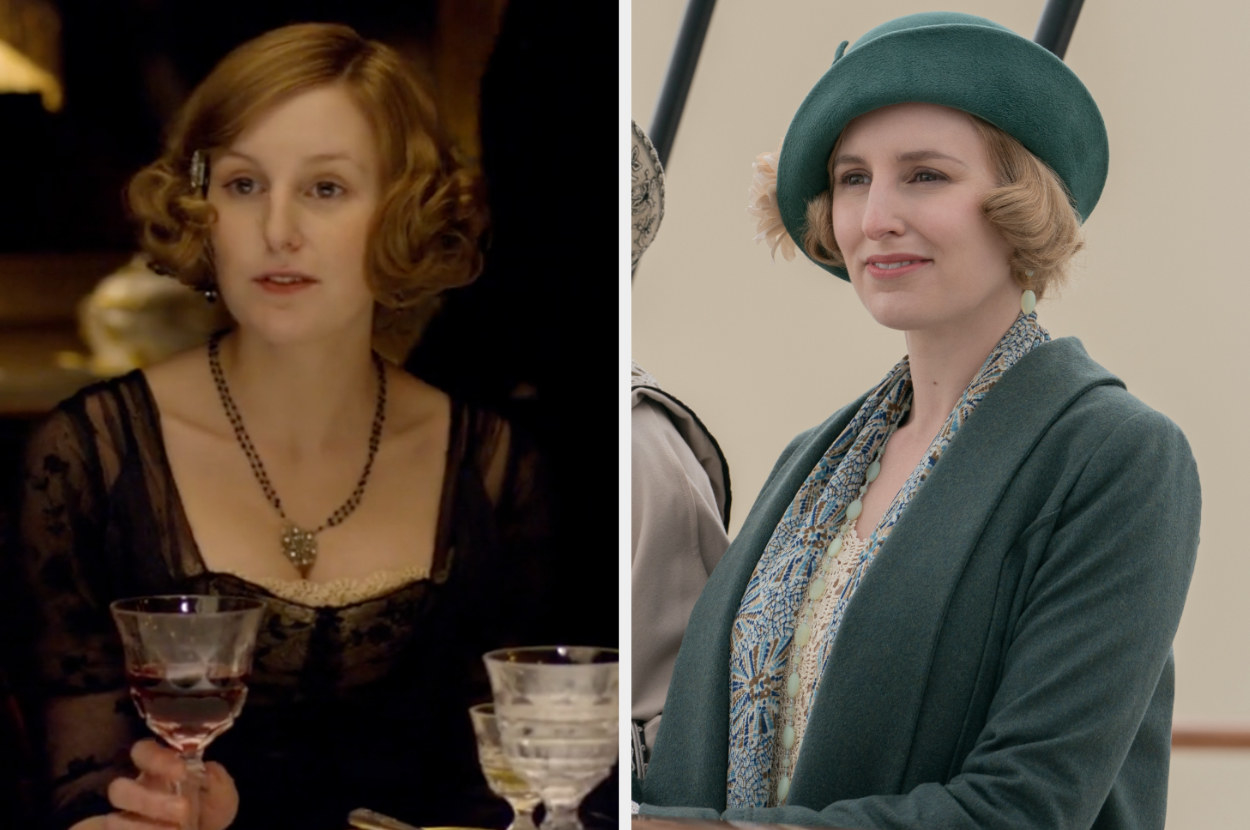 ITV/Universal Pictures
Edith was always the "ugly duckling" of the Crawley sisters, but the underestimated middle sibling charts an enviable course for herself when she pursues a career in journalism and later takes control of her late fiancé's magazine publisher. In series six, Edith marries Bertie Pelham and becomes a marchioness. She has three children – Marigold, Arthur, and Robert.
In the movie, Edith is sort of along for the ride when she goes to stay in the South of France with her family. She wants to write an article about people holidaying in the French Riviera during the summertime, which was apparently unheard of in the 1930s. She also wears some BANGING outfits.
6.
Jim Carter as Charles "Charlie" Carson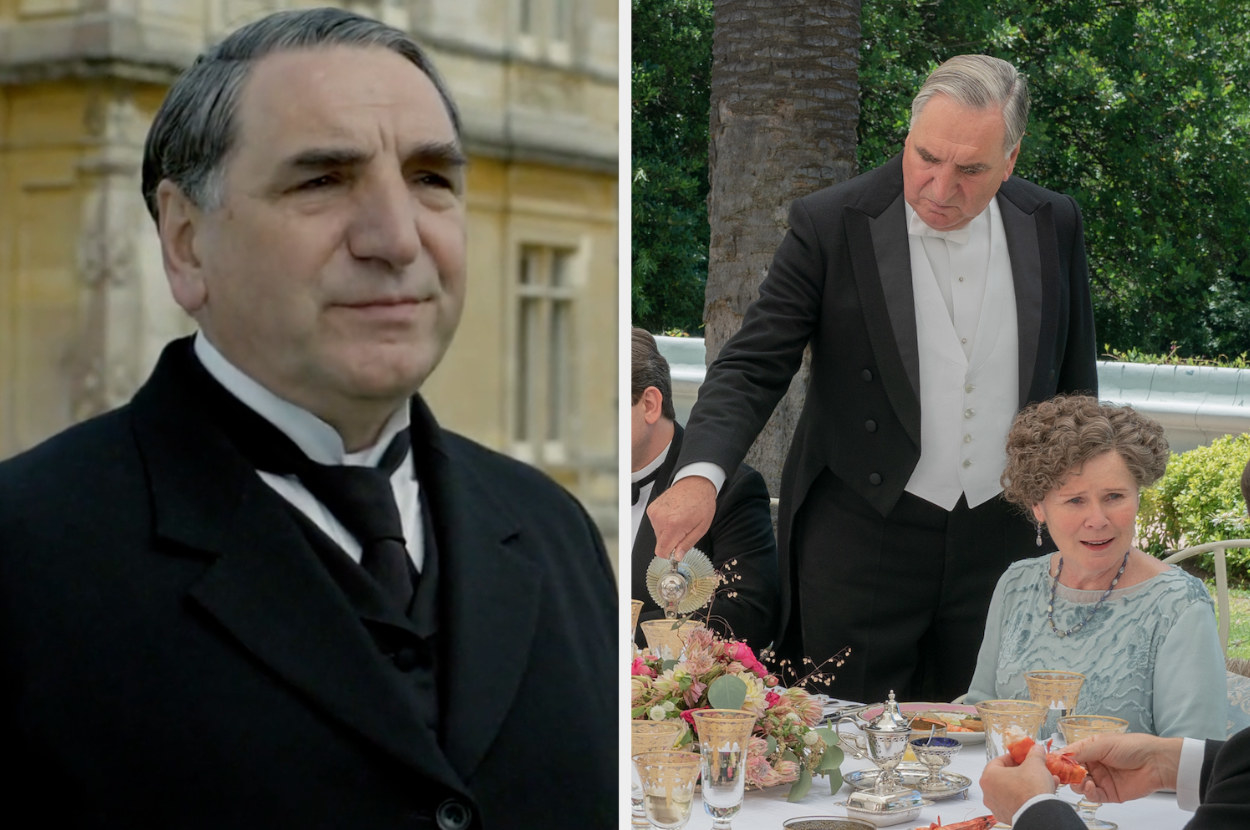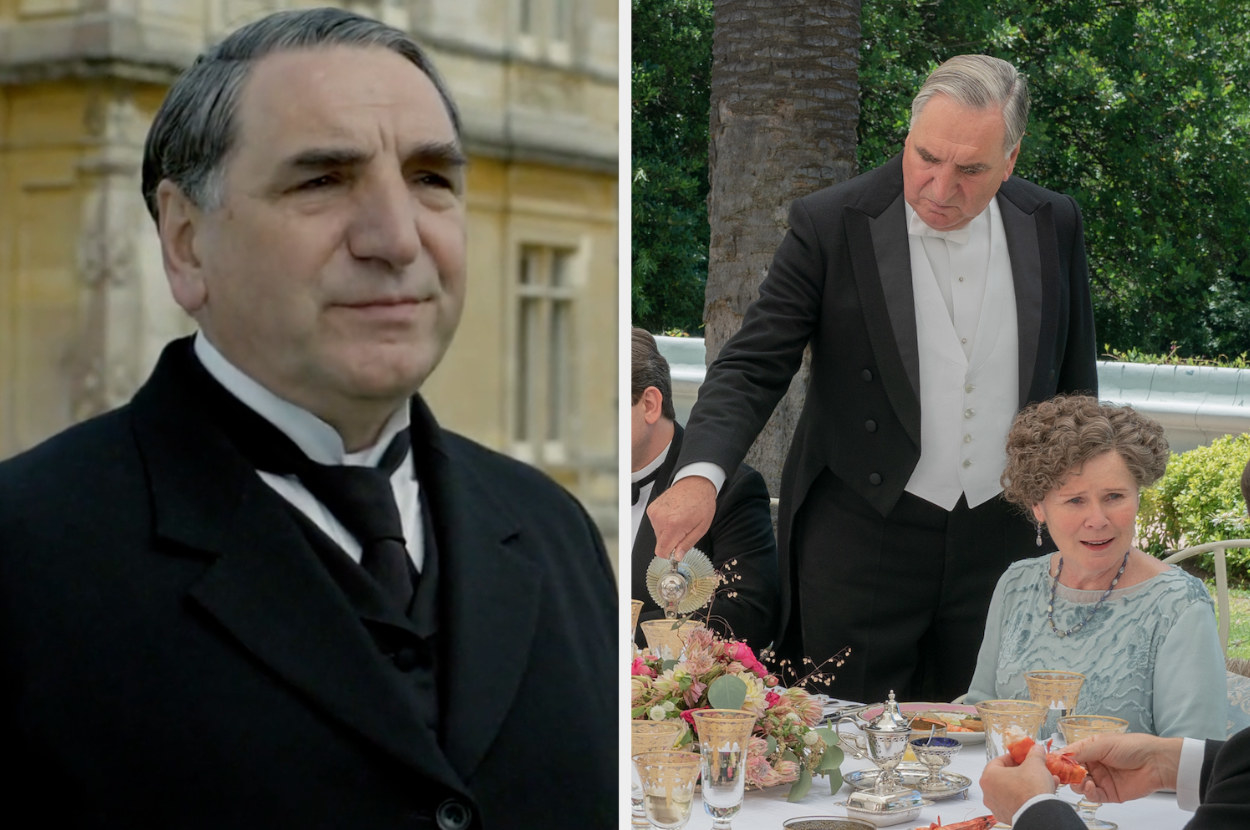 ITV/Universal Pictures
Another iconic character from the Downton saga is Carson, former butler at the Crawley's stately home. Carson has worked at Downton Abbey all of his life, and is incredibly fond of the family. At the end of series five, he marries Mrs Hughes – the housekeeper – and they move in together just off the grounds of Downton.
In A New Era, Carson is hoodwinked into travelling to the South of France with the Crawley family where he battles to keep his dress code up to snuff, despite the stifling heat. Fun fact: Jim Carter is actually married to co-star Imelda Staunton!
7.
Phyllis Logan as Elsie Carson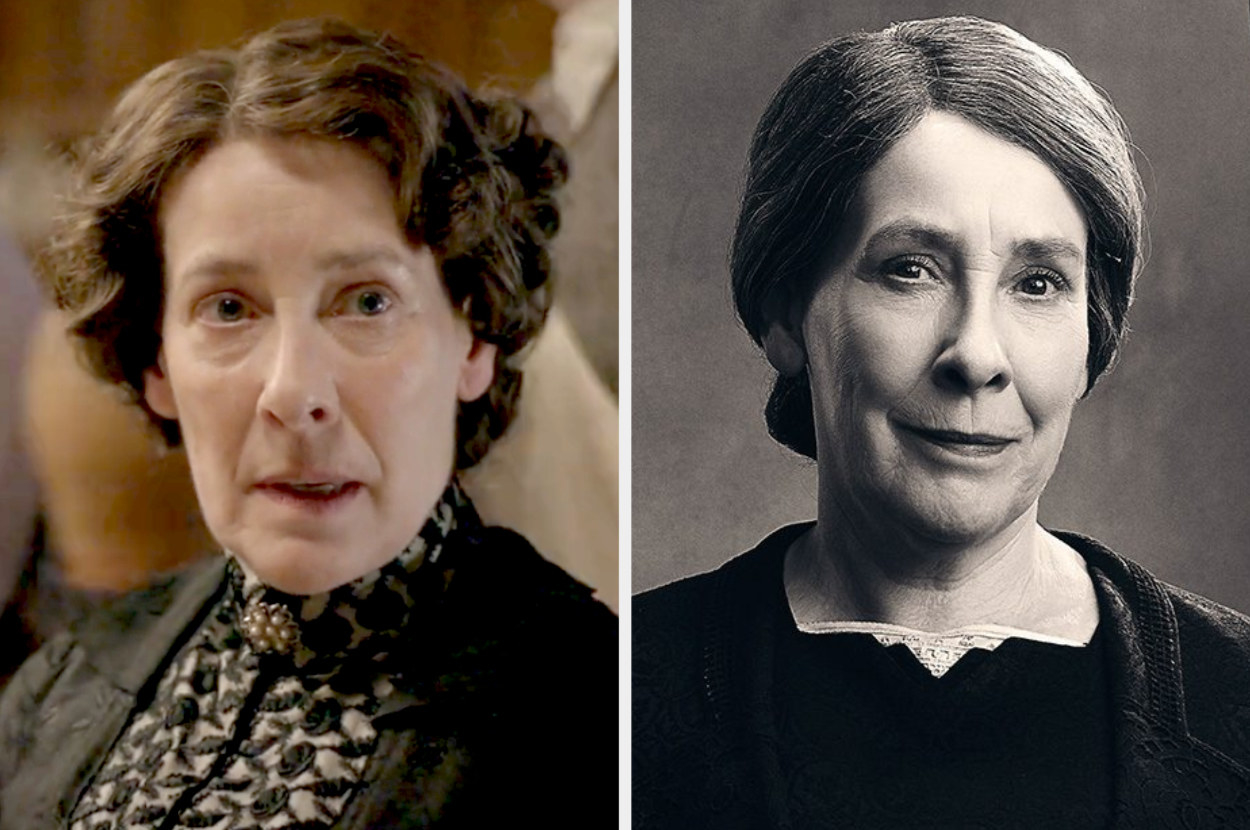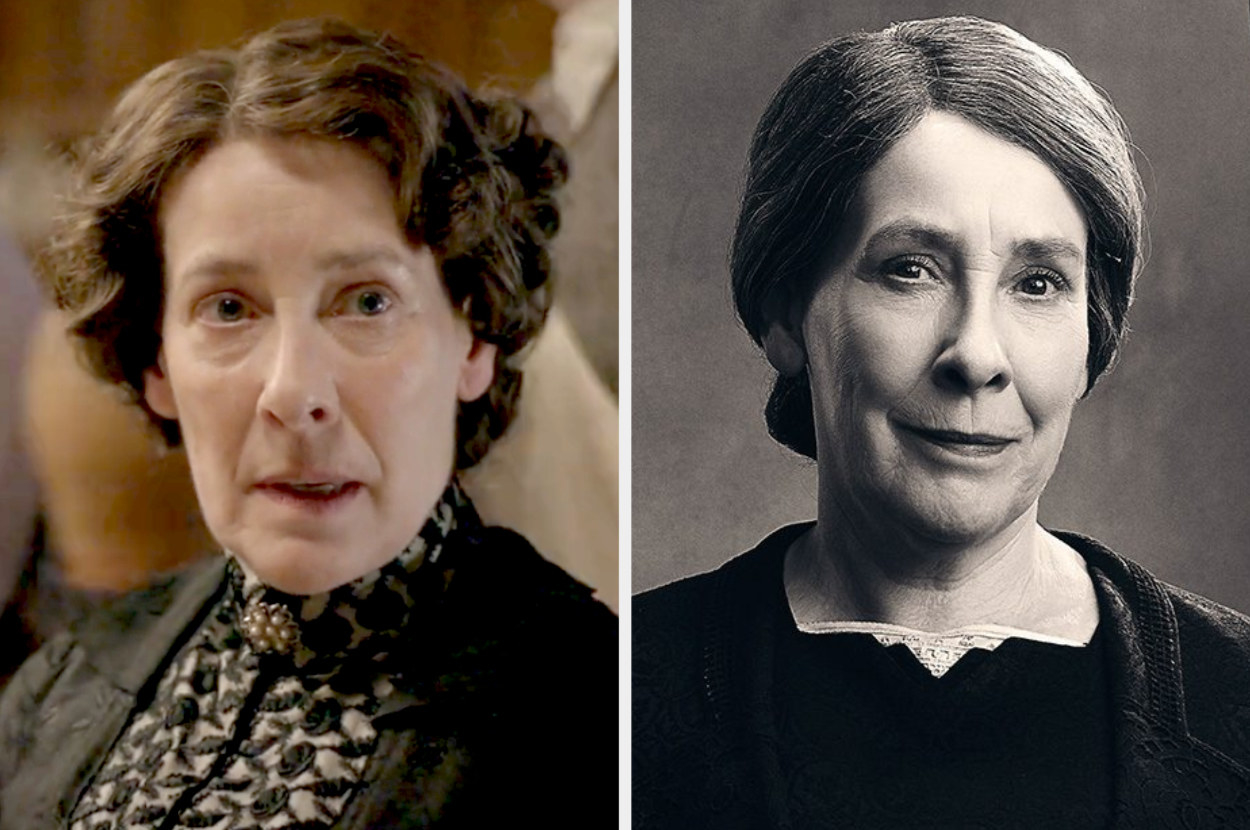 ITV/Universal Pictures
Mrs Hughes is the kind but firm housekeeper at Downton, who manages to keep everyone in line while also maintaining friendships with many of her colleagues, including Anna and Mrs Patmore. She marries Carson in season six of the TV series. In the movie, Mrs Hughes, is just chilling, and we see more of relationship with Carson, which is cute!
8.
Penelope Wilton as Isobel Grey, Lady Merton

ITV/Universal Pictures
Isobel is the mother of Matthew Crawley, who, before his sudden death in season three, was the heir to Downton. She often clashed with the rest of the Crawley family due to her liberal and progressive values. A former nurse, Isobel is dedicated to her charitable efforts and helps Cora run her convalescent home. In the final series of Downton Abbey, Isobel marries Lord Merton. In the movie, she helps fill in the blanks for some of Violet's mysterious back story.
9.
Joanne Froggatt as Anna Bates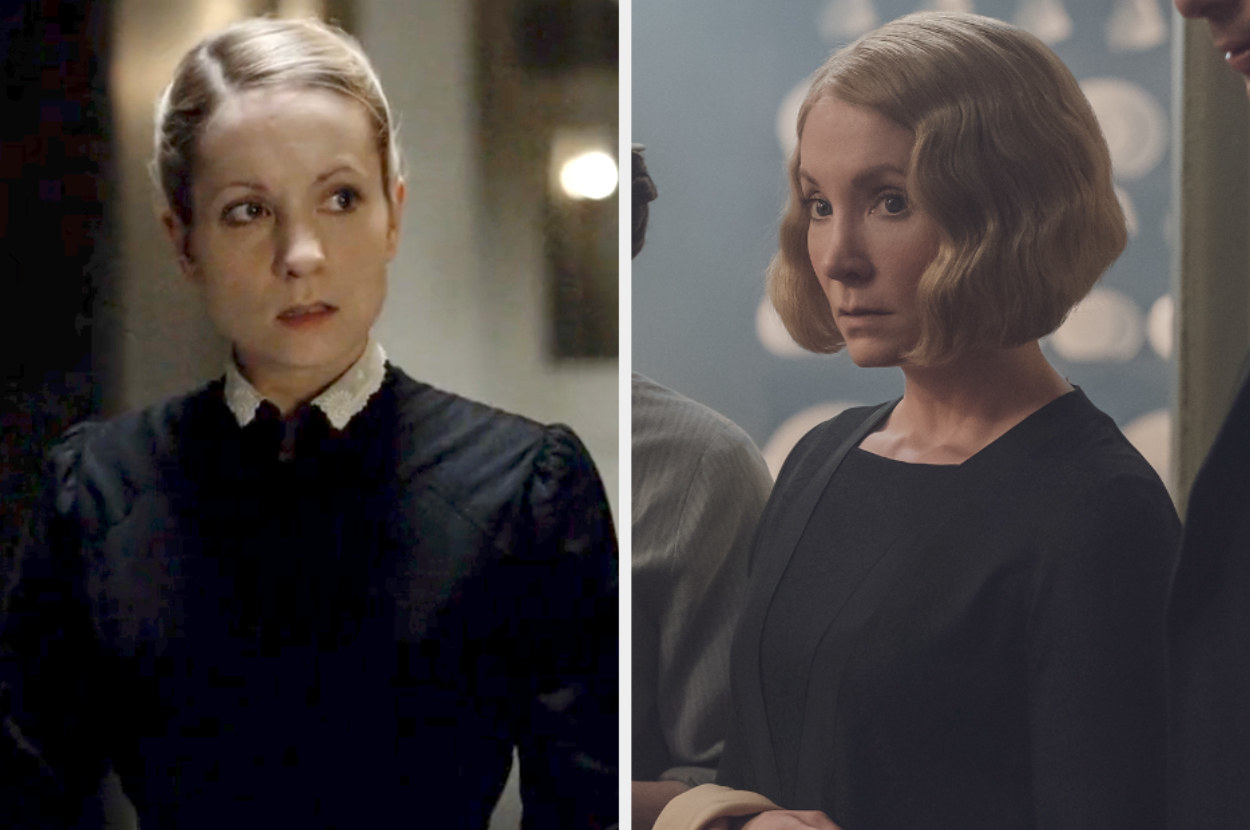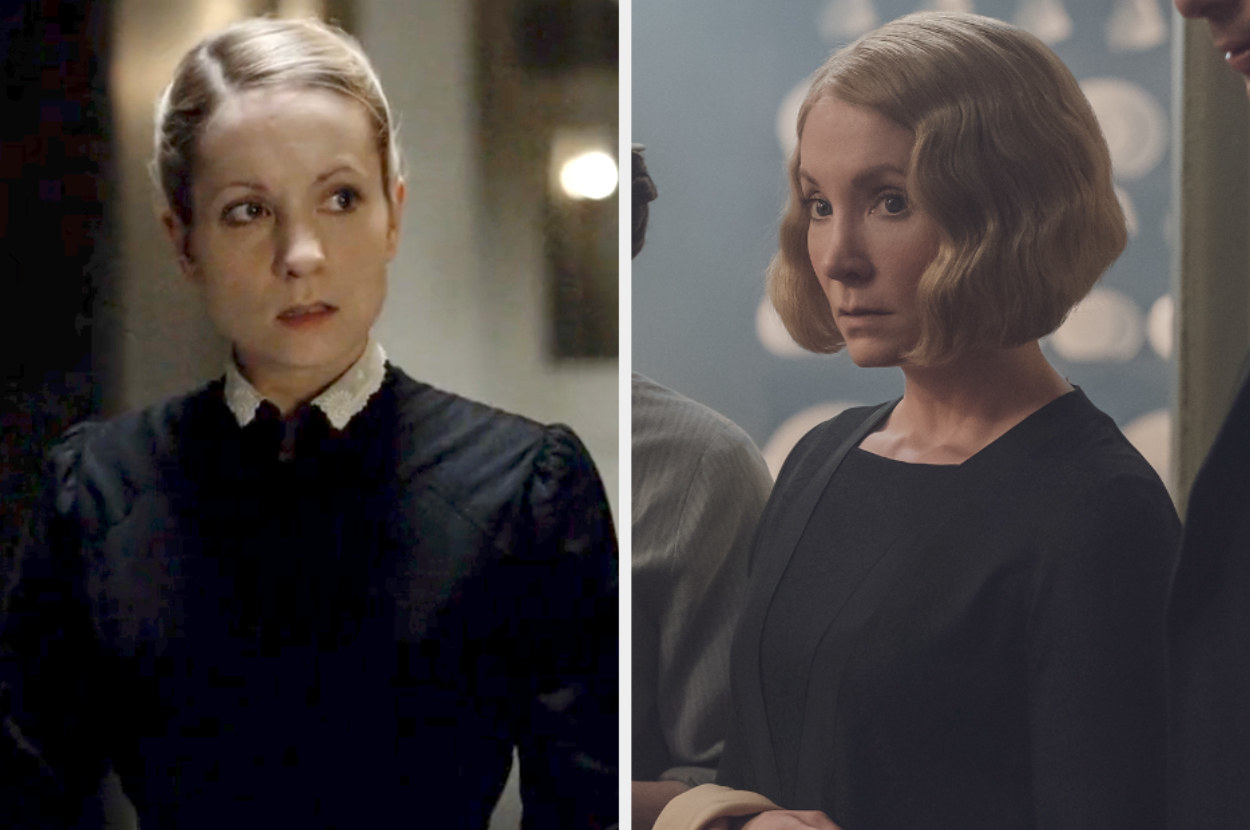 ITV/Universal Pictures
Anna has been through a lot. Initially a lady's maid to Mary, Anna courts and eventually marries her colleague John at the end of series two. She is then violently assaulted and raped in series four, which affects her marriage and her mental state considerably.
After her attacker dies, Anna is arrested on suspicion of his murder, but is eventually acquitted. Through the love and support of her friends and her husband, Anna is able to move past the dark events in her life and focus on the future.
10.
Brendan Coyle as John Bates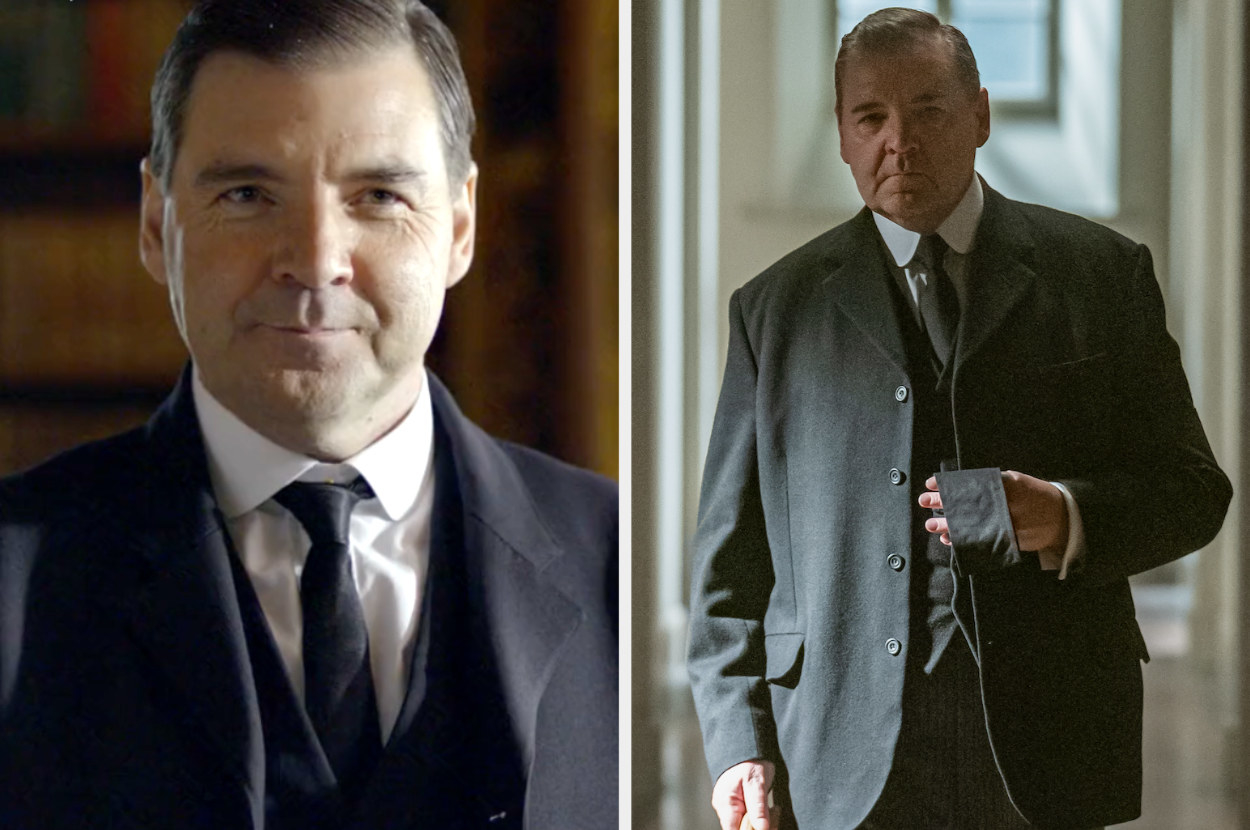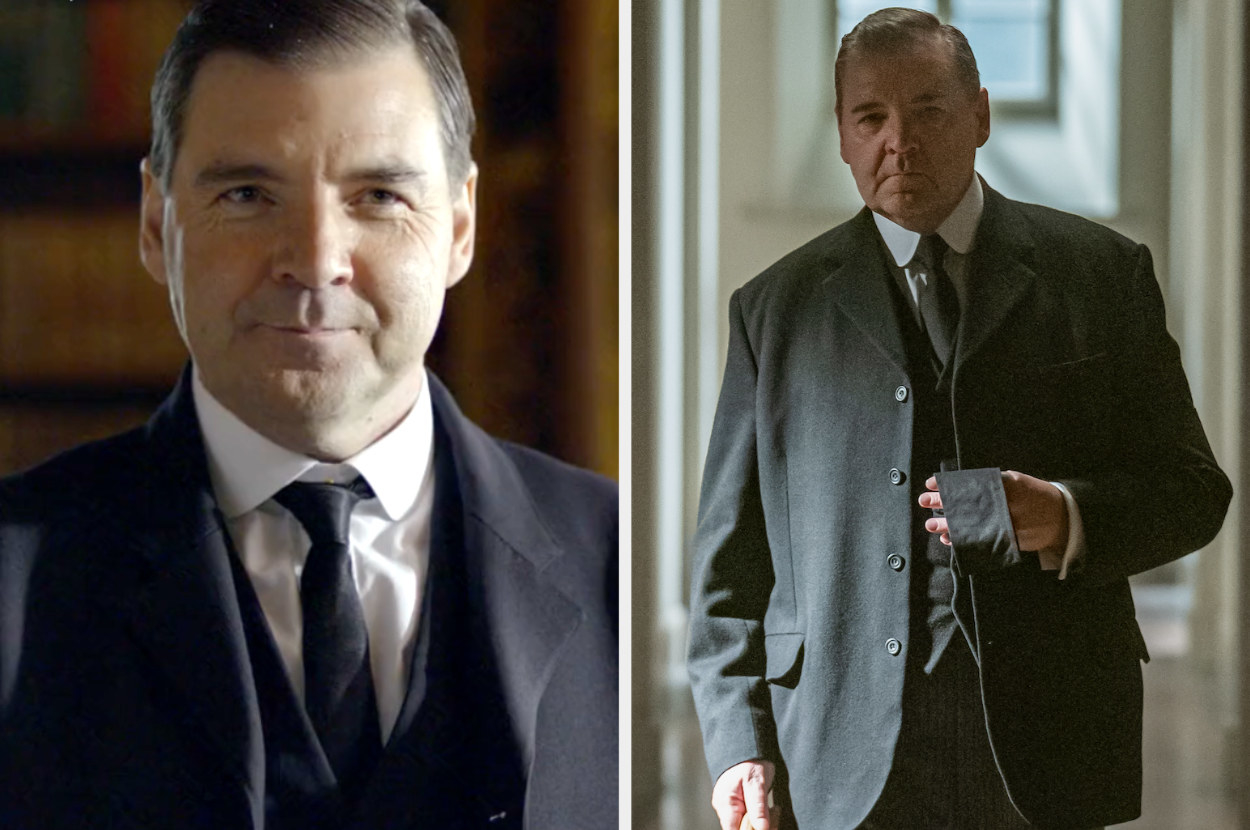 ITV/Universal Pictures
Similarly to Anna, John's Downton journey has been a rocky one. He is initially Robert's valet, and faces prejudice from the rest of the household staff due to his limp. Anna's the only one who shows him kindness, and the two soon fall in love. John has a fraught relationship with his ex-wife, who he is accused of murdering in series three, which briefly lands him in prison. He's eventually cleared of all charges and moves into a cottage with Anna. In the film, John and Anna are shown to still be happily in love and working together at Downton.
11.
Allen Leech as Tom Branson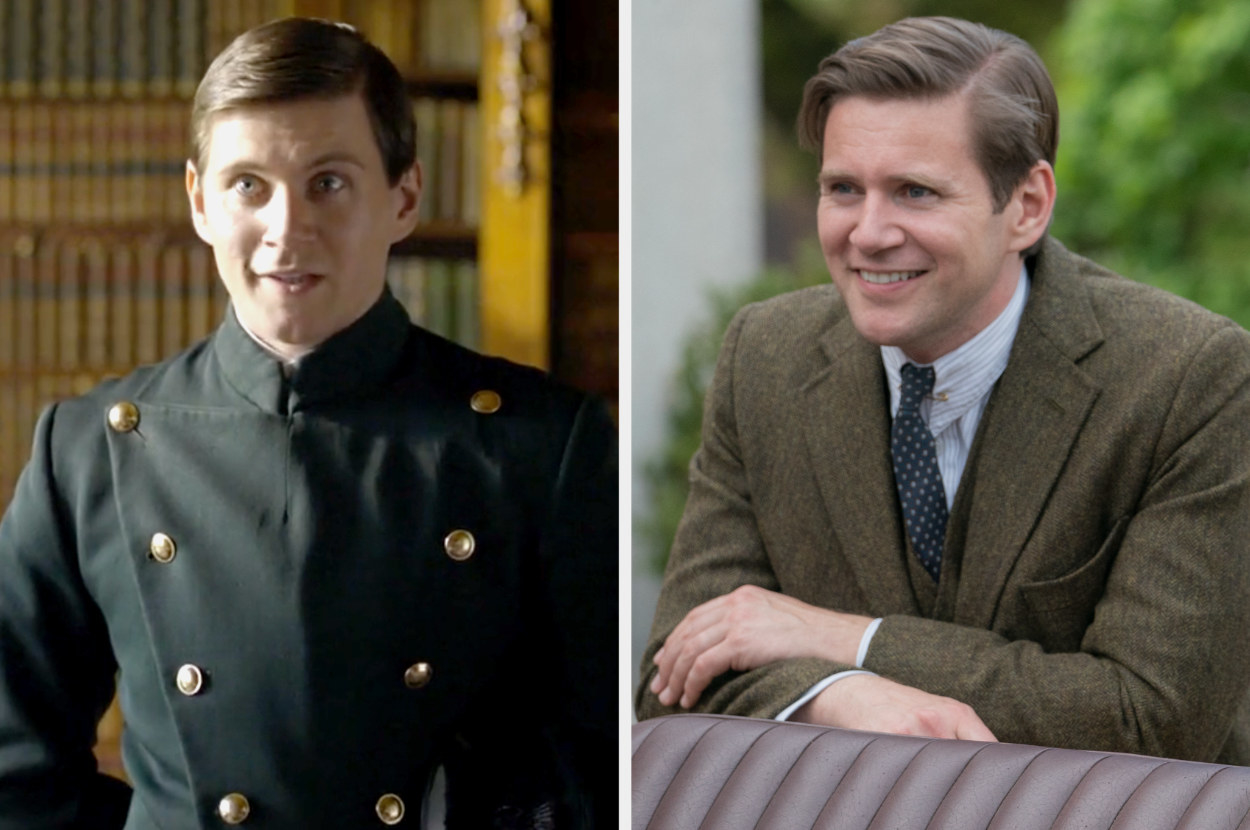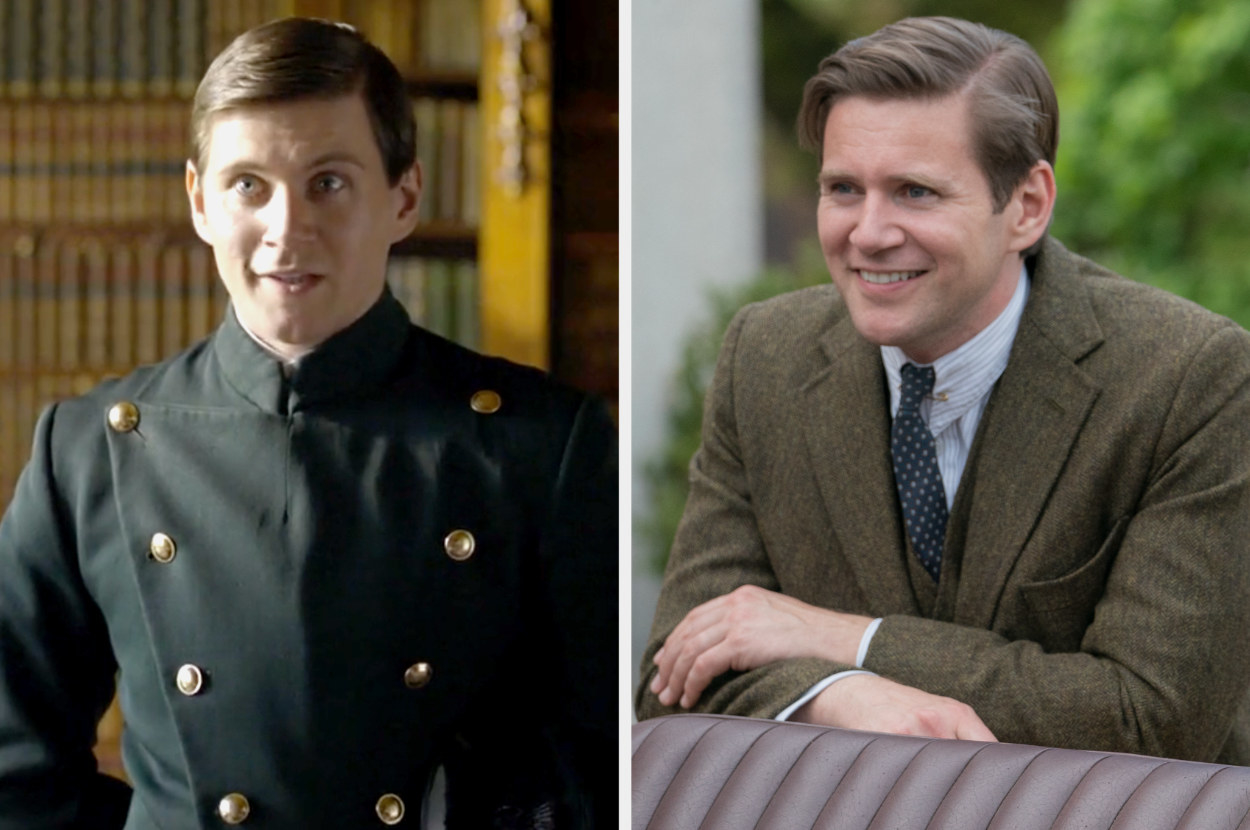 ITV/Universal Pictures
Tom starts at Downton as the family chauffeur, but his romantic relationship with Lady Sybil allows him to ascend the ranks to become a member of the Crawley family. After Sybil's death, Tom brings up their daughter Sybil alone, and becomes a land agent for the estate. He helps Mary to modernise Downton, but often feels he is not truly a member of the family, as the privilege of the position conflicts with his proud Irish roots.
In the first film, Tom begins a flirtation with Lucy Smith, a lady-in-waiting to Queen Mary and a cousin of the Crawleys. At the start of A New Era, they marry, and by the end of the film they have a baby together.
12.
Rob James-Collier as Thomas Barrow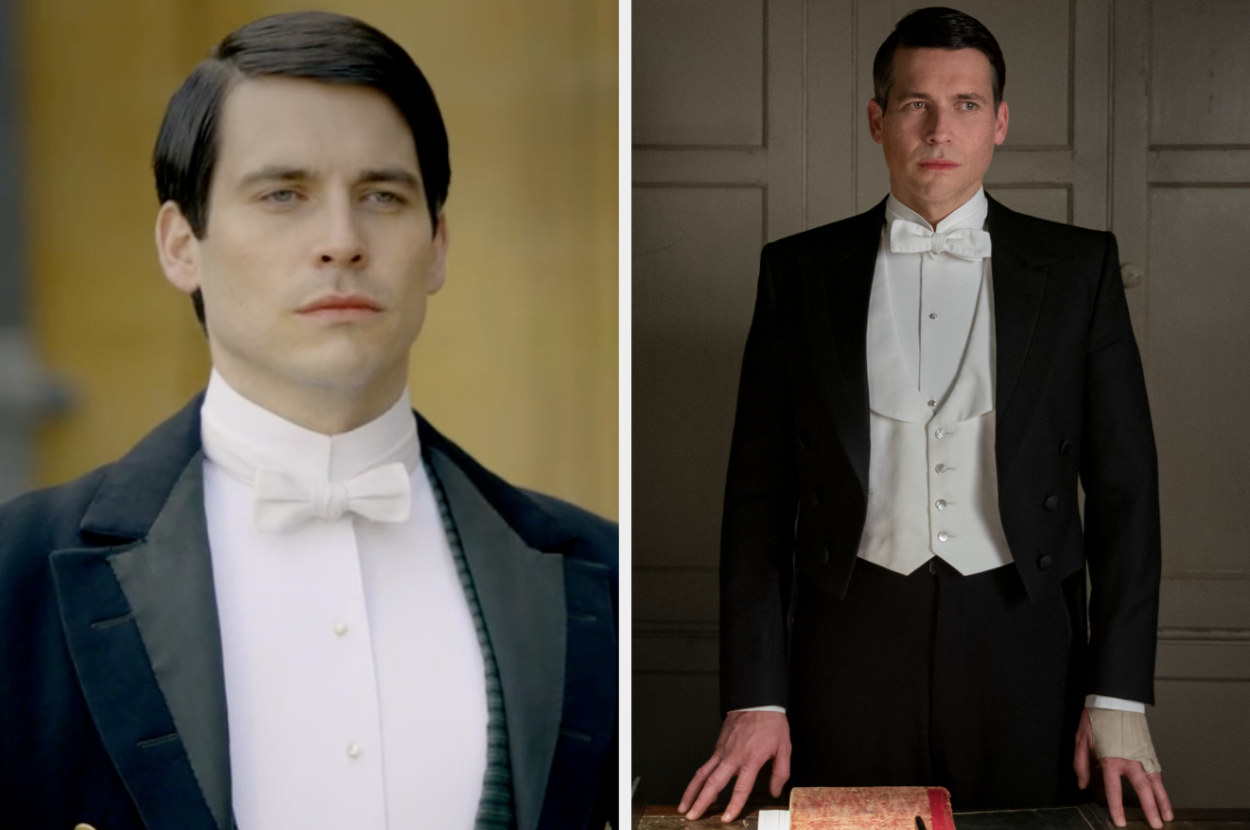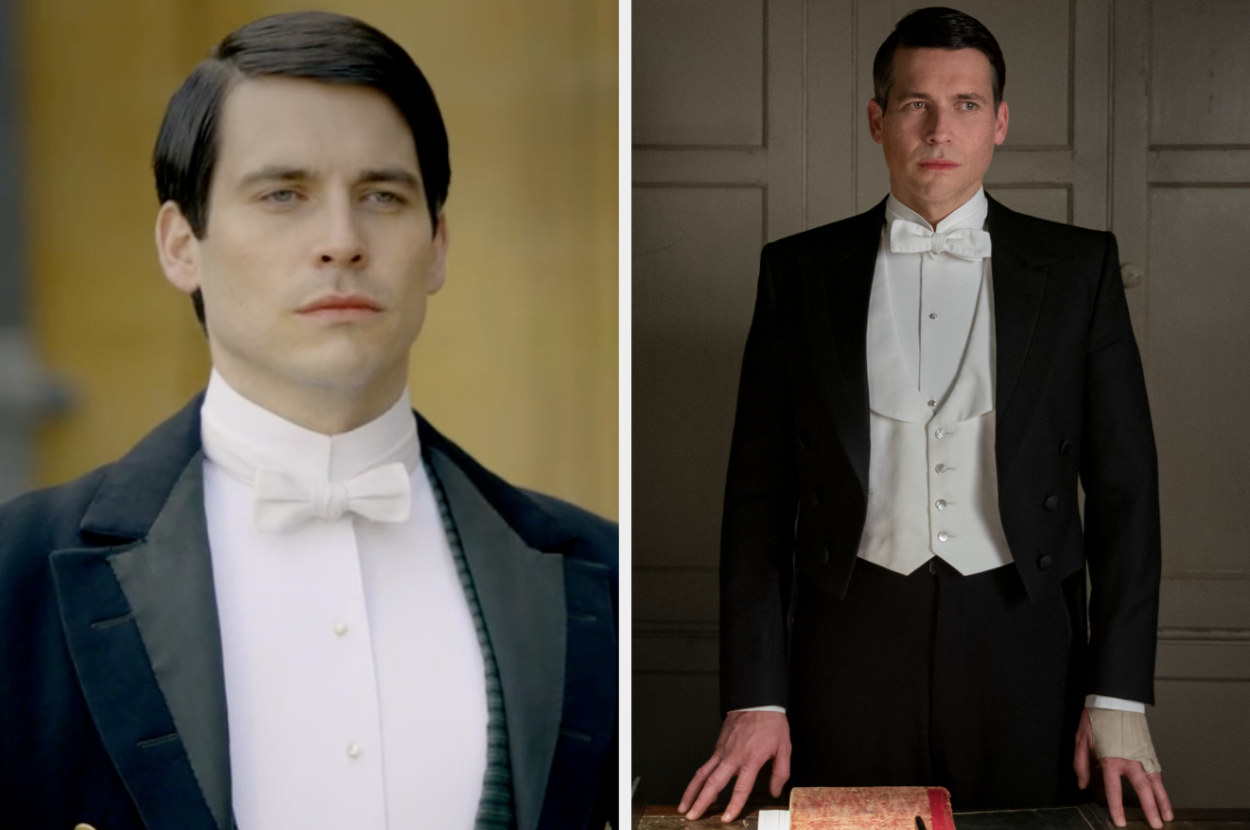 ITV/Universal Pictures
Thomas is probably one of the most changed characters over the course of Downton Abbey. Initially a villain, Thomas is shown to be a vulnerable soul when he falls for Jimmy Kent, a footman, in series three. Thomas's sexuality is an open secret, and though no one seems to take issue with it, he is pitied for it and it's presumed he will end up alone.
In the first Downton film, Thomas meets Richard Ellis, the King's valet, who he develops feelings for. The pair have hella chemistry, but the romance is cut short in A New Era when Thomas receives word that Richard has married a woman. Assuming he will be alone forever, Thomas is delighted when he receives an offer from a renowned actor staying at Downton to be his butler/secret life partner. Thomas accepts the offer, and gives Lady Mary his resignation at the end of the movie.
13.
Sophie McShera as Daisy Mason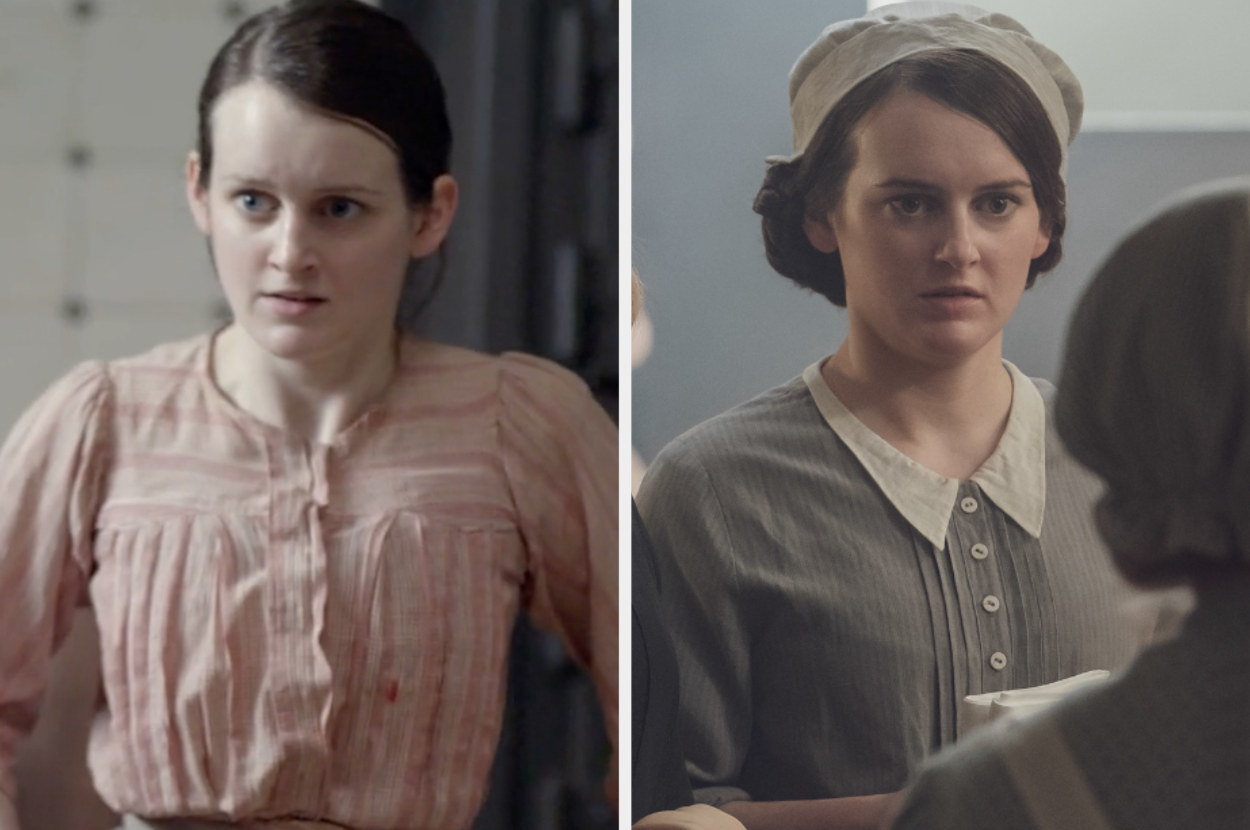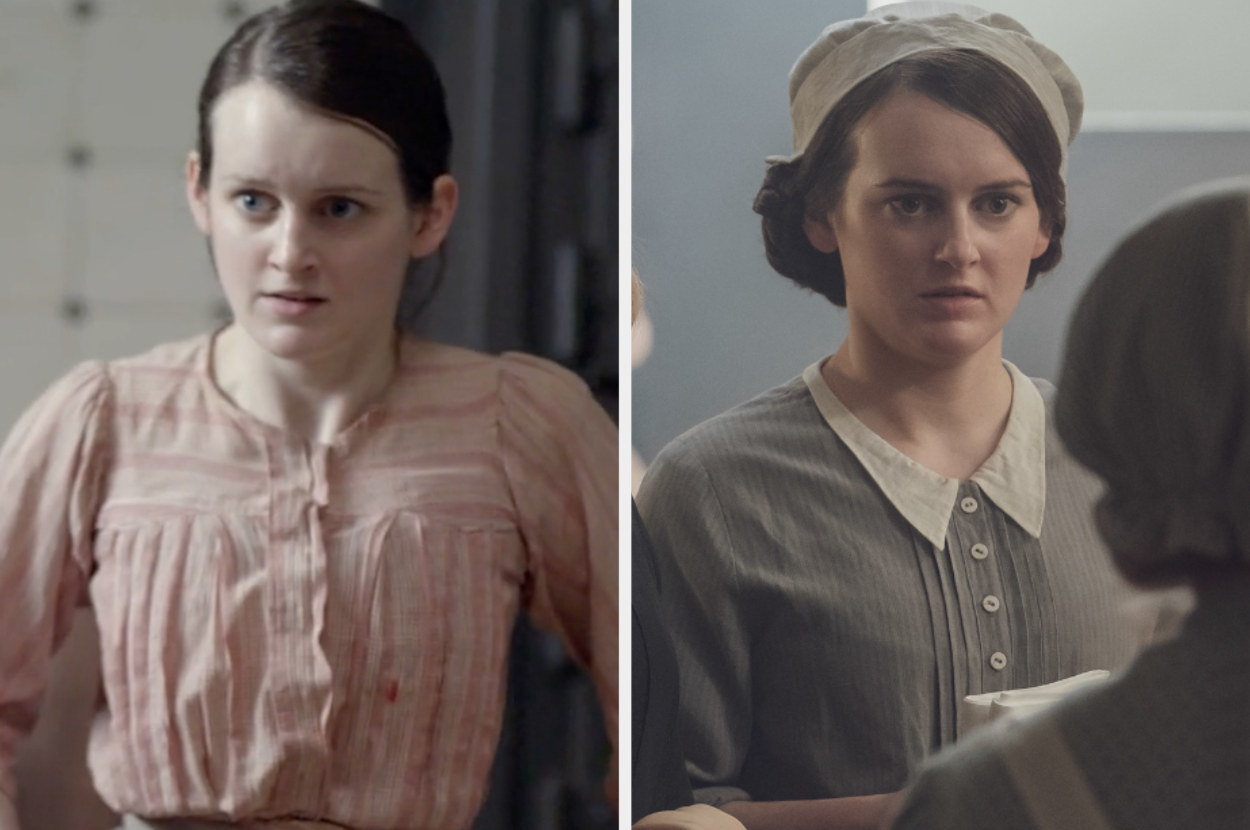 ITV/Universal Pictures
Well-meaning yet naive, Daisy begins life at Downton as a kitchen maid, but eventually progresses to assistant cook. She initially fancies Thomas, but moves on and marries a footman named William, who later dies at war. Daisy strikes up a friendship with William's father, who thinks of her as an adopted daughter. She later marries Andy, another footman, and moves with him to Yew Tree Farm, located on the Downton estate.
In A New Era, Daisy is happily married to Andy, and is excited to be mingling with movie stars as Downton becomes the set of a Hollywood picture. Daisy becomes friends with the star of the film, Myrna Dalgleish. She encourages Myrna to keep acting after Myrna becomes concerned that her Cockney accent will affect film career now that talkies are coming into vogue.
14.
Lesley Nicol as Beryl Patmore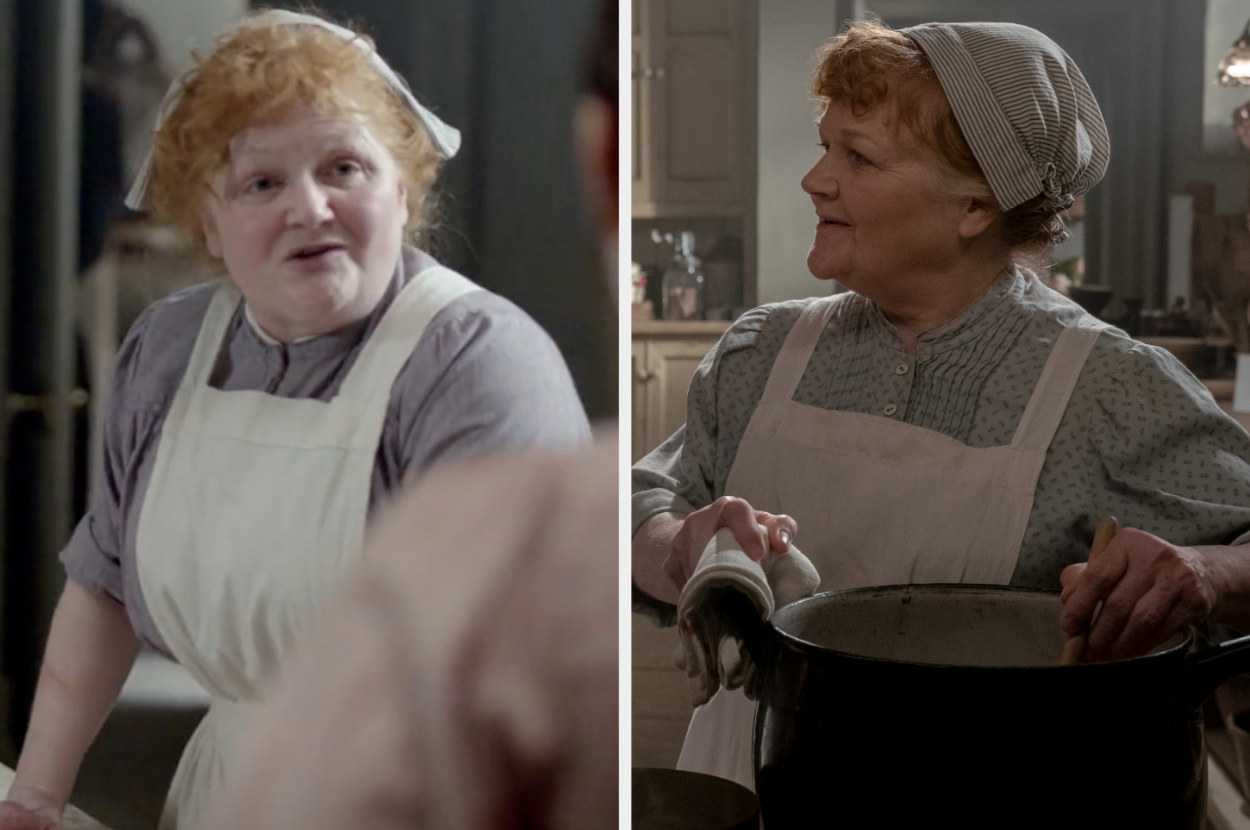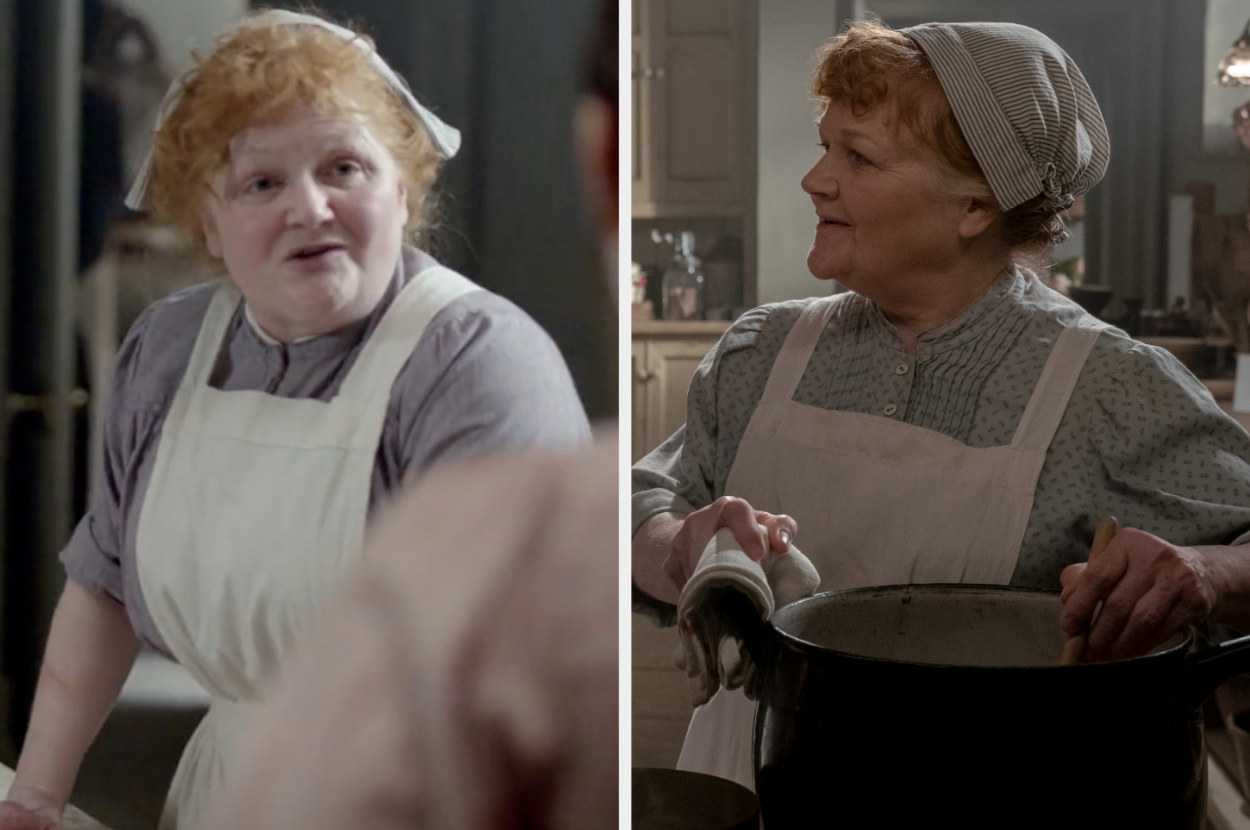 ITV/Universal Pictures
Downton's resident cook is known for the pride she takes in her work, as well as her sharp yet jokey demeanour. She is very close with both her assistant Daisy and Mrs Hughes. At one point, Mrs Patmore nearly loses her eyesight, but she has cataracts surgery to restore her vision.
In the recent film, Daisy plays matchmaker between Mrs Patmore and her father-in-law Mr Mason. The two end up agreeing to restart their relationship at the end of the film and move in together.
15.
Kevin Doyle as Joseph Molesley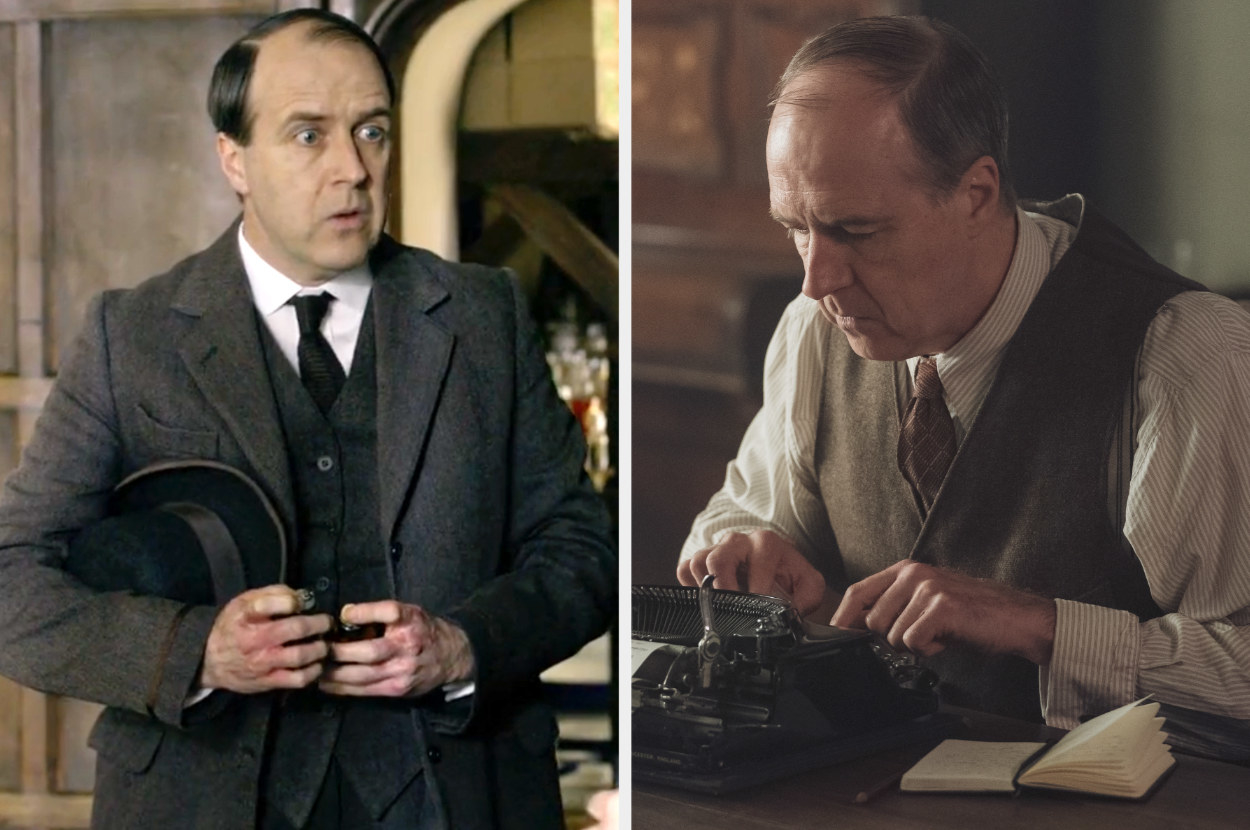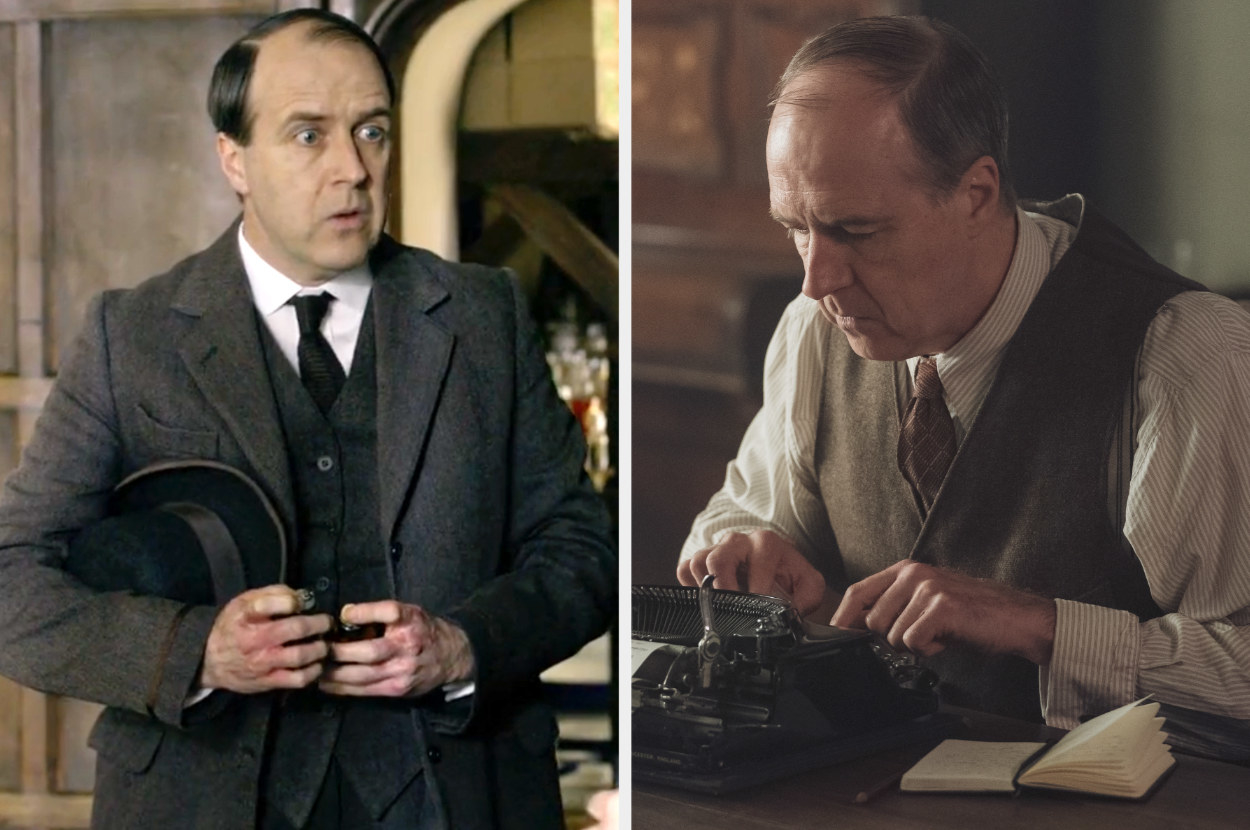 ITV/Universal Pictures
Moseley is initially the butler of Crawley House, but when the war begins, he is upgraded to serve at Downton Abbey. Moseley goes between Downton and the Crawley House until he leaves to become a schoolteacher.
In A New Era, Moseley comes into his own and is commissioned to tidy up the script for the film that is being shot at Downton. Off the back of it, He's ultimately offered a scriptwriting job by the director of the movie. Moseley also proposes to Cora's maid, Baxter, and she accepts!
Are you excited for Downton Abbey: A New Era? Have you seen it already? Let us know your thoughts in the comments!