It's been a decade since the last Twilight movie came out, and yup, we still can't get every single one of those ridiculous films out of our heads. So here are 24 wild details you might have missed while watching them the first time around:
1.

Stephenie Meyer's cameo:

Stephenie Meyer author of Twilight is in the first movie. from
MovieDetails
2.

This hat tip to the publishing company:

In Twilight (2008), the list of bookstores and publishers includes Little Brown, who published the series. from
MovieDetails
3.

Edward's angel wings:

In 2008s Twilight when Bella first meets Edward, a taxidermied Owl makes Edward look like he has the wings of an angel. from
MovieDetails
4.

Jacob's name on his fake ID:

In Twilight: Breaking Dawn, Part II (2012), a fake driver's license is made for Jacob, a werewolf, with the name "Jacob Wolfe". from
MovieDetails
5.

The reference to this famous romantic tragedy:

anyone else ever notice this R+J book cover in the opening scene of new moon? from
twilight
6.

Bella's diet:

Twilight(2008): If one notices Bella only eats veggies or fruit in reference to Edward being a "vegetarian" vampire. from
MovieDetails
7.

This missing driver:

In Twilight (2008), this logging truck is being driven by no-one, which is still the least weird thing in that movie. from
shittymoviedetails
8.
Emmett's hard-boiled egg obsession: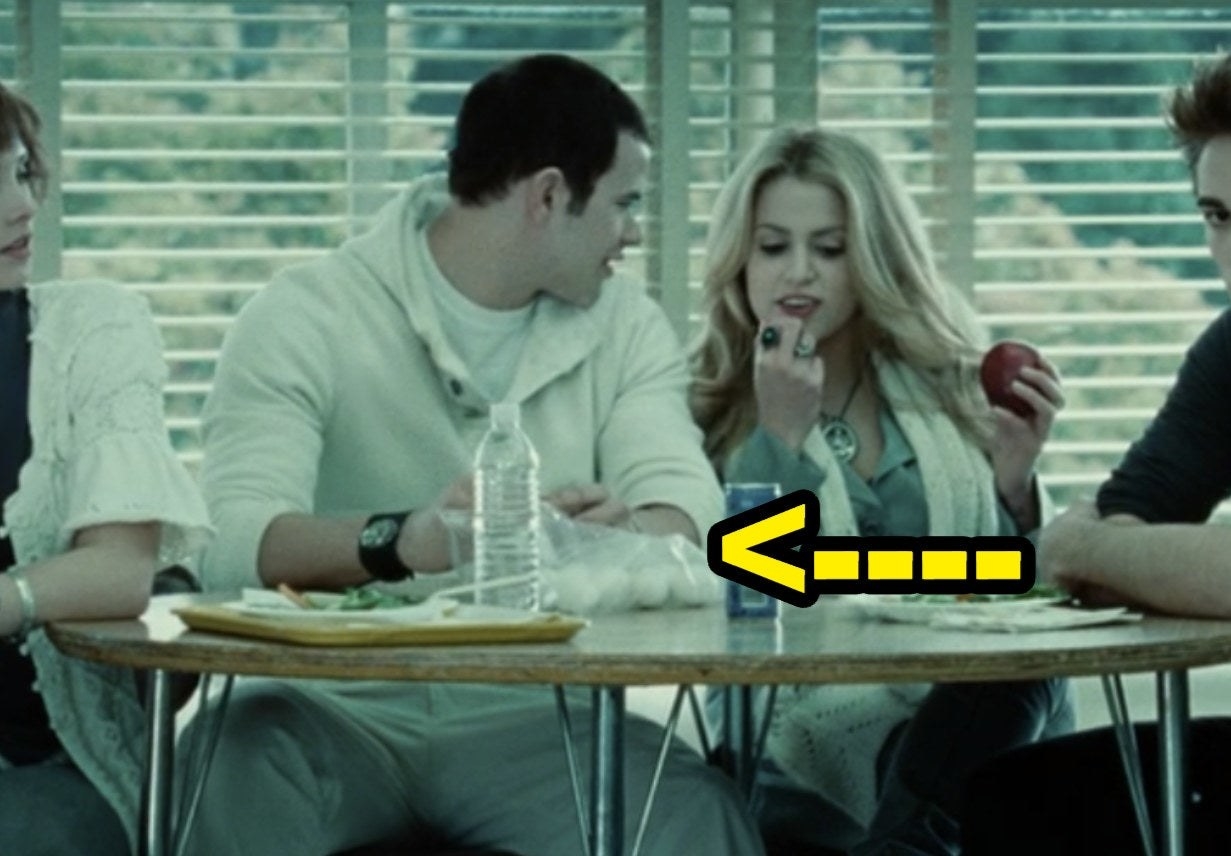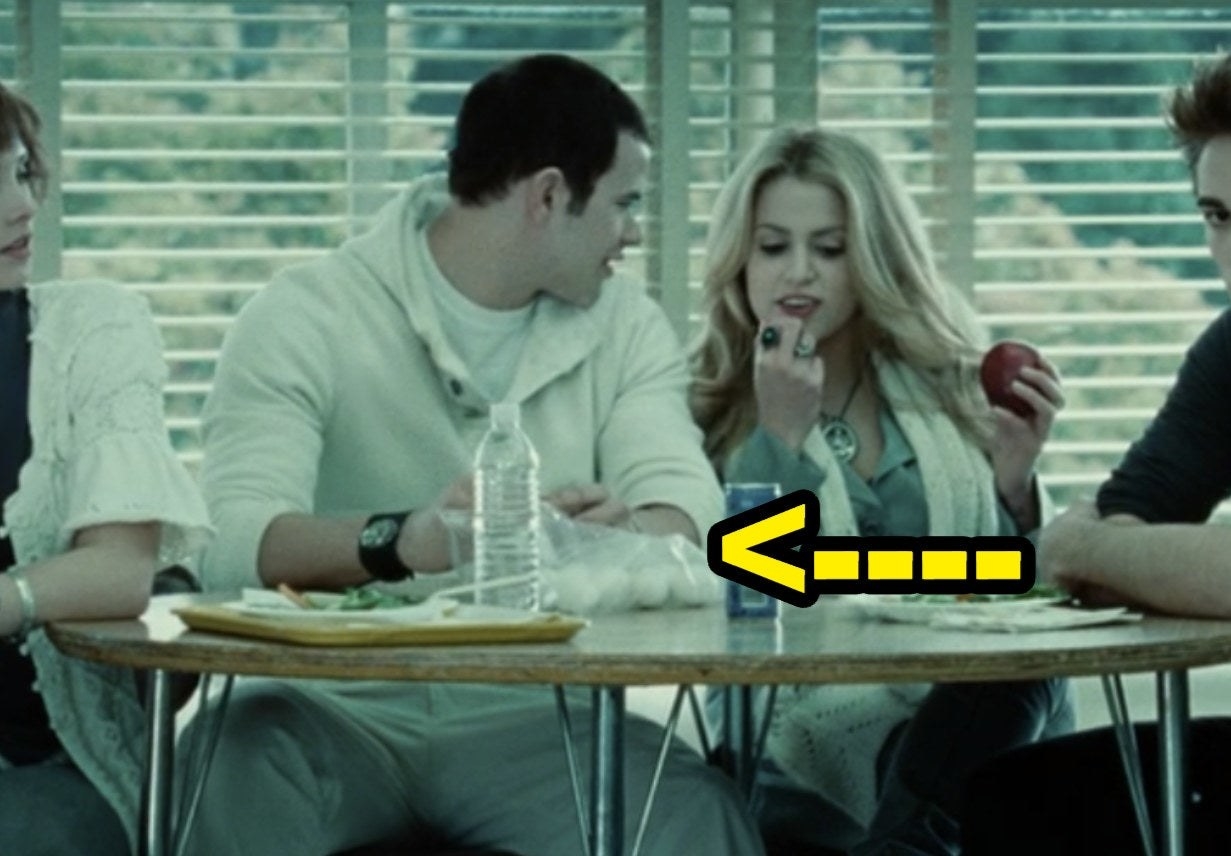 Summit Entertainment
9.

The Cullen family crest:

In BD2, Bella is wearing a Cullen Crest. I wish there had been a small moment where Esme and Carlisle intimately gave it to her as an official welcoming present on her birthday- signifying she was fully one of them now- before Alice presented the house. It would've been a nice scene. from
twilight
10.
Bella's weird knee pads in the scene where she falls: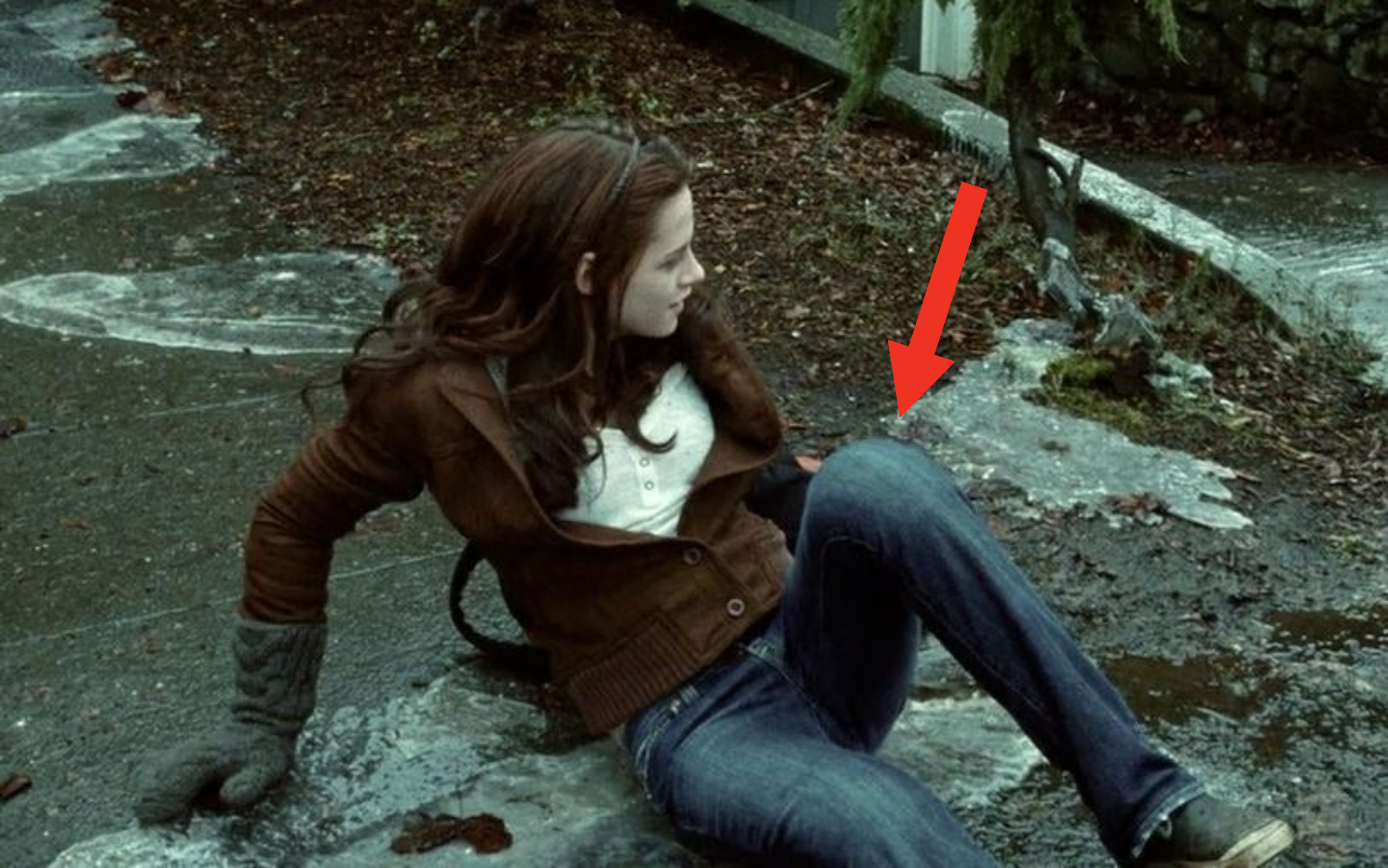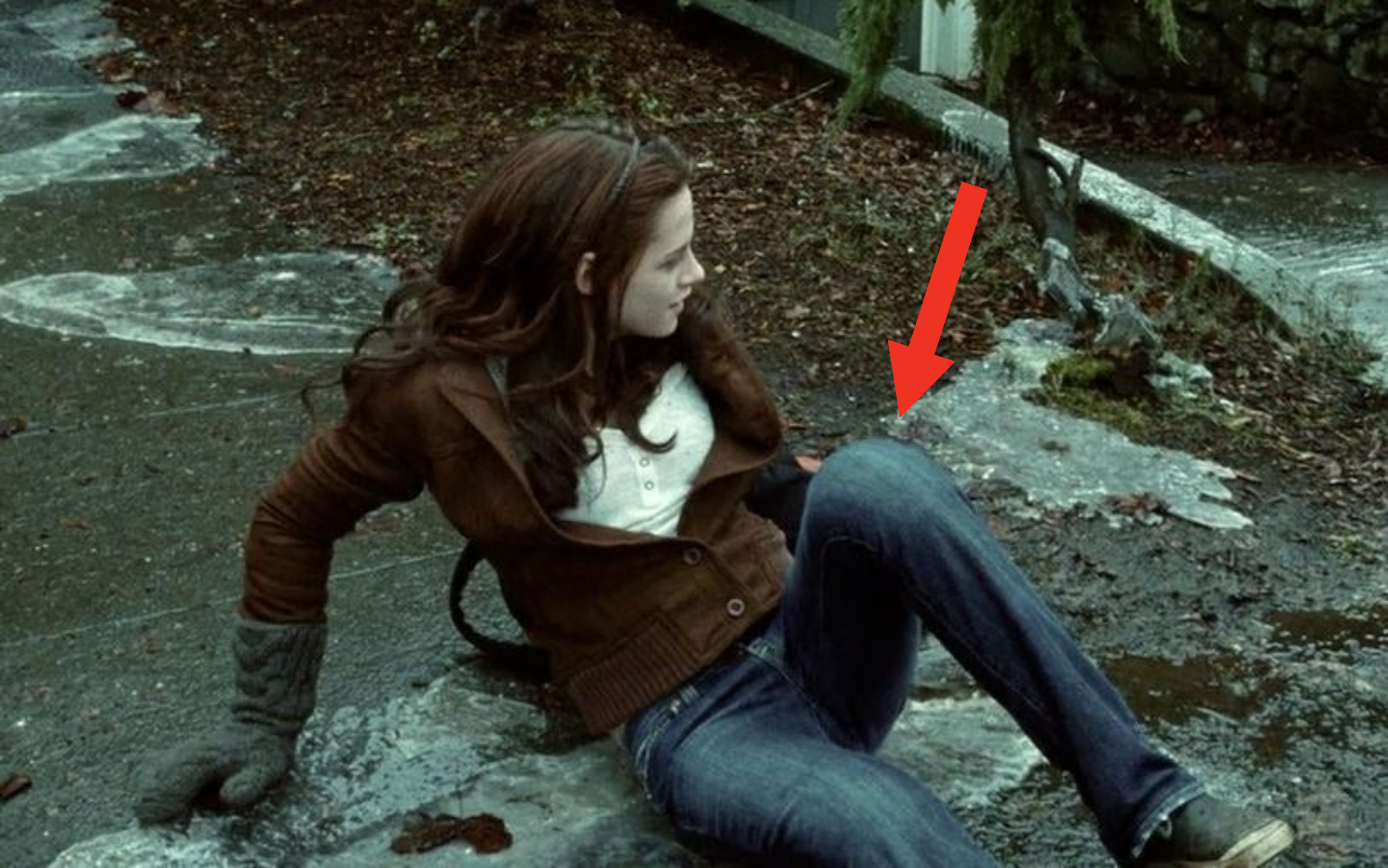 Summit Entertainment
11.
The book cover recreation in the first film: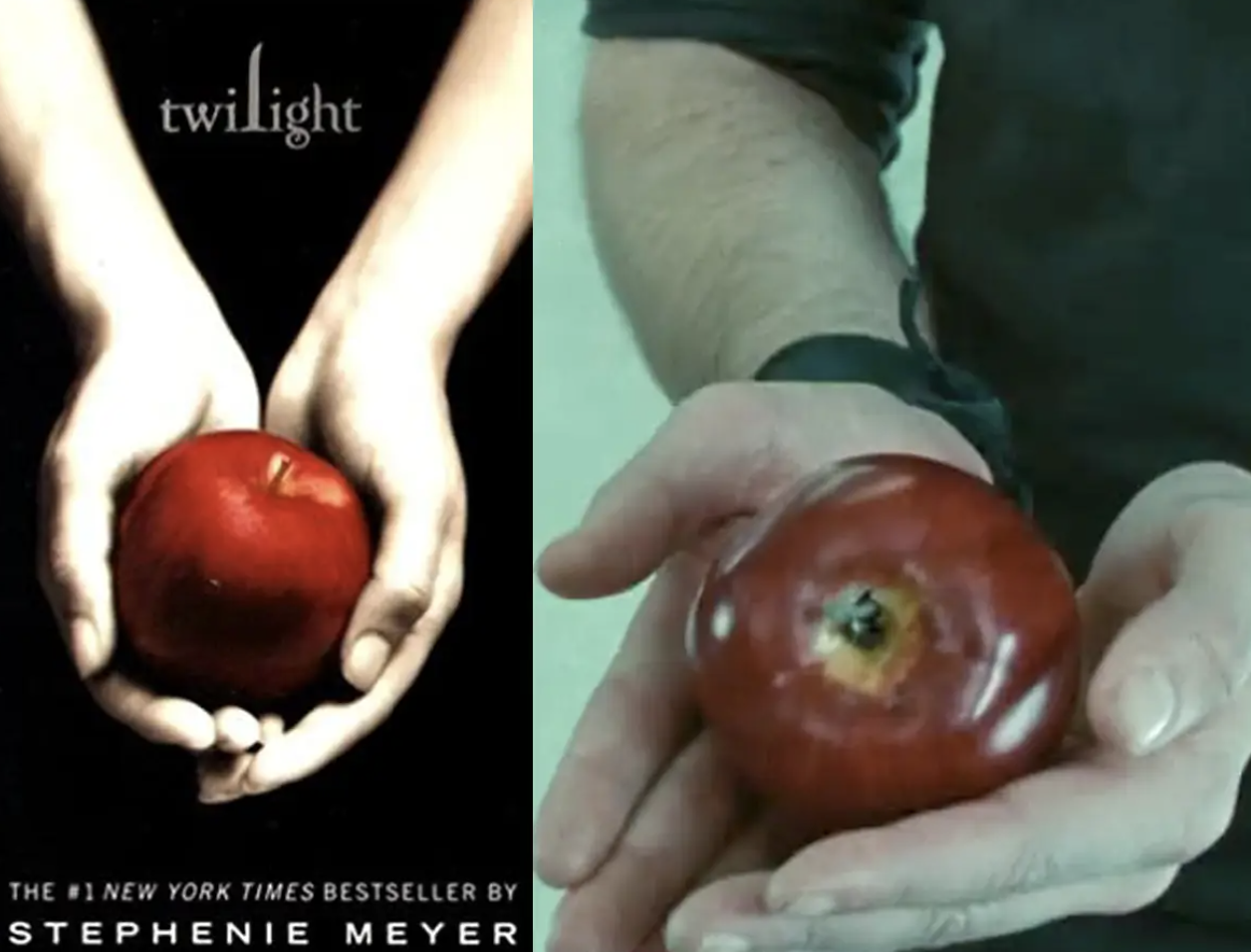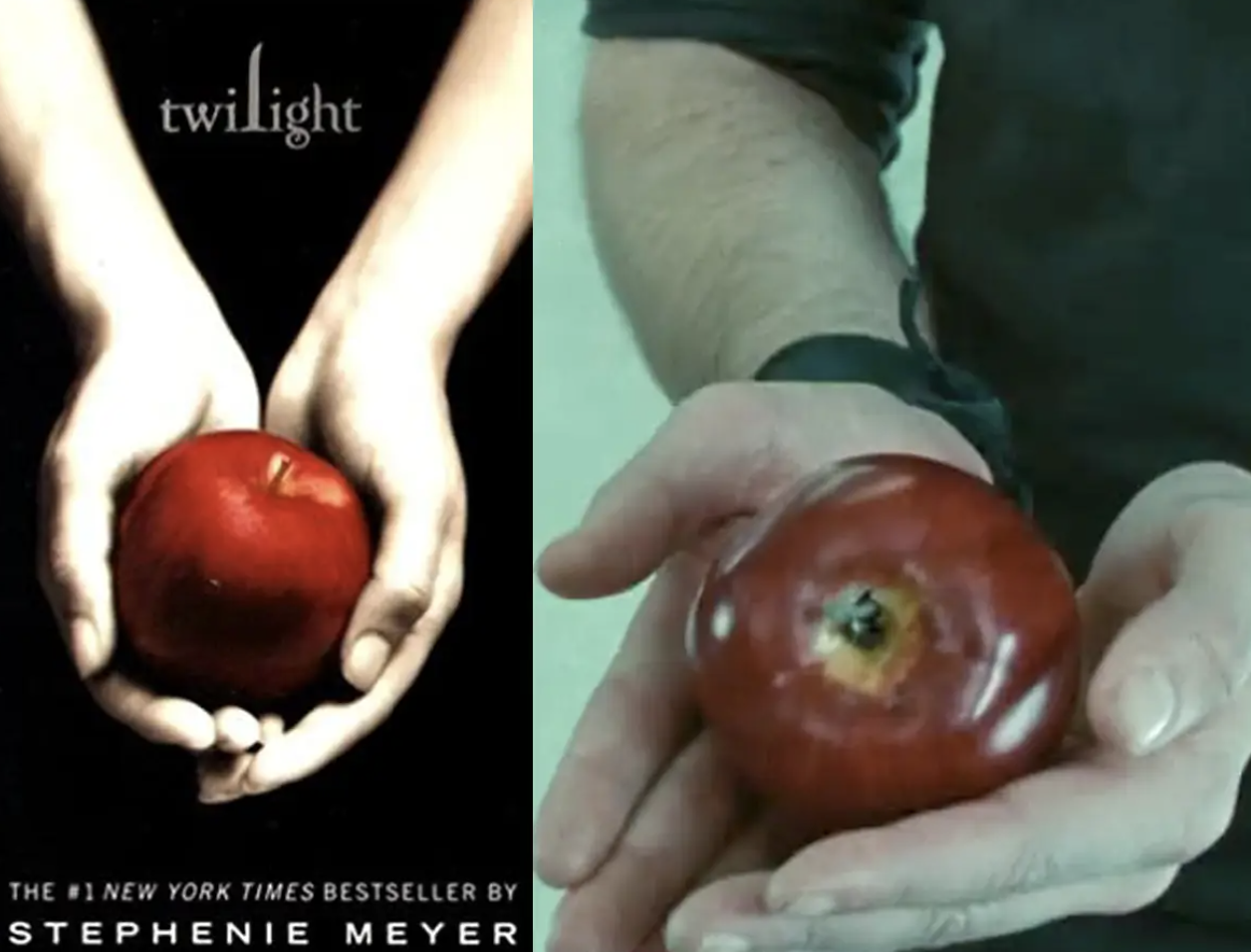 Little, Brown and Company / Summit Entertainment
12.

And the reappearance of the apple in the last movie:

Watched this scene so many times, and today just noticed the apple on their book shelf. Clever little detail. from
twilight
13.
When Charlie and Bella sat at the same restaurant table twice in the first movie: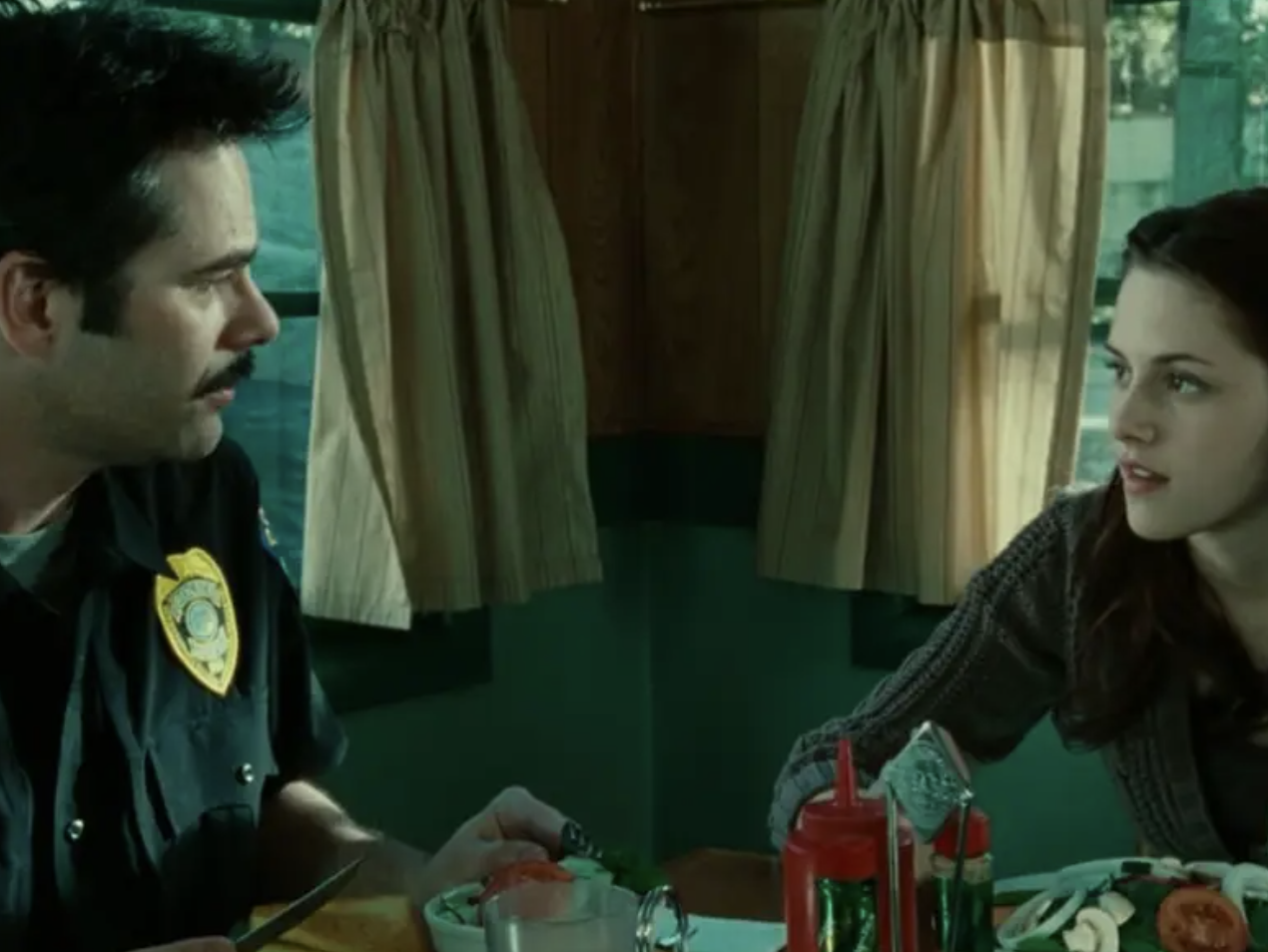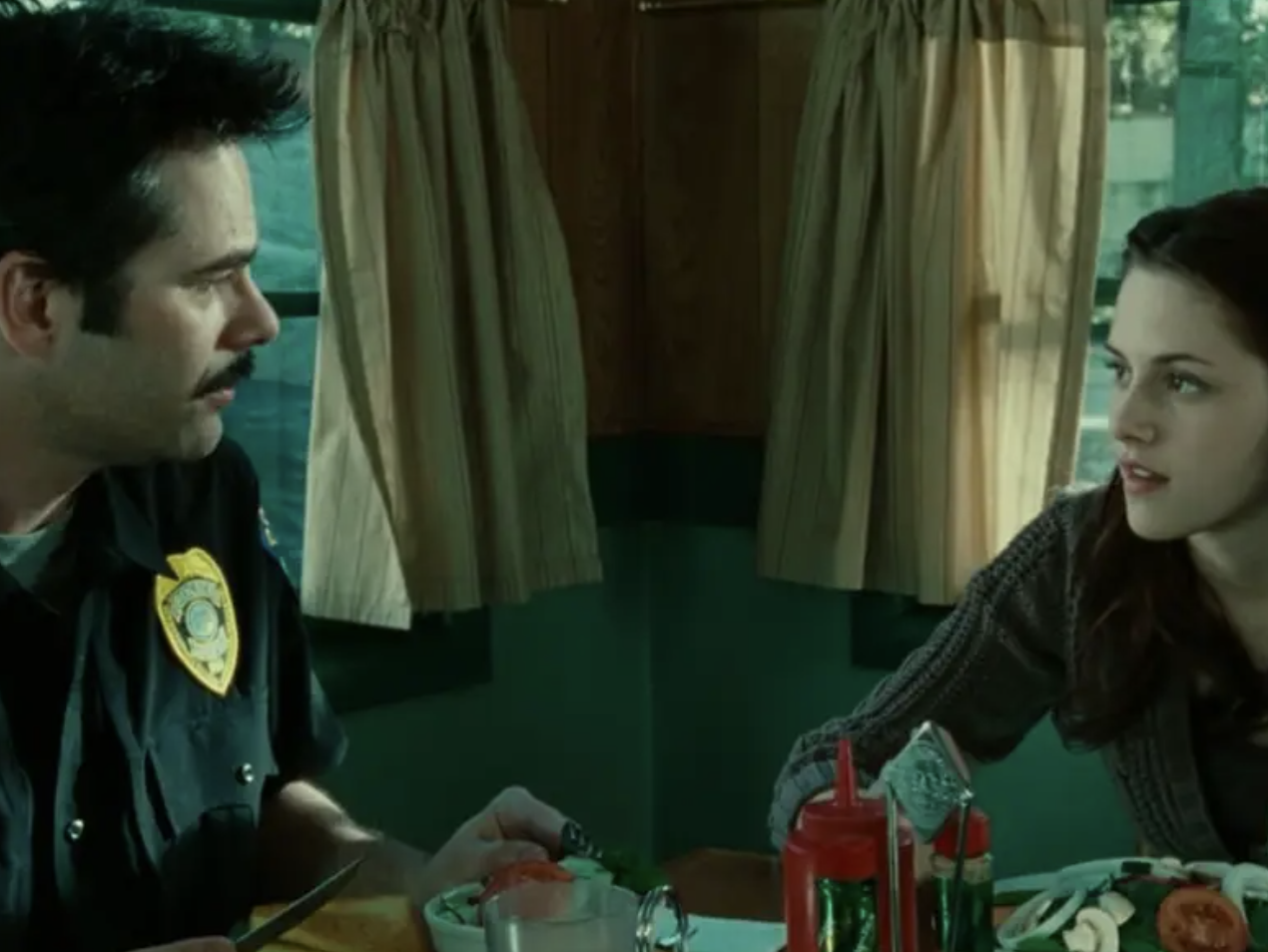 Summit Entertainment
14.
The inconsistency of Edward's reflection throughout the film: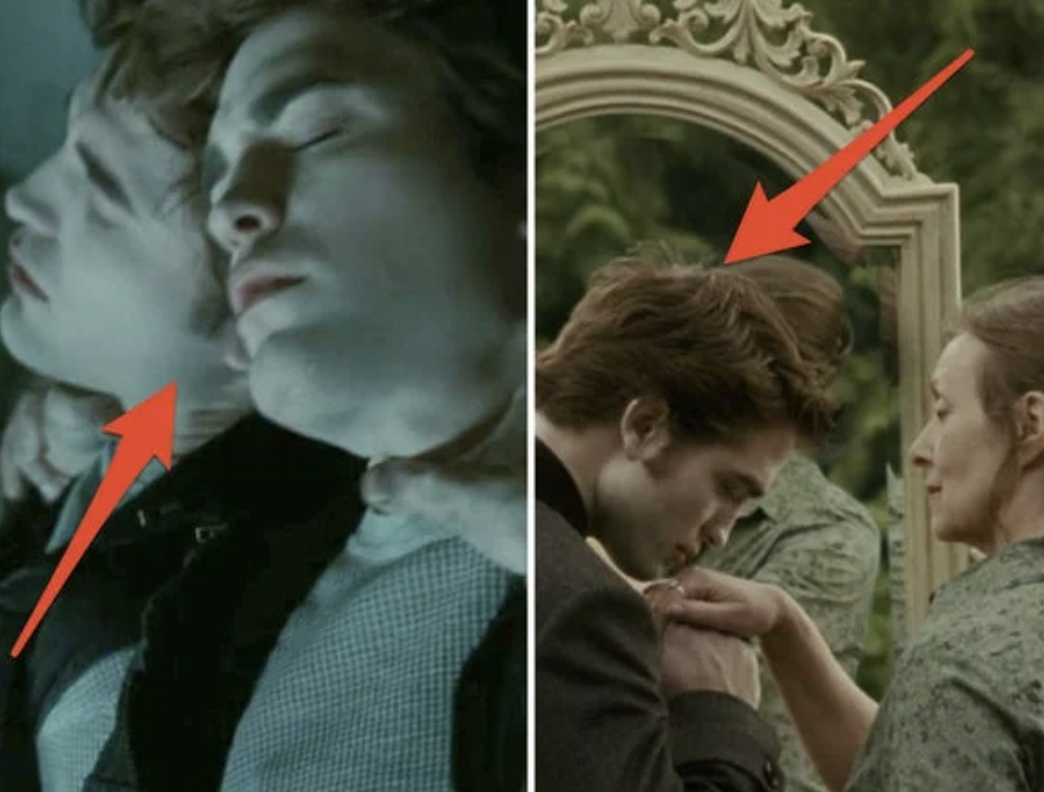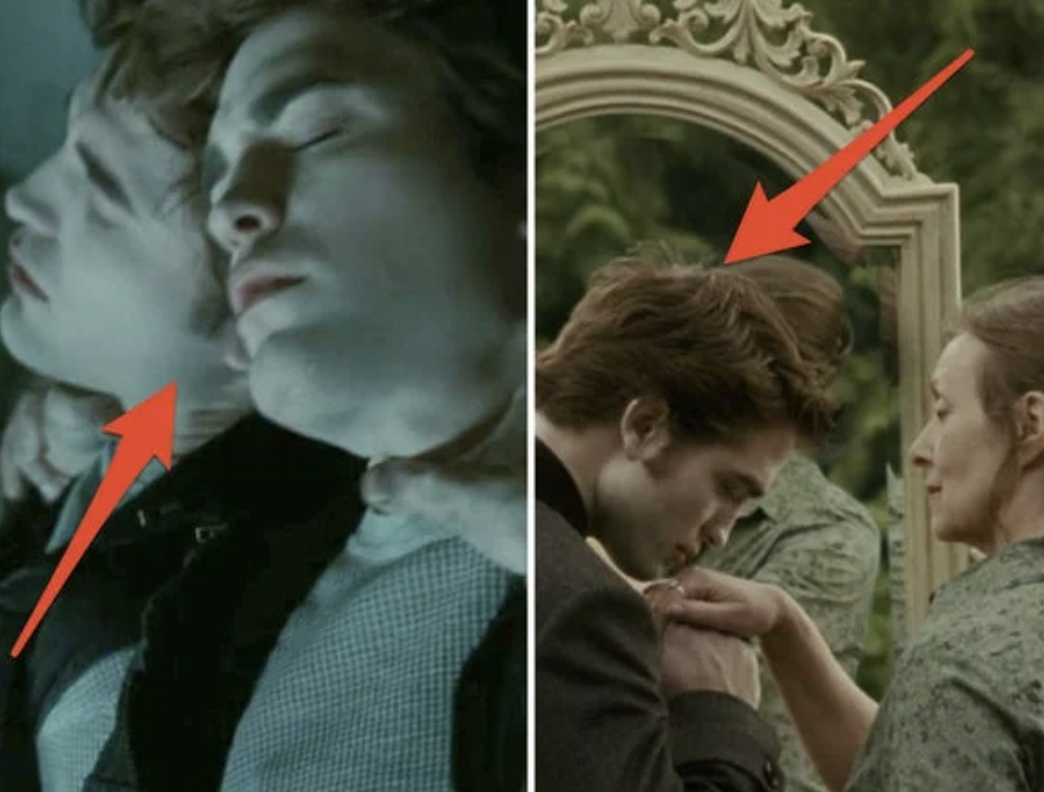 reddit.com / Via reddit.com
15.

Bella's missing foot in the scene in the field:

Am i the only one who noticed that Bella is literally MISSING HER FOOT!?!?! EXCUSE ME WHAT? How did they not notice she is missing a whole foot?! I can't even.. 🤦 from
twilight
16.
How Alice somehow got away with flying in broad daylight, despite the fact that her skin sparkles in these conditions: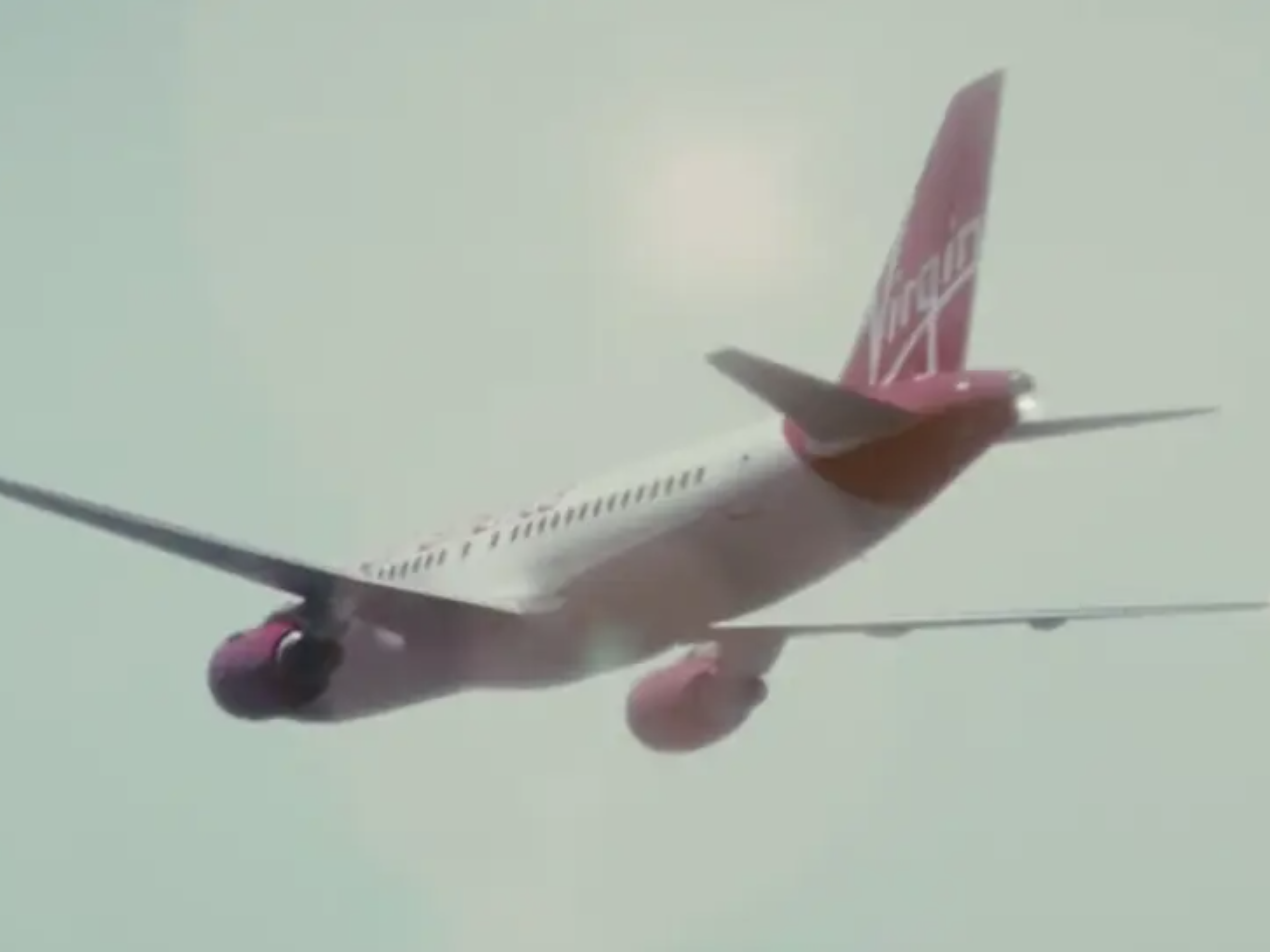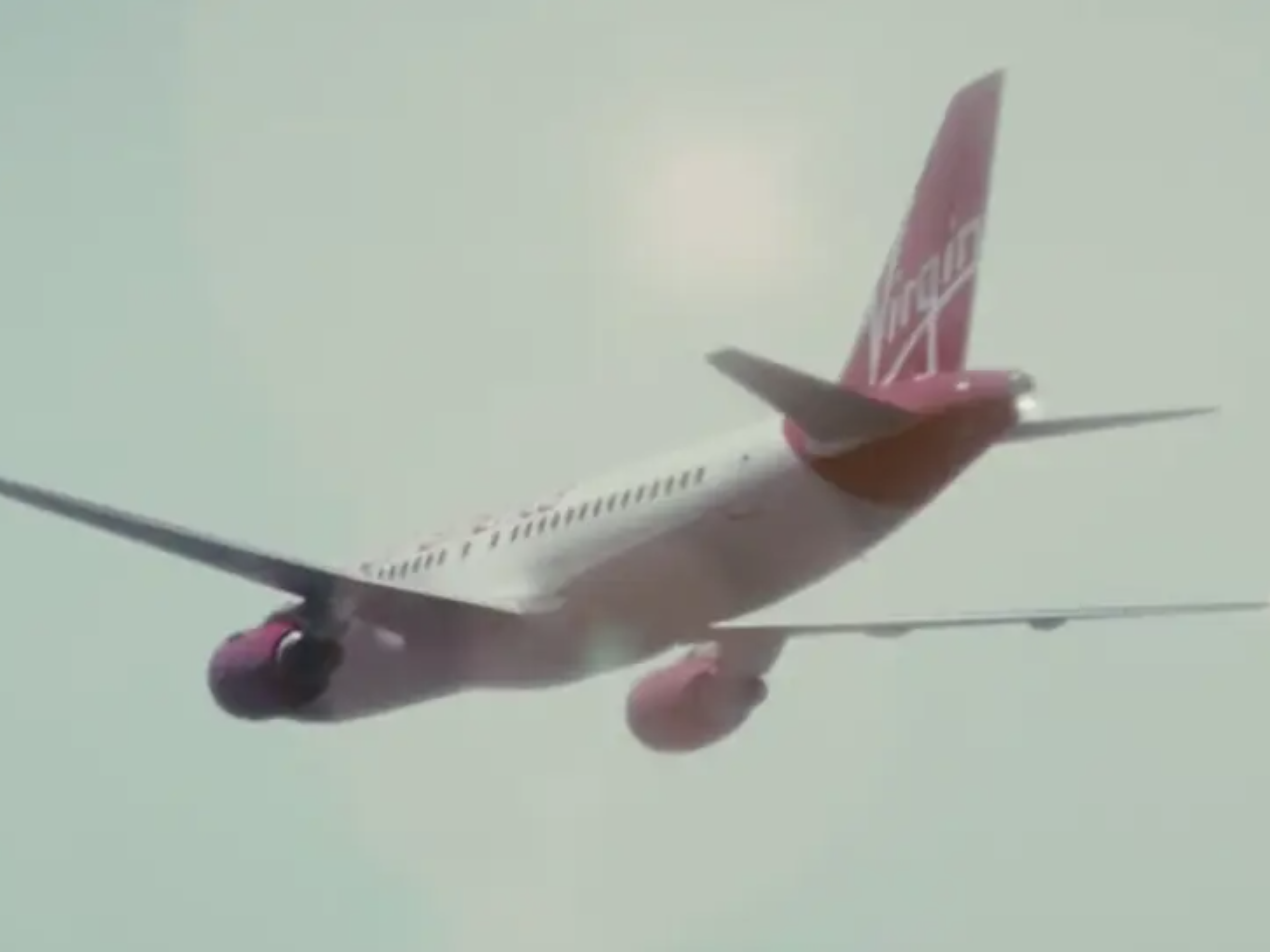 Summit Entertainment
17.

These actors in the running scene who are absolutely not Rob or Kristen:

WHO ARE THESE PEOPLE? I am watching Twilight for the umpteenth time, and I can't believe I never noticed this. from
twilight
18.

The sneaky shadow of Edward about to bite Bella in the movie poster:

Am I the only one who never noticed that the shadow in between them is Edward about to bite Bella? from
twilight
19.

This not-so-subtle actress change between the Twilight movies:

………..It's the fact that they didn't think we would notice the switch……like Victoria #2 has nothing on #1 …..she could never. This switch honestly ruined eclipse for me , anyone else???! from
twilight
20.

The random little girl who seemingly attends Bella's high school:

Was watching Twilight and noticed this random little girl in the volleyball scene? from
twilight
21.

And finally, Bella's contact slipping in the freakiest way:

Rewatched new moon and noticed Kristin's contact slipping. Freaky! from
twilight