The only thing better than the cinematic masterpiece that is the Twilight franchise is…the jokes that lovingly drag the films.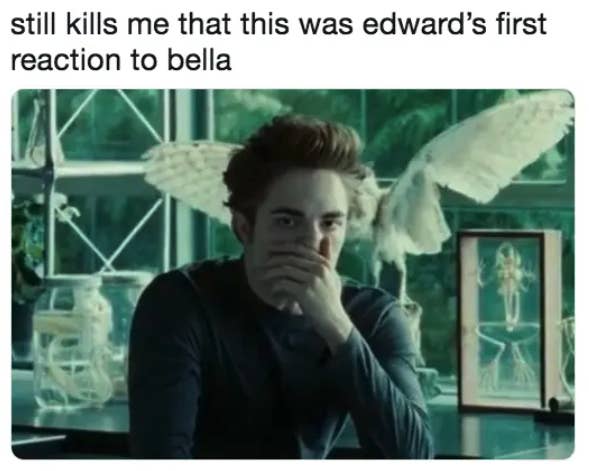 Summit Entertainment / Twitter: @danieldayslewis
Below are some of the best tweets about Twilight:
Be sure to click through and follow your favorite creators on Twitter to make your timeline a more fun place to be!
1.

twilight renaissance
@twilightreborn

edward: she already ate the cullens using their kitchen for the first time:
HBO / Via Twitter: @twilightreborn
2.
u want me to have sex. the thing that killed bella swan
3.
ladies if you ever feel bad about yourself just remember that bella from twilight had the personality of a la croix and she still had two boys fighting over her so if you don't have that then you must suck pretty bad
4.
So Bella from Twilight can love 2 guys & it's romantic but when I do it ima hoe🤨🤨
5.
edward watching bella sleep
6.

twilight renaissance
@twilightreborn

when the vaccine hits
Summit / Via Twitter: @twilightreborn
7.

Pepsi Zhenya(18+)
@SuperNsfwZhenya

therapist: Twilight fake baby is not real and can't hurt you Twilight fake baby:
8.

zach silberberg
@zachsilberberg

if i had written twilight, i simply would not have made the adult werewolf fall in love with the newborn baby
9.

twilight renaissance
@twilightreborn

nobody: edward in biology class:
NBC / Via Twitter: @twilightreborn
10.
bella: *walks into class* edward: yall smell that shit
11.
Edward Cullen had over 100 years to go to therapy, and yet
12.
the part in twilight where they just put the cullens in old timey hats and vests to show it was in the Past
Summit / Via Twitter: @spinubzilla
13.

twilight renaissance
@twilightreborn

twilight without the blue tint just makes me uncomfortable
Summit / Via Twitter: @twilightreborn
14.
bella: i know what you are edward: say it out loud bella: vampire me watching twilight for the 500th time:
15.
bella in twilight forcing herself to drink blood so edward can turn her into a vampire
16.
wanna be so high i start acting like bella in twilight
17.
I am BISEXUAL. that means I am attracted to: -Jasper from Twilight -Every woman I have ever met
18.
bro can we pls fuck to the twilight soundtrack please bro fuck just once cmon bro plz
19.
I just find it funny how the whole plot of twilight takes place in 2 years and Edward deadass ghosted Bella for 7 months.
20.

the wicked witch of the east bro
@kpfeffss

I'm rewatching twilight and I don't know when I reached the age where instead of finding Edward Cullen hot I find Bella's dad hot. I mean he's an absolute unit
21.
the way bella was unnecessarily mean to charlie has me crying and throwing up
22.
Edward can literally be trying to munch on her elbow and r1p out her neck and Bella will be like "he won't hurt me I love him"
Collection Christopehl © Warner Bros via Alamy / Via Twitter: @simply_lay_
23.
"He said, Bella WHERE THE HELL YOU BEEN LOCA"
24.

twilight renaissance
@twilightreborn

where the hell have you been loca? welcome to mcdonalds would you like to try the twilight meal
Summit / Via Twitter: @twilightreborn
25.
twilight eclipse (2010)
26.
i can't fuck with people that hate on every single film or are like "this was too juvenile for my sophisticated and acquired taste" like shut up i'm tryna watch bella die for edward's dick
27.
do i need to watch all the twilight movies before i see the new batman
28.
People keep listing Robert Pattinson's acting credentials to show he's more than Twilight, but what I wanna know is when did we as a society decide playing a vampire was silly and playing Batman was prestige
29.
no offense but when ryan gosling learned piano for la la land, everyone named him kind of the fucking world but when robert pattinson learned to catch a baseball flying at light speed and climb trees in mere seconds for twilight, everyone calls him untalented??? excuse me ?????
30.
i was trying to find pictures of edward saving bella on google and i found a website that replaces edwards head with a velociraptor instead and
Summit / Via Twitter: @biticonjustine
31.
I think about how Jasper from Twilight was a whole ass confederate soldier and no one asked him ANY follow up questions about it nearly every day.
32.
why the cullens just didn't go to college. Going to hs being around minors and u 200 years old is weirdo energy.
33.

in a panoramic? but halal
@_haaniyah_

Lmao like Twilight is a cultural phenomenon but there's no way in hell you can convince me Stephanie myers is a good writer
34.
Bella: I wanna be with you forever! Edward: ok, lets get married. Bella: MARRIED?
35.
babe are you ok you've barely touched your twilight water
36.

twilight renaissance
@twilightreborn

"what's wrong babe? you didn't put up your twilight christmas stockings."
37.
I think twilight should be the theme of the next met gala
38.

White Guy Fieri
@whiteguyfieri

Vacation at the twilight house. Call that a vampire weekend
Twitter: @whiteguyfieri / Via airbnb.com
39.

twilight renaissance
@twilightreborn

twilight characters as dogs – a thread:
Summit / Via Twitter: @twilightreborn
40.

twilight renaissance
@twilightreborn

twilight characters as cats – a thread:
Summit / Via Twitter: @twilightreborn
41.
My favorite thing abt Twilight is how much Bella doesn't want to move to Jacksonville
42.
rewatching twilight saga
43.
actually im a film student so my 5 star rating of twilight is objectively correct
44.
the twilight soundtrack really dodged a bullet by existing before I made music
45.

best of twilight 
@archivetwilight

incorrect twilight
Summit / Via Twitter: @archivetwilight
46.
absolutely unhinged for bella swan at 18 to decide she wants to be with edward literally til the end of time????? I would truly rather bathe in lava than spend forever with the guy I was into when I was 18 who let her do that
47.
the twilight baseball scene is still a cinematic masterpiece dont @ me,, 8 year old me was SHAKING
Summit / Via Twitter: @rcgerstark
48.
Robert Pattinson deserved an Oscar for saying "you better hold on, spider monkey" with a straight face so jot that down
49.
It's kind of messed up that nobody asks me if I'm team Edward or team Jacob anymore
50.
never knew i needed robert pattinson defending twilight in 2022, he is so fucking right.