Families come in all shapes and sizes — except some are just a lot bigger than others!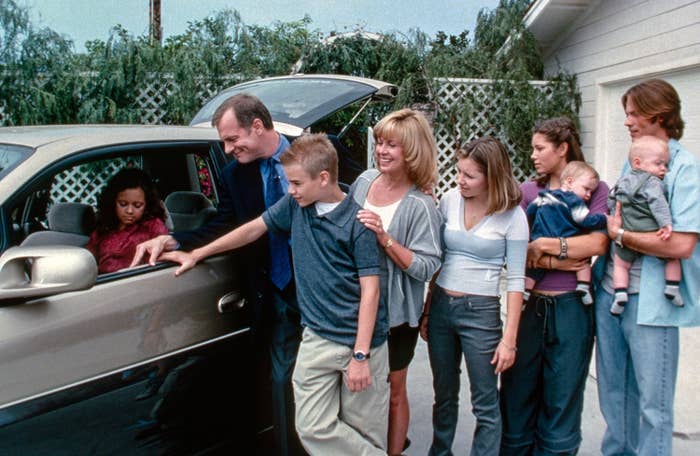 Jerry Wolfe / ©Spelling Prod. / Courtesy Everett Collection
While the average family in the US has about 2 children, some parents decide that they don't want to stop there…and end up with an extremely large brood!
Find out just how many kids these famous families have:
1.
Alec & Hilaria Baldwin
View this photo on Instagram
@hilariabaldwin / Via instagram.com
Just when you think that Alec Baldwin and his wife Hilaria are done having children, they surprise the world with the news that another one is on the way. The couple are parents to Carmen, 8, Rafael, 6, Leonardo, 5, Romeo, 3, Eduardo, 18 months, and Lucia, 13 months — as well as Alec's 26-year-old daughter, Ireland Baldwin, whom he shares with ex Kim Basinger.
On top of that, Alec and Hilaria recently announced baby number seven is on the way. And after the arrival of their new addition, it sounds like the family is done with having kids, considering they say their seventh child was a "surprise."
"After many ups and downs over the past few years, we have an exciting up and a huge surprise: another Baldwinito is coming this fall. We were pretty sure our family was complete, and we're beyond happy with this surprise," Hilaria wrote on Instagram.
2.
Elon Musk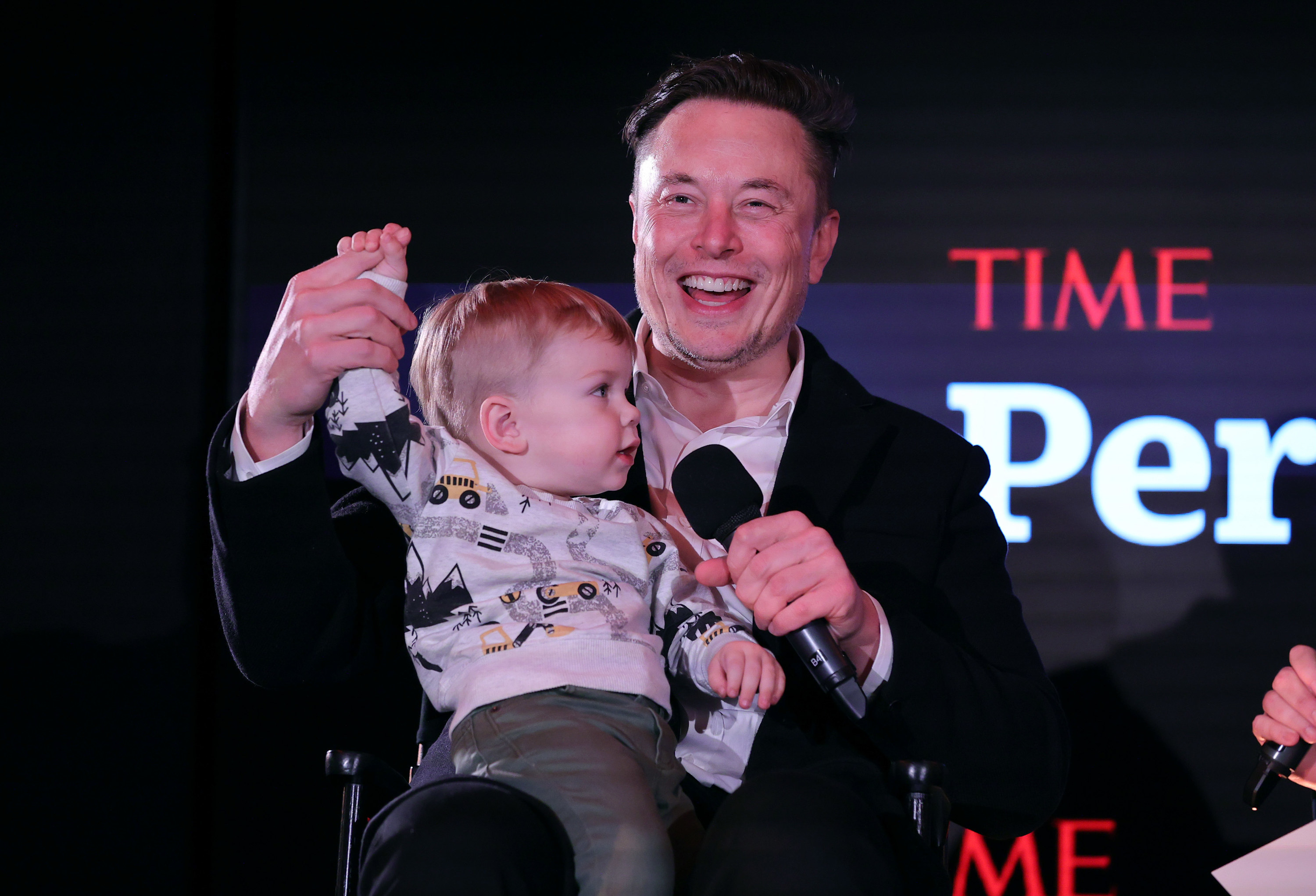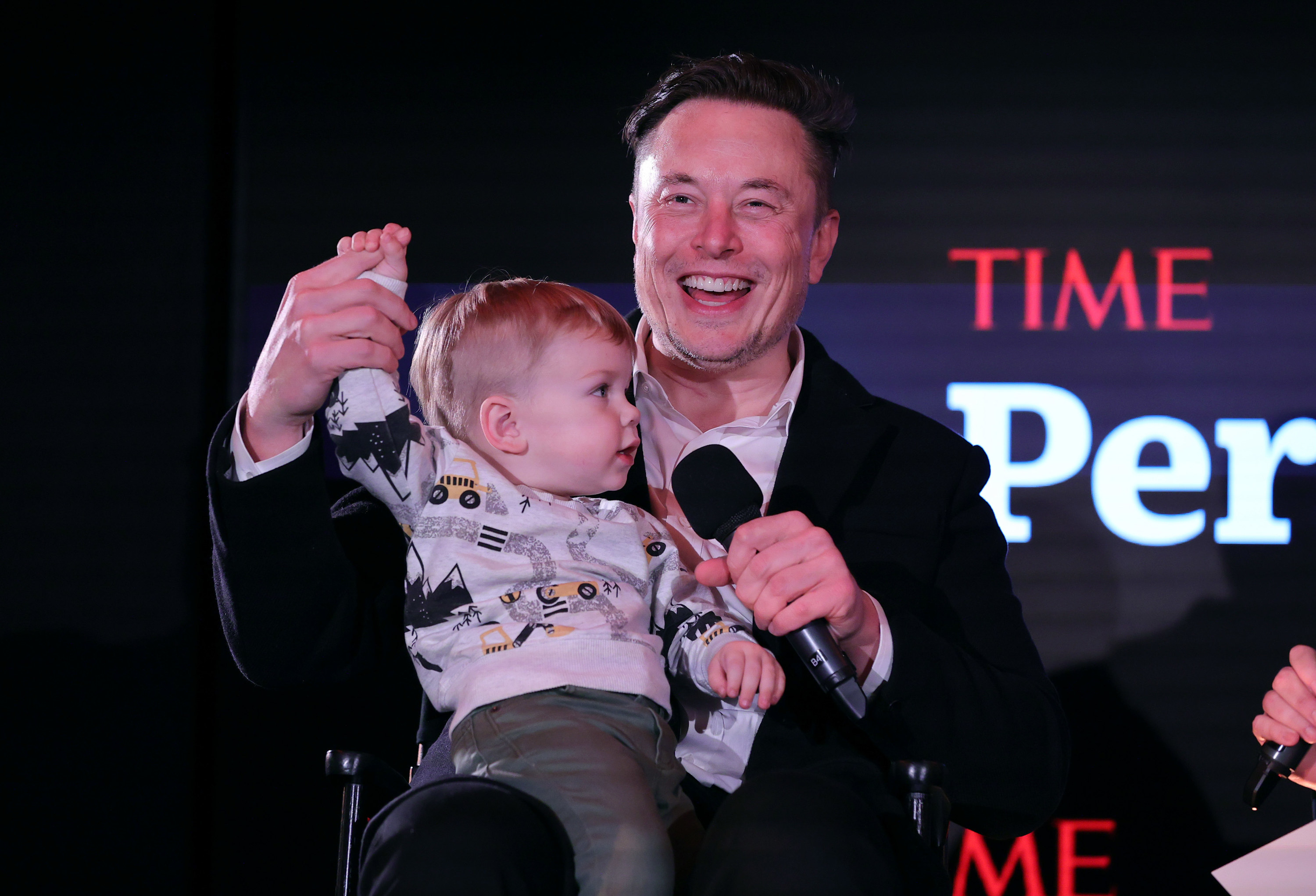 Theo Wargo / Getty Images for TIME
Elon Musk has a surprisingly large brood as dad to eight children. He shares six of them with his first wife Justine Wilson — twins Griffin and Xavier, 18, and triplets Damian, Saxon, and Kai, 16, as well as a son named Nathan whom they lost at just two months due to sudden infant death syndrome.
The Tesla founder is also dad to one-year-old son X Æ A-12 and newborn daughter Exa, both whom he shares with Grimes.
As for why he decided to have so many children? Elon recently said there aren't enough people in the world, which could eventually cause civilization to crumble.
"I try to set a good example. Gotta practice what I preach," Elon joked.
3.
James & Kimberly Van Der Beek
View this photo on Instagram
@vanderjames / Via instagram.com
James Van Der Beek and his wife Kimberly are the proud parents of a growing brood! The couple are mom and dad to six children — Olivia, 11, Joshua, 10, Annabel, 8, Emilia, 6, Gwendolyn, 3, and six-month-old, Jeremiah.
Their latest addition, Jeremiah, AKA Remi, arrived safely after the couple experienced two heartbreaking late miscarriages.
"Thank god for the surprises. For the detours. For those times the universe heard my plans and said: 'Yeah, that's cute… try THIS.' We weren't trying for more kids. We were done. But fortunately, this chunky little angel knew better. And when I hold him, I'm reminded of the benevolent forces out there likely laughing at my agenda and waiting for me to toss my 'clarity' for an upgraded reality. Thank god for surprises… and thank god we SUCK at not getting pregnant," James wrote on Instagram.
4.
Eddie Murphy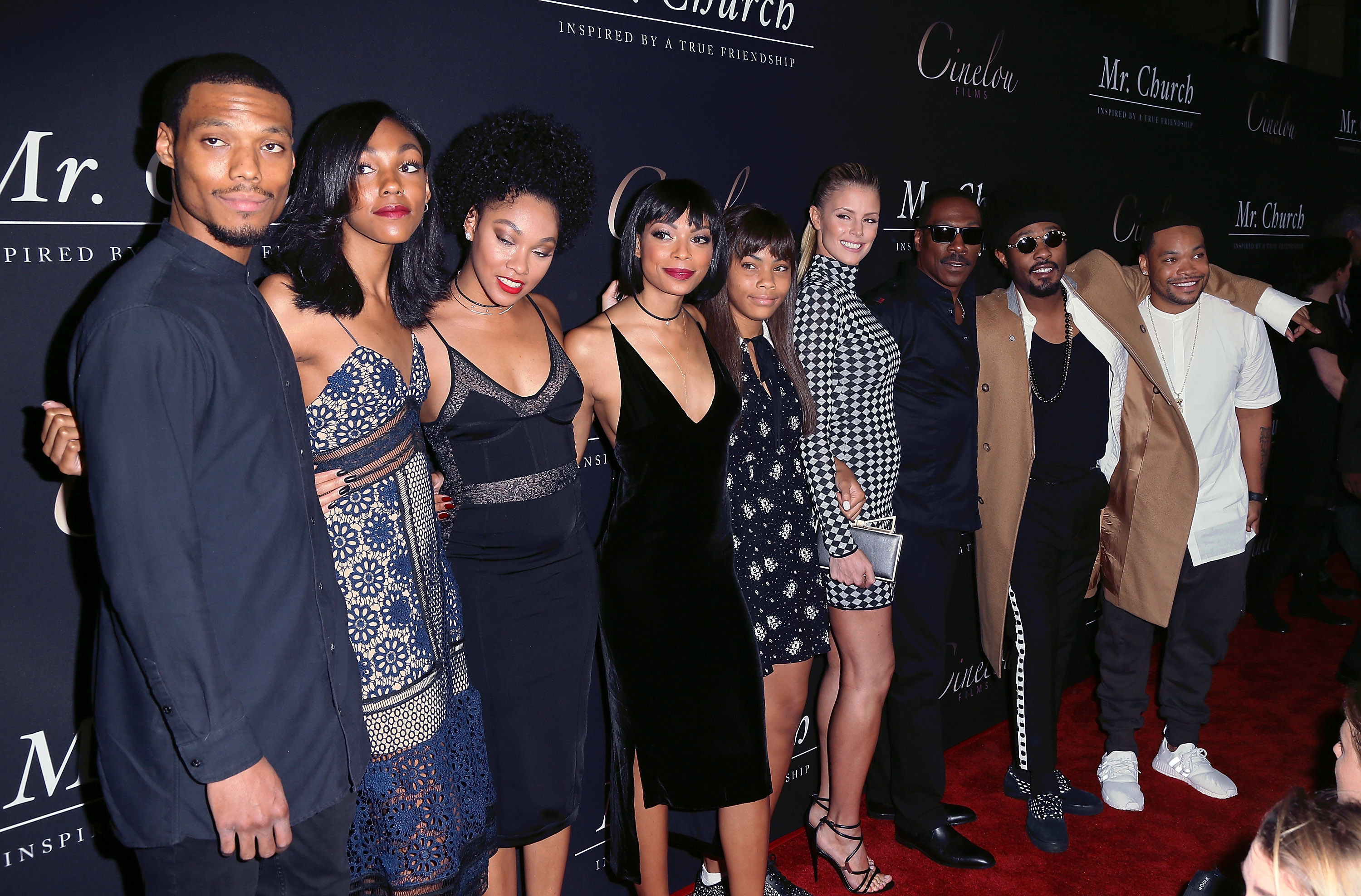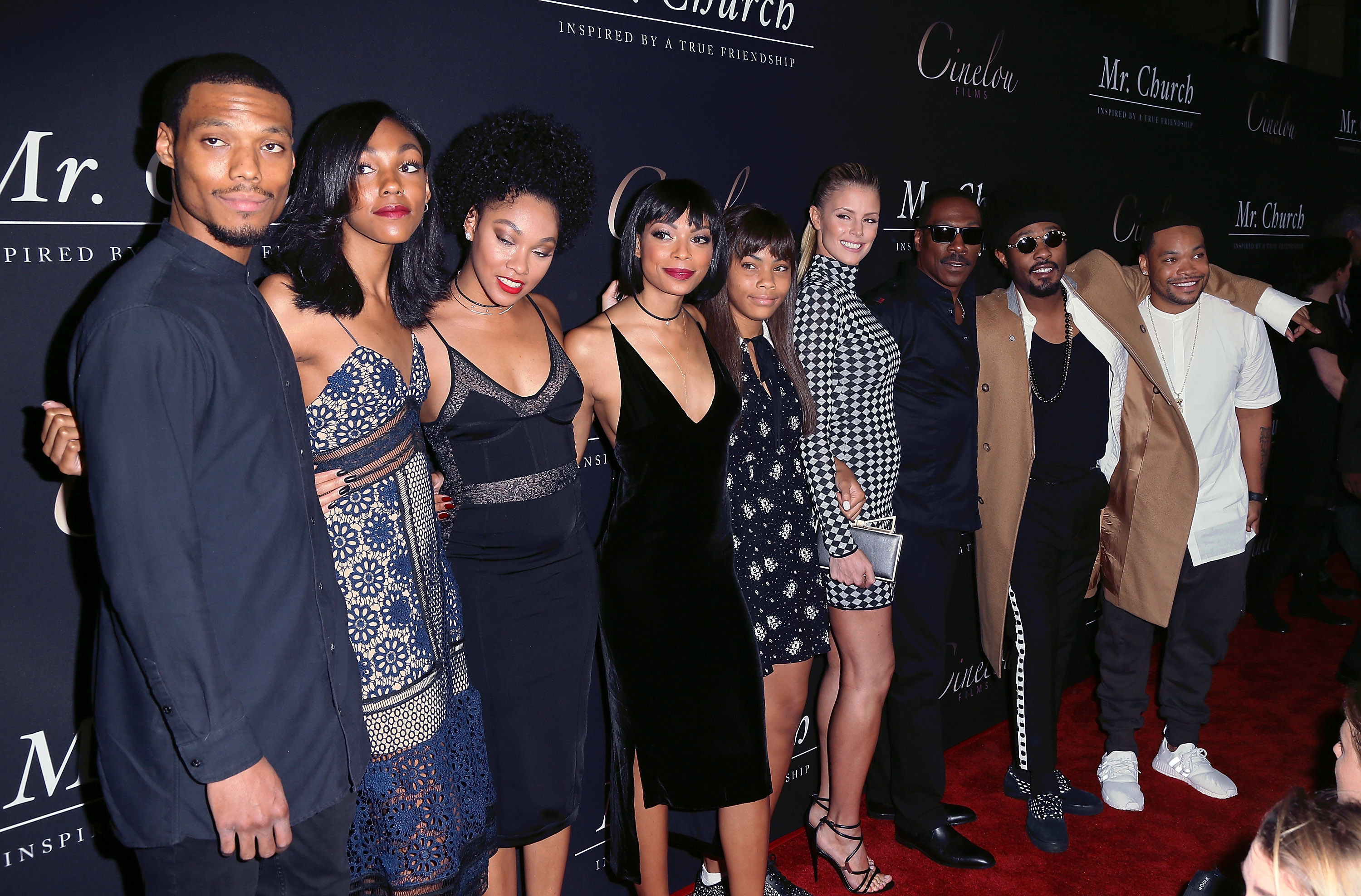 David Livingston / Getty Images
Eddie Murphy is dad to 10 children who span in age from two to 32. The actor first became a dad in 1989 when he welcomed his son Eric, 32, with his girlfriend Paulette McNeely. The following year, Eddie and Tamara Hood welcomed their son Christian, 31.
He additionally has five children with his ex-wife, Nicole — Bria, 32, Myles, 29, Shayne, 27, Zola, 22, and Bella, 20.
Following their divorce, Eddie welcomed daughter Angel, 15, with Spice Girls singer Mel B. He then completed his family with the arrival of Izzy, 5, and Max, 3, with partner Paige Butcher.
"Men kind of look at me like, 'He's crazy. How much did that shit cost?' And women, it's kind of like, something sexy about it I think. [They're like], 'Eddie Murphy must be doing this thing. Eddie Murphy be getting it in.' It seems OK…I like it. I'm happy with it," Eddie said on The Ellen Show.
5.
Angelina Jolie & Brad Pitt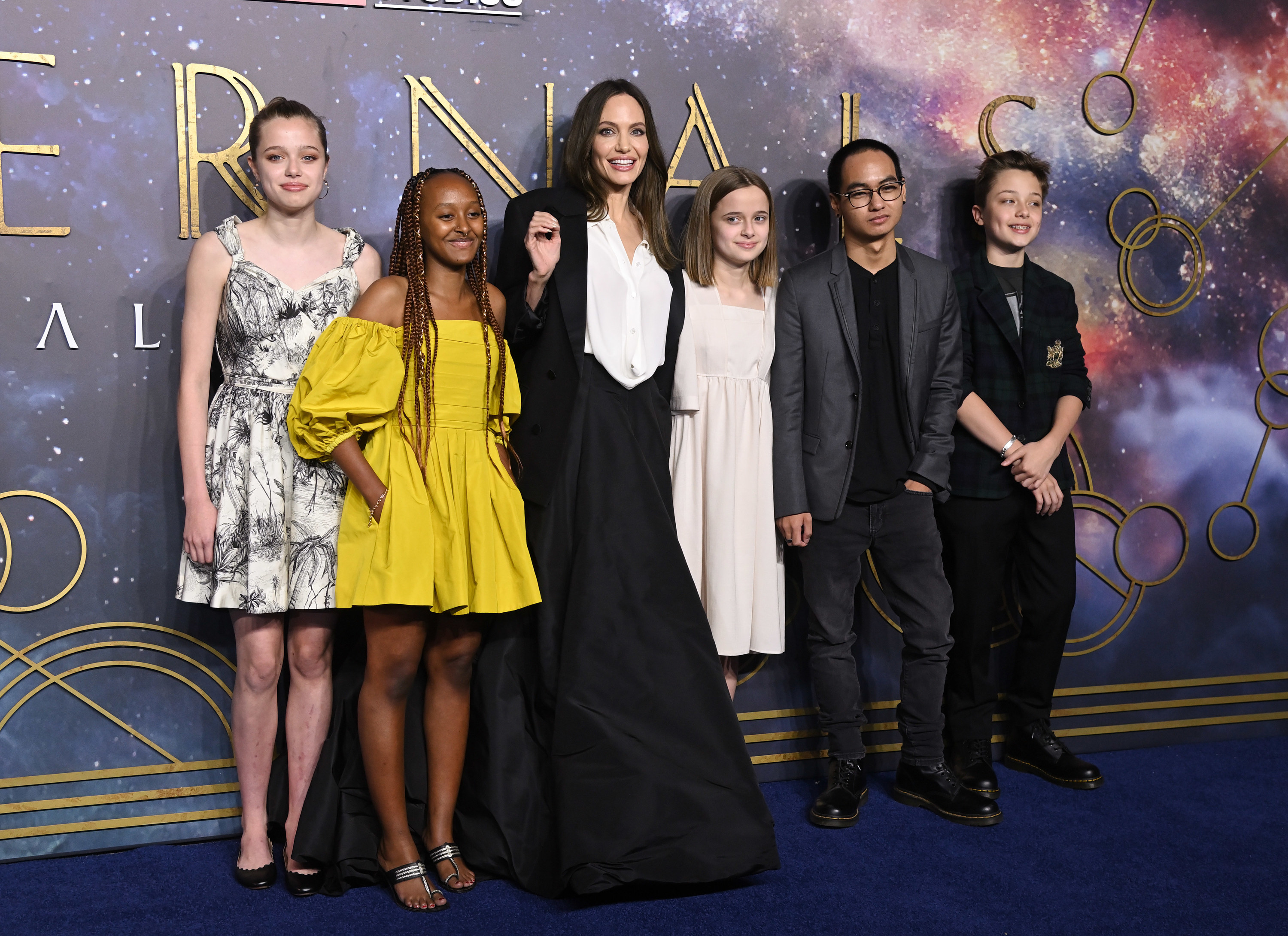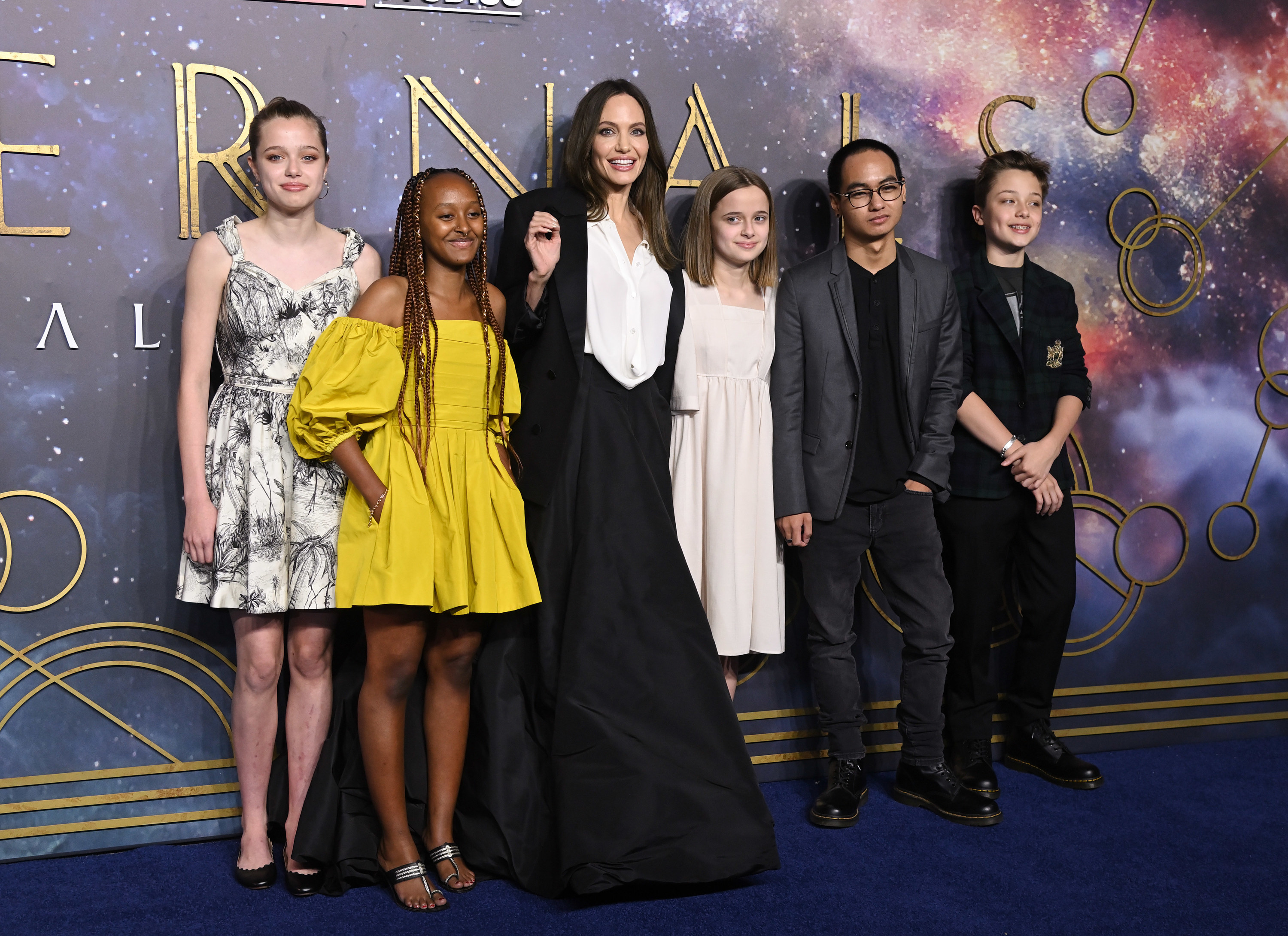 Karwai Tang / WireImage
Before Angelina Jolie and Brad Pitt's split, they shared a blended family of six. Angelina adopted her son Maddox, 20, and daughter Zahara, 17, as a single parent but the duo was later also adopted by Brad. The former couple also adopted a son named Pax, 18, and welcomed three biological children — Shiloh, 15, and twins Knox and Vivienne, 13.
6.
Kevin Costner

Rodin Eckenroth / Getty Images
Many fans may not know that Kevin Costner has a large family consisting of seven children that range in age from 11 to 38. Kevin first became a dad with his ex-wife Cindy Silva when they welcomed Annie, 38. Shortly after Lily, 35, and Joe, 34 were born.
Following their split, Kevin and girlfriend Bridget Rooney welcomed their son Liam, 26. Kevin later tied the knot with Christine Baumgartner and went on to welcome three children — Cayden, 14, Hayes, 13, and Grace, 11.
7.
Kris Jenner

Todd Williamson / NBCU Photo Bank / NBCUniversal via Getty Images
It was Kris Jenner's lifelong dream to have a big family and her wishes definitely came true! During her first marriage to the late Robert Kardashian, Kris welcomed Kim, 41, Khloe, 37, Kourtney, 43, and Rob, 35. And when she tied the knot with ex Caitlyn Jenner, they welcomed Kendall, 26, and Kylie, 24.
"Since I was a little girl, I always wanted to have a big family. I used to sit when I was in high school and think, 'I can't wait to have six kids' — I specifically said the number six," Kris said in an interview with CR Fashion Book.
8.
Clint Eastwood

Steve Granitz / WireImage
Clint Eastwood is father to a large brood that includes eight children from different relationships throughout his life. He welcomed his first child, Laurie, 68, in 1954 but she was put up for adoption at birth. The duo were luckily able to connect later in life.
Clint became a dad for the second time with the birth of Kimber, 57, whom he shares with Roxanne Tunis. His wife Maggie Johnson later gave birth to Kyle, 53, and Alison, 49. After his split from Maggie, Clint and girlfriend Jacelyn Reeves welcomed Scott, 36 and Kathryn, 34.
Clint also shares Francesca, 28, with Frances Fisher as well as Morgan, 25, with his ex-wife Dina Ruiz.
9.
Tori Spelling & Dean McDermott
View this photo on Instagram
@torispelling / Via instagram.com
Tori Spelling and her husband Dean McDermott are mom and dad to five children — Liam, 15, Stella, 13, Hattie, 10, Finn, 9, and Beau, 5. Dean is also dad to Jack, 21, from his previous relationship with Mary Jo Eustace.
As for expanding their brood even further, Tori says that their family now feels complete.
"You know what, I feel so blessed with the five I have, I wouldn't think to chance it and we're happy and our family is complete so probably no. I don't ever like to say 'never' because I believe what's meant to be is meant to be," Tori told Closer Weekly.
10.
Mick Jagger
View this photo on Instagram
@jadejezebeljagger / Via instagram.com
Rolling Stones frontman Mick Jagger is dad to eight children from a few different relationships. He first became a father when his girlfriend Marsha Hunt welcomed their daughter Karis, 51. A year later, his wife Bianca Jagger gave birth to Jade, 50.
He also shares four children with Jerry Hall — Elizabeth, 38, James, 36, Georgia, 30, and Gabriel, 24. Then, a few years later, he welcomed Lucas, 22, with Luciana Gimenez Morad.
Most recently, his partner Melanie Hamrick gave birth to their son Deveraux, 5.
11.
Mel Gibson

Kevin Winter / Getty Images
Mel Gibson has nine children, seven of whom he welcomed with his first wife, Robyn Moore. The couple are parents to Hannah, 42, Edward, 39, Christian, 39, William, 37, Louis, 34, Milo, 31, and Thomas, 23.
He later welcomed another daughter, Lucia, 12, with Oksana Grigorieva and became a dad once again when Rosalind Ross gave birth to their son Lars, 5, in 2017.
12.
Madonna
View this photo on Instagram
@madonna / Via instagram.com
Madonna is mom to a family of six children ranging in age from 9 to 25. She first became a mom when she and Carlos Leon welcomed their daughter Lourdes, 25. Several years later, she gave birth to her son Rocco, 21, whom she shares with Guy Ritchie. Madonna later adopted her son David, 16, daughter Mercy, 16, and twins Stella and Estere, 9.
When asked about her decision to adopt, Madonna explained, "Sometimes I would just close my eyes and just think, 'Why isn't my kitchen filled with dancing children?' There's so many children that need a home. I thought, 'What am I waiting for? Just do it.'"
13.
Diddy

Gregg Deguire / Getty Images for The Recording Academy
Diddy's blended family consists of six children from different relationships. He welcomed his first son Justin, 28, with ex Misa Hylton-Brim. Then, during his relationship with the late Kim Porter, they welcomed Christian, 24, and twin daughters D'Lila and Jessie, 15. He also adopted her son Quincy, 29. Diddy is also dad to daughter Chance, 16, whom he shares with Sarah Chapman.