WARNING: Spoilers ahead, obvs.
Waddup? It is I, back at it again with yet another "I watched this so you don't have to" post. Everyone and their mother keep talking about this show called The Ultimatum, so I decided to give it a watch and see what all the hoopla was about!
View this photo on Instagram
@e_osifo.png / Via instagram.com
Now, I don't know much about this series, but I think it's about couples who are on the fence about getting married, so they date other people to see if their original partner is actually the one for them?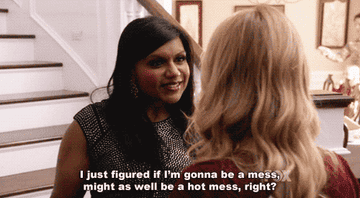 Tap to play or pause GIF Tap to play or pause GIF

FOX
Sounds like a recipe for mess…and if so, I already have my spoon at the ready.
So even though no one asked, I decided to watch the first episode of the series and give you my thoughts anyway:
Before we dive in, here's the synopsis that Netflix gives for The Ultimatum: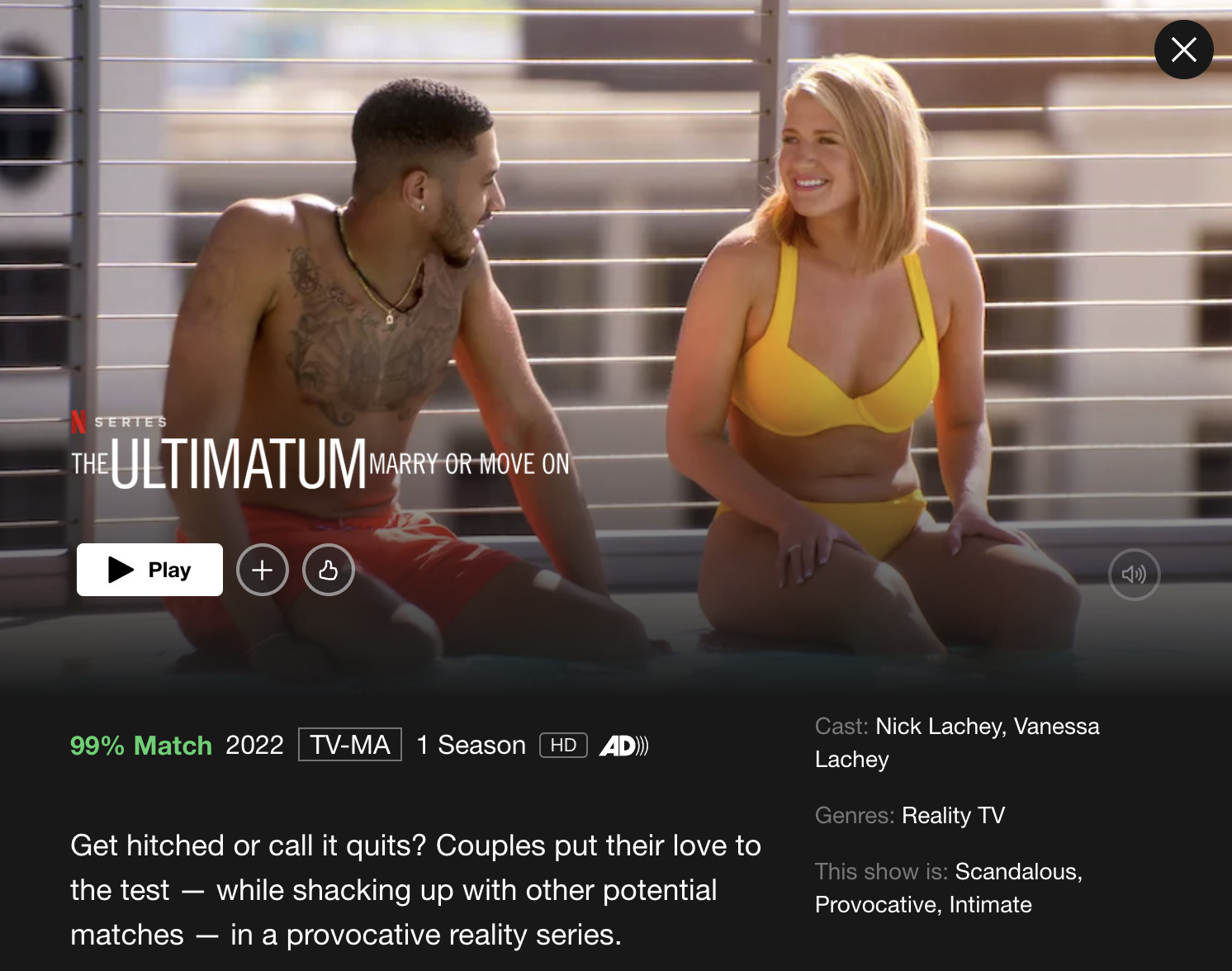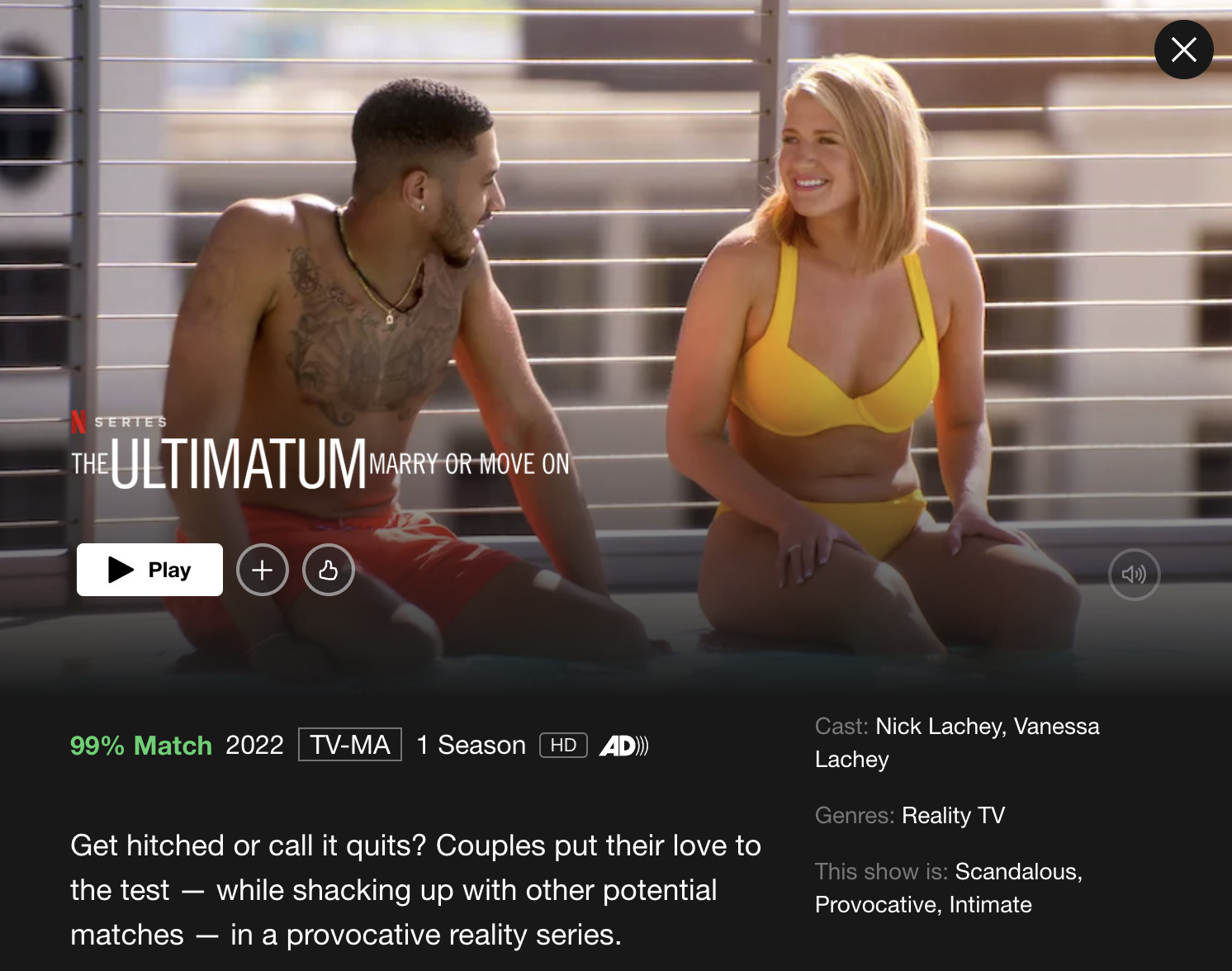 Netflix
"Get hitched or call it quits? Couples put their love to the test — while shacking up with other potential matches — in a provocative reality series."
1.
IS THAT NICK AND VANESSA LACHEY? Man, between this and Love is Blind, Nick and Ness are working hard for the money!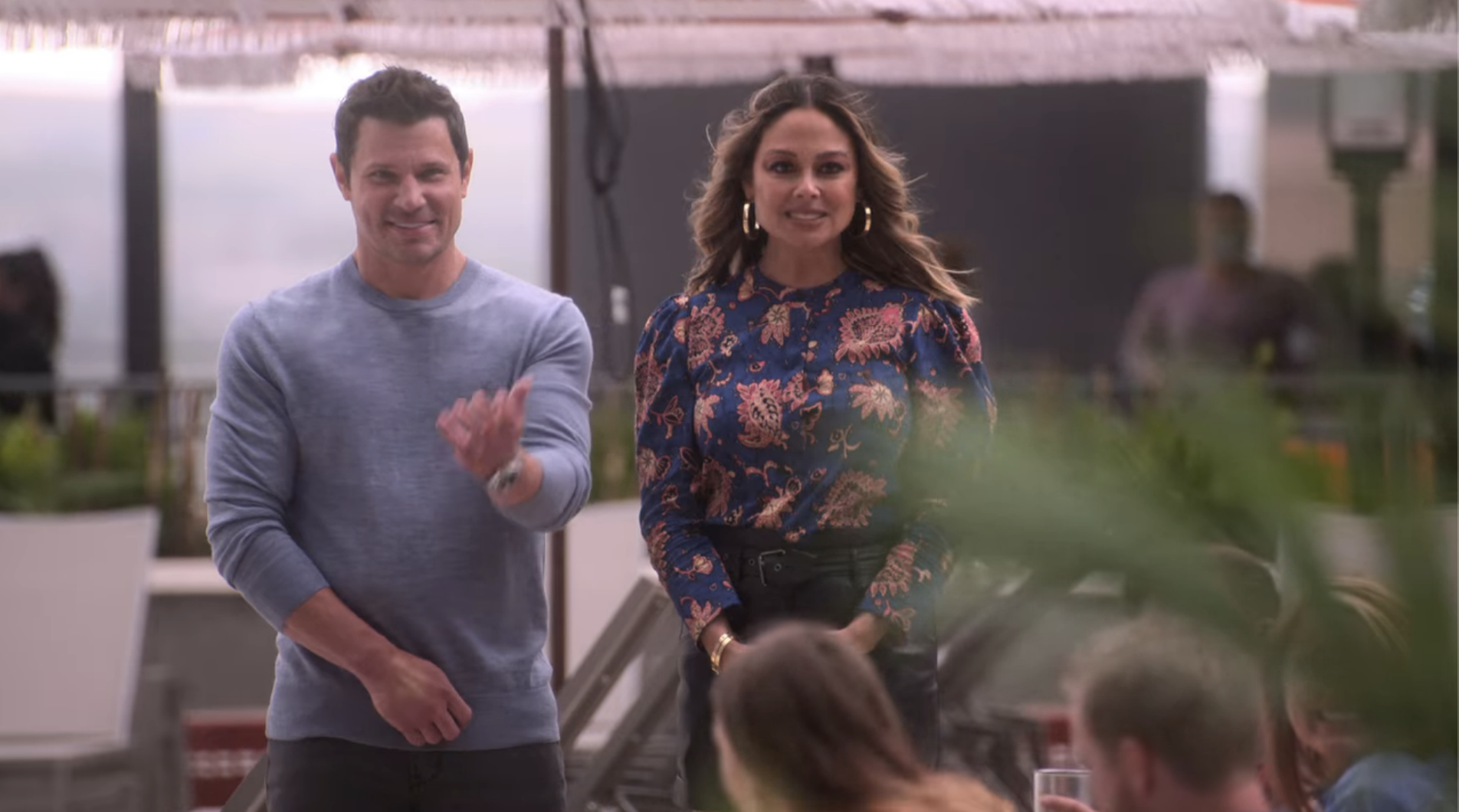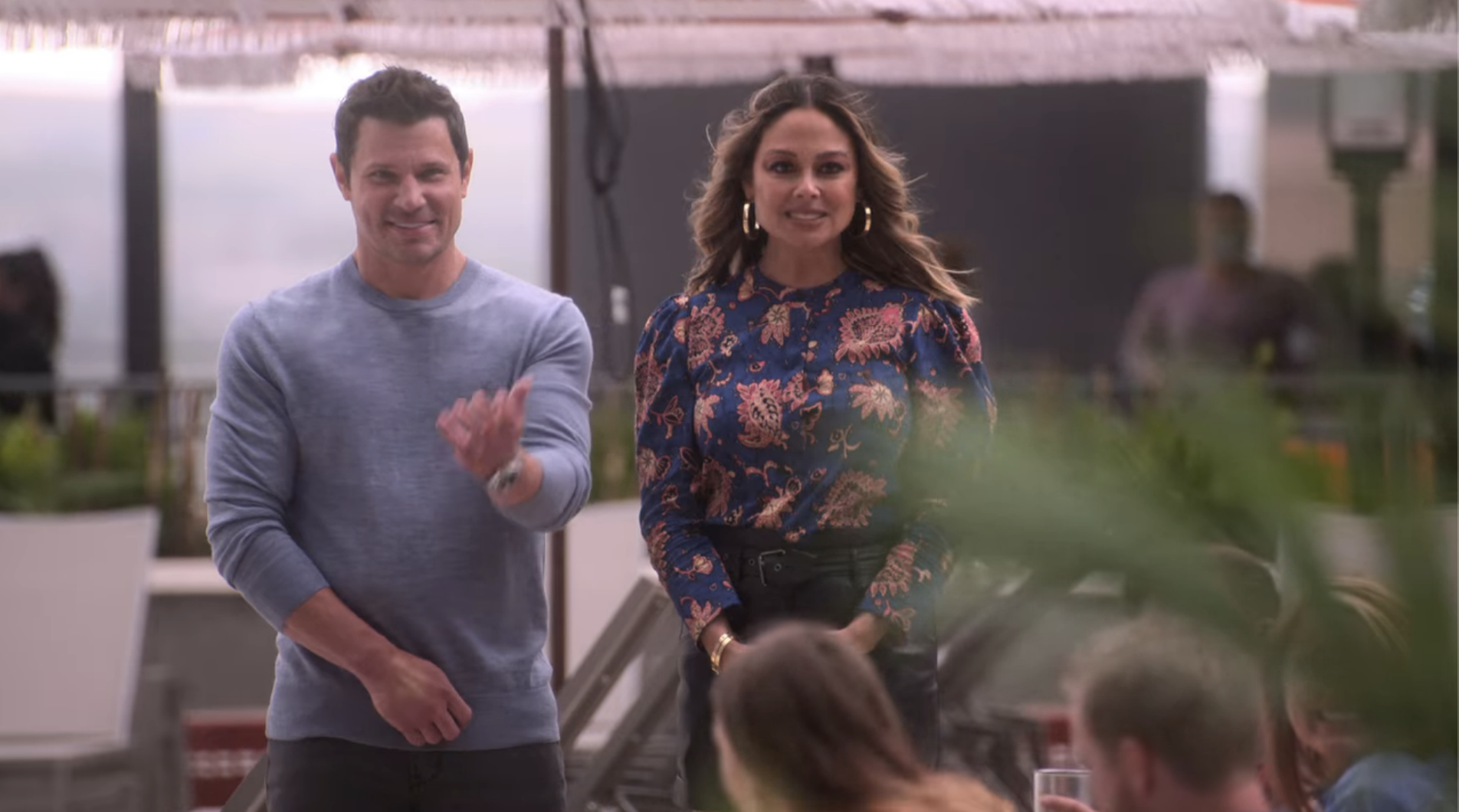 Netflix
The devil works hard, but Nick and Vanessa Lachey somehow work harder.
2.
Listen, Madlyn, is it? If you feel this way, THEN BREAK UP WITH YOUR MAN!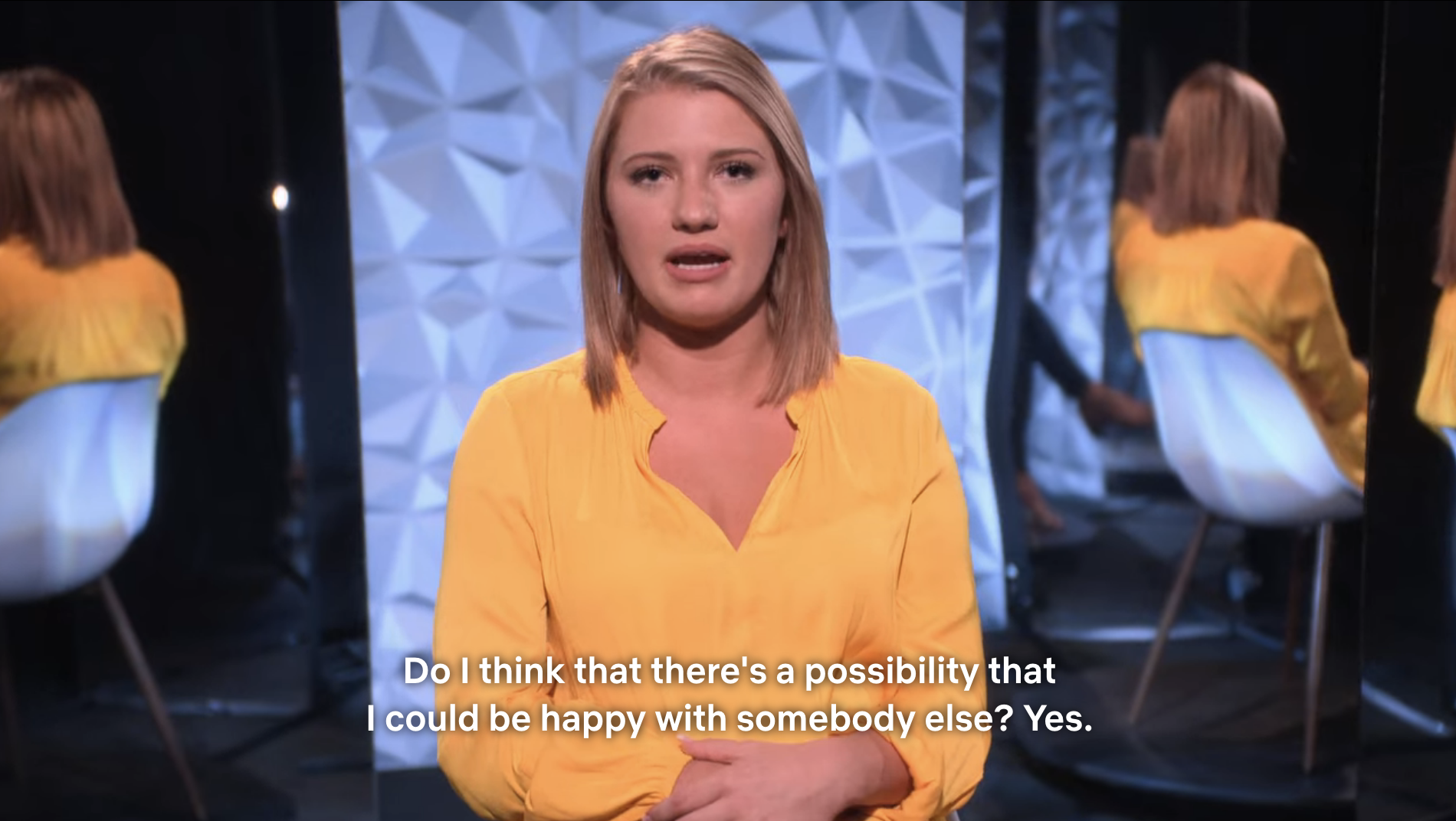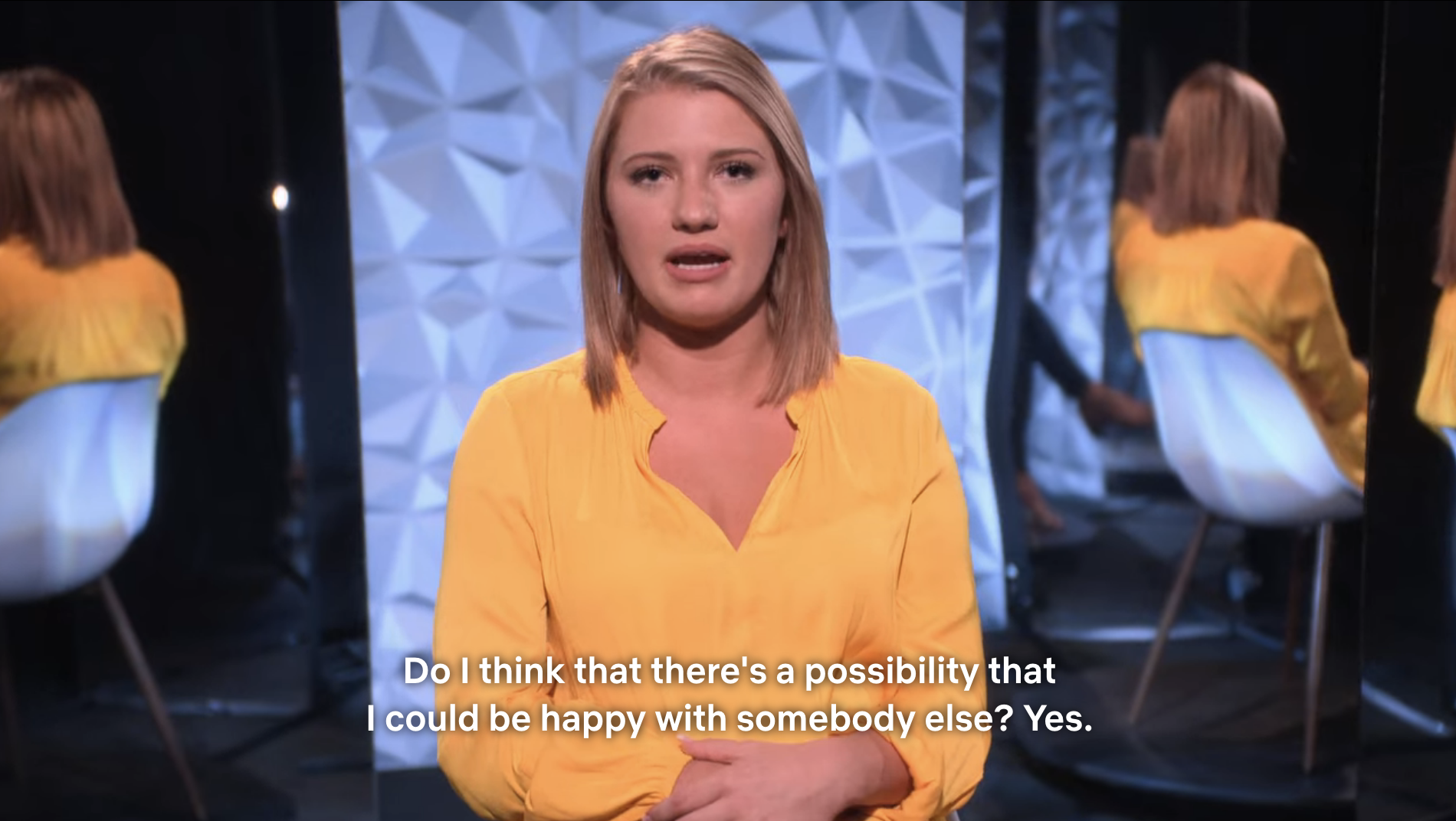 Netflix
If one person wants marriage and the other person doesn't…then the answer is pretty simple.
3.
SIS! YOU'RE 24! YOU'RE STILL A CHILD!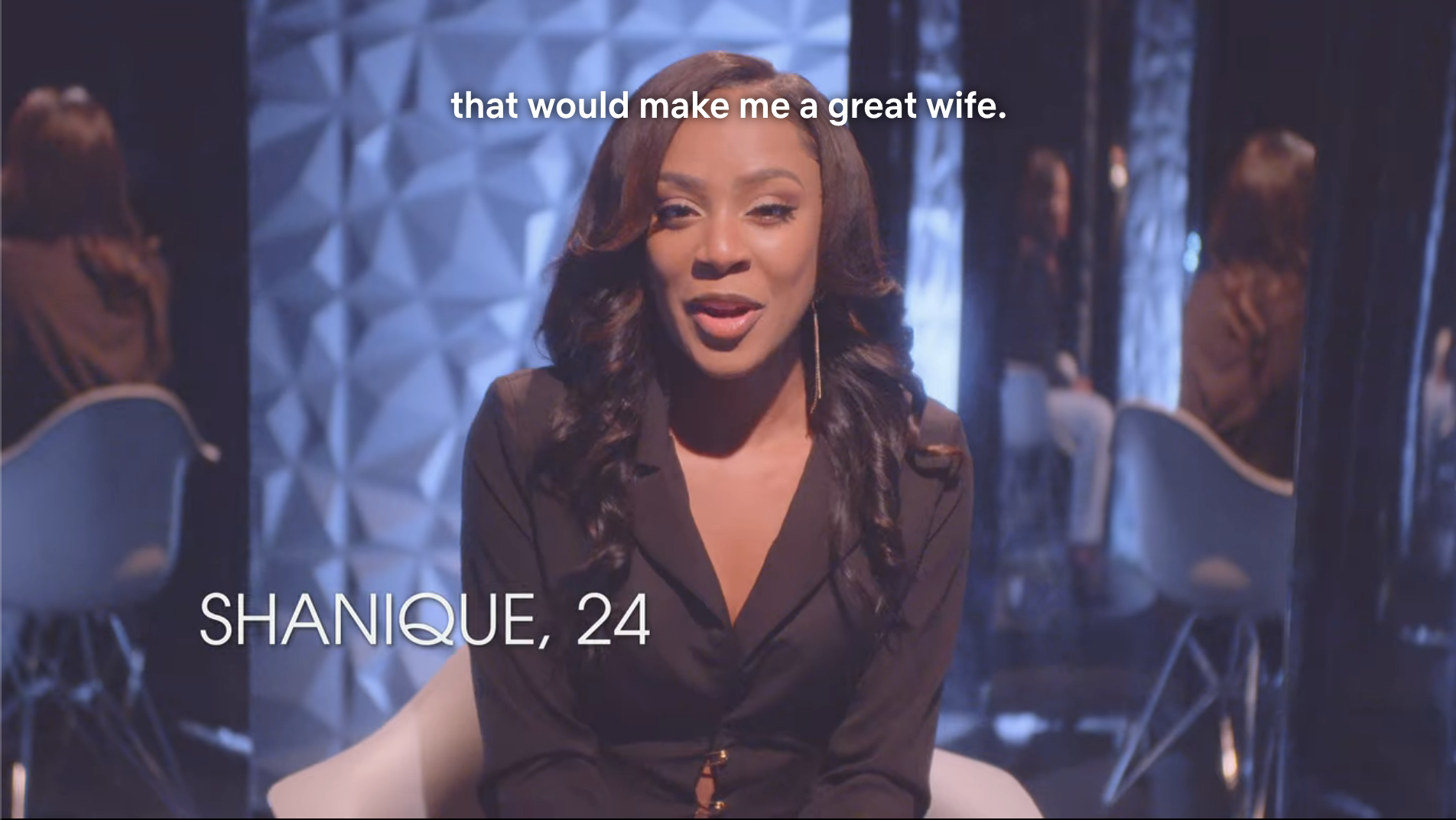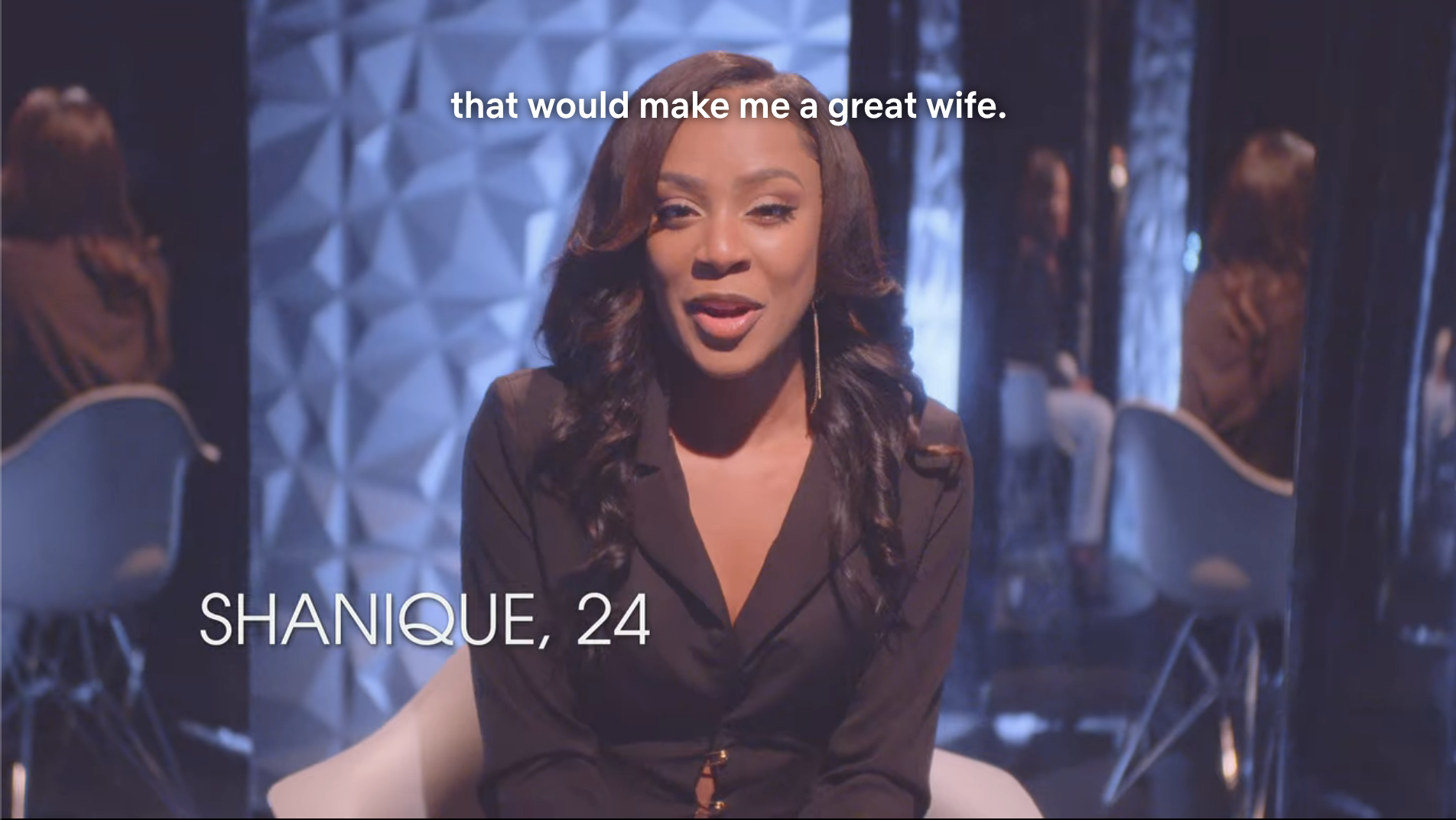 Netflix
"I've shown a lot of qualities in my relationship that would make me a great wife. I don't mind cooking, but I don't like doing dishes. I'm ready for my first baby. Then I'm gonna have to have another baby a couple of years after that. You help with the cleaning and I will do my best with the kids." SHANIQUE! THIS IS NOT WHAT MARRIAGE IS!!!
4.
OK, what Randall is saying about why he isn't ready yo marry Shanique…makes sense? He doesn't wanna bring his personal debt into their marriage, which is…fair?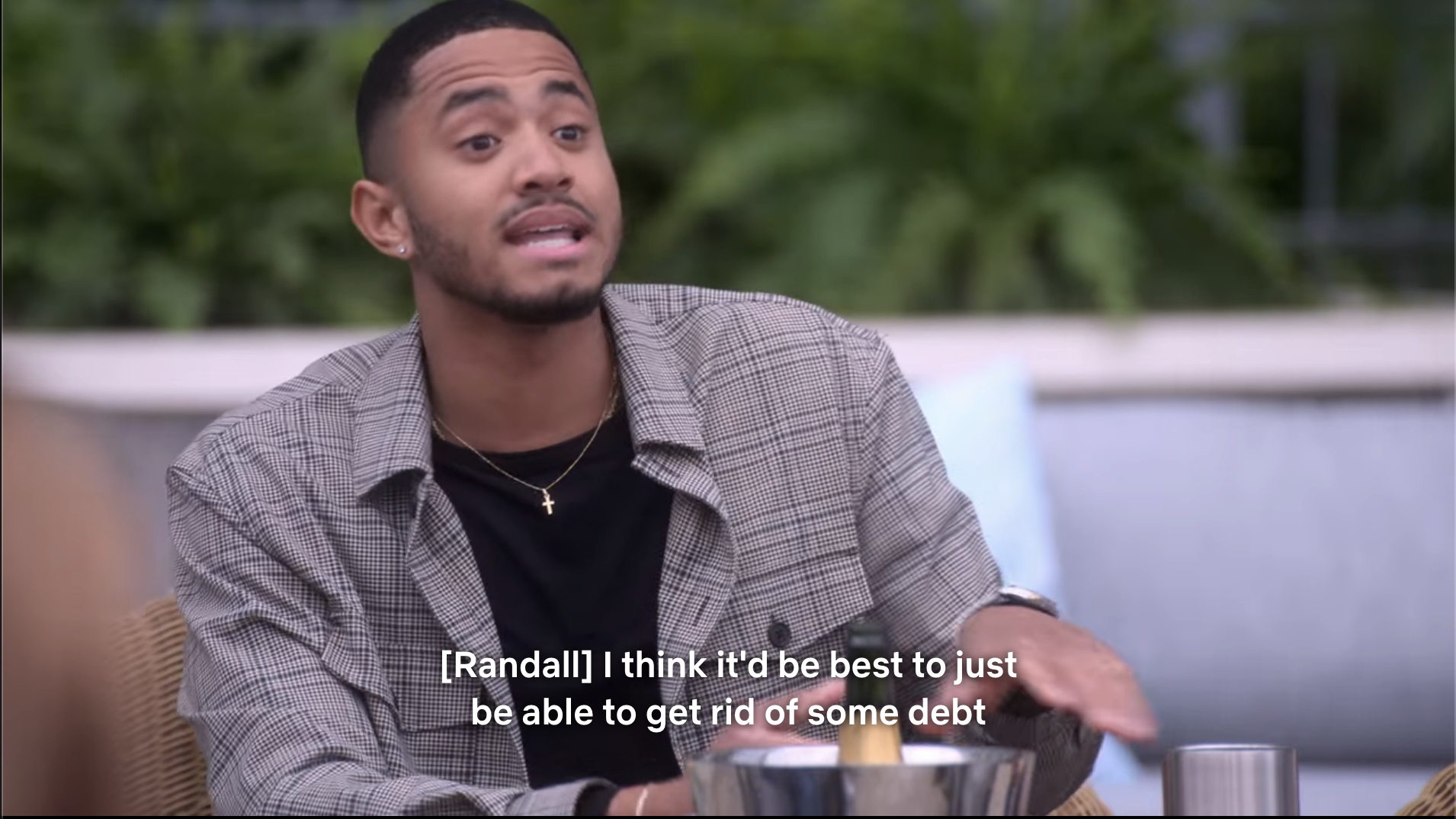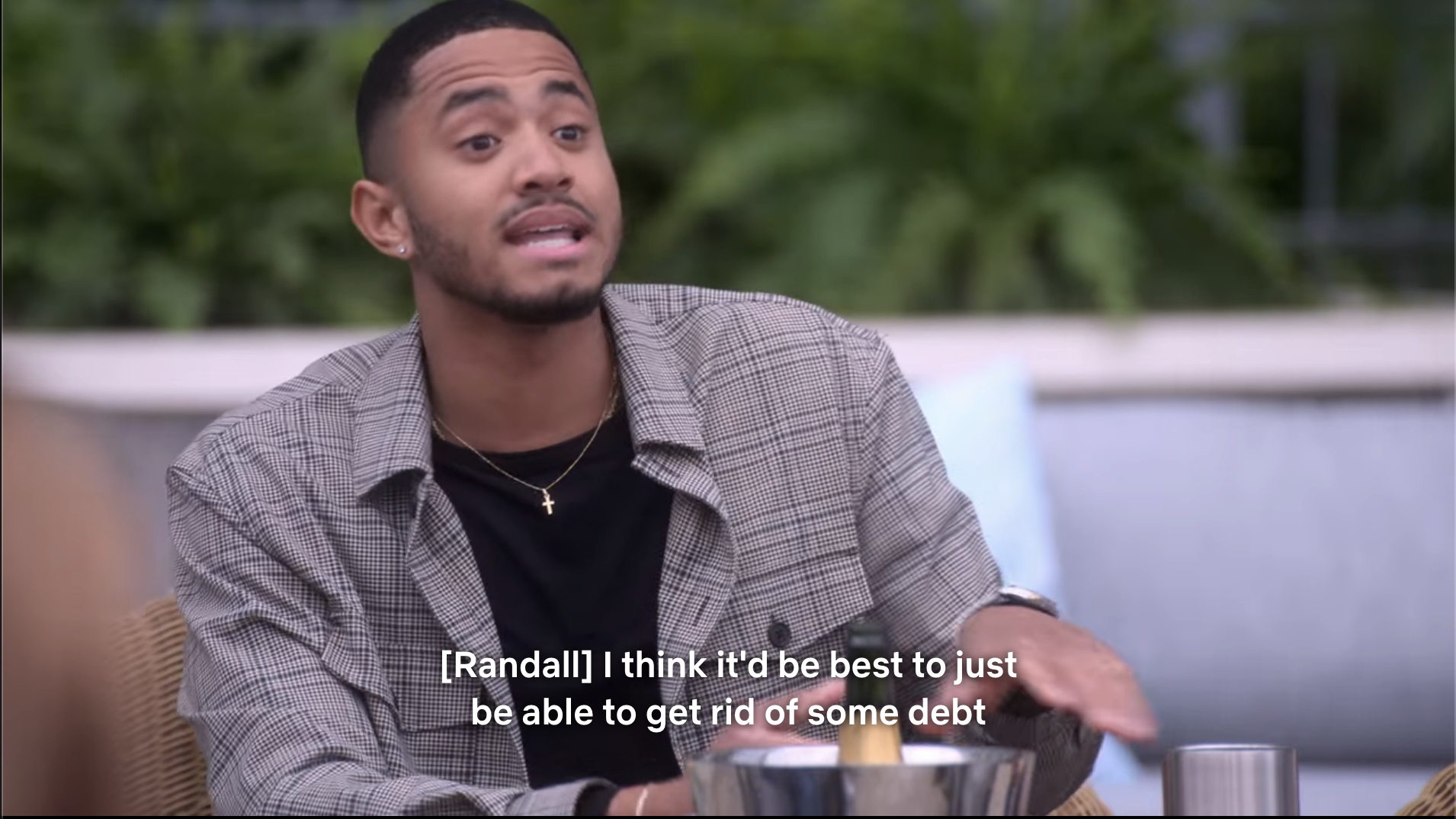 Netflix
I feel like Imma regret real soon siding with Randall over Shanique, but at this very moment, he's making a lot of sense.
5.
I already forgot his name, but if this is how you feel and it's not about your CURRENT GIRLFRIEND, then BREAK UP WITH HER!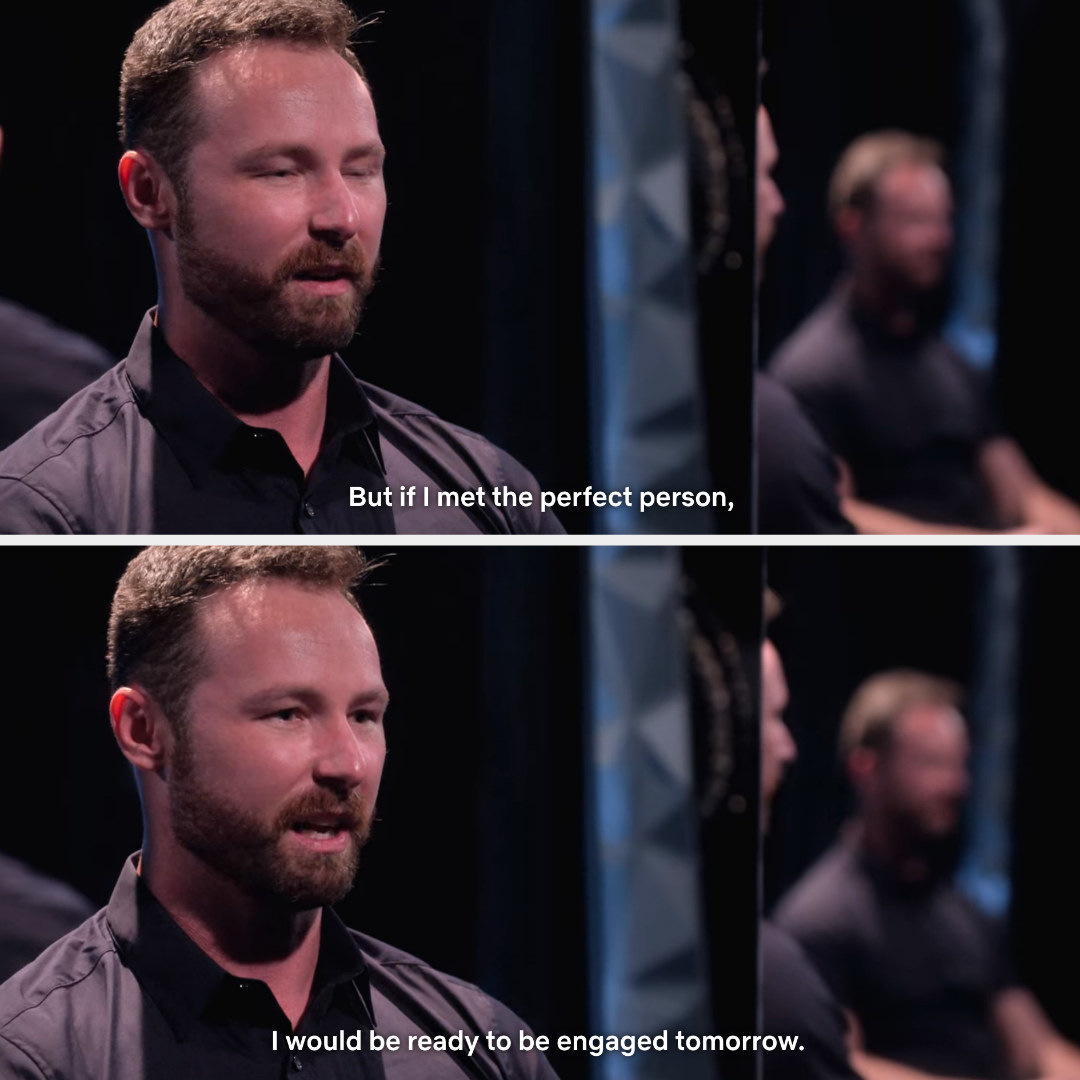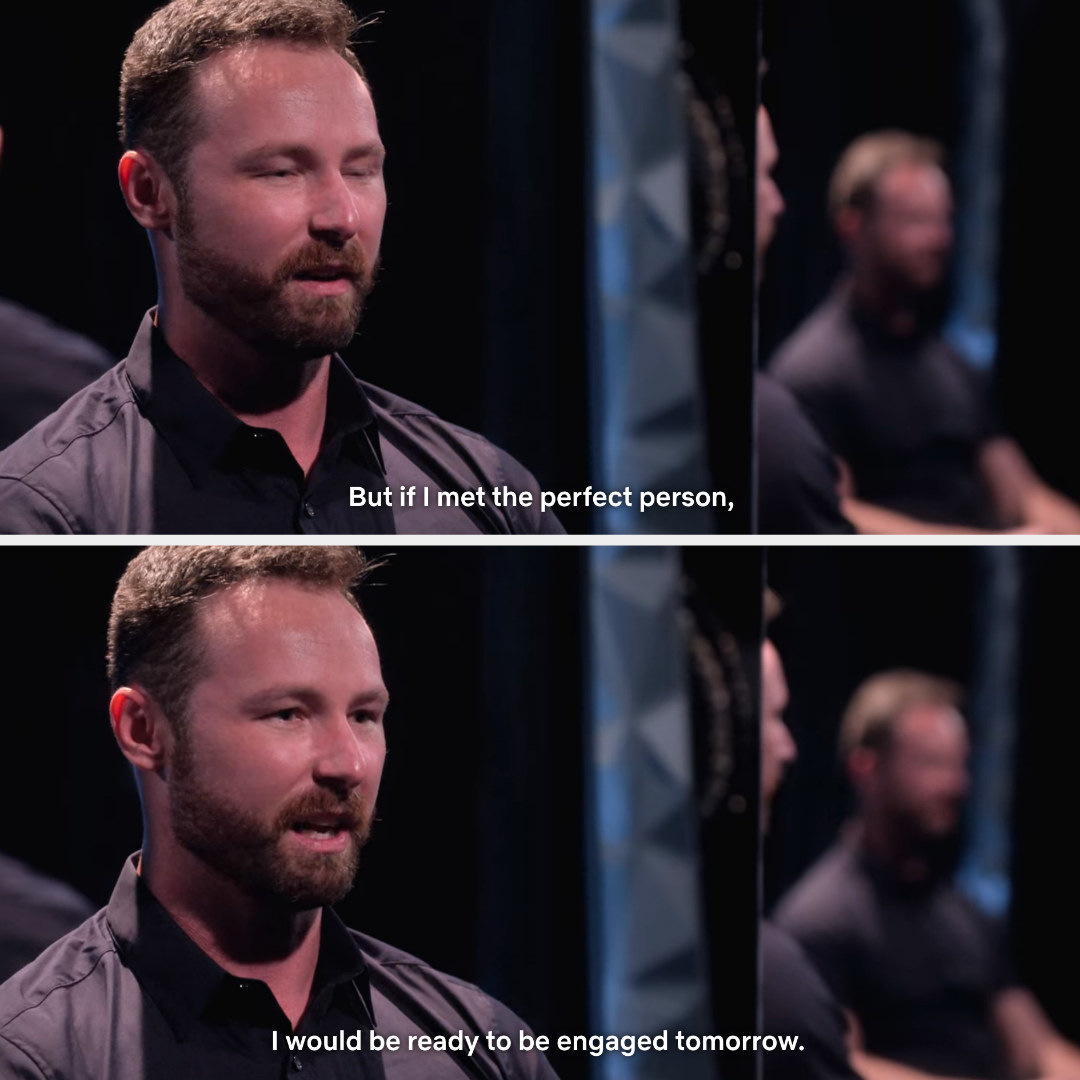 Netflix
So far, this dude is enemy No. 1 in my book.
6.
OK, the gist is that after spending time getting to know other people, they're gonna move in with a different partner for three weeks, and then move back in with the partner they came in with for three weeks, and see who's a better fit! I see no flaws there, she said sarcastically.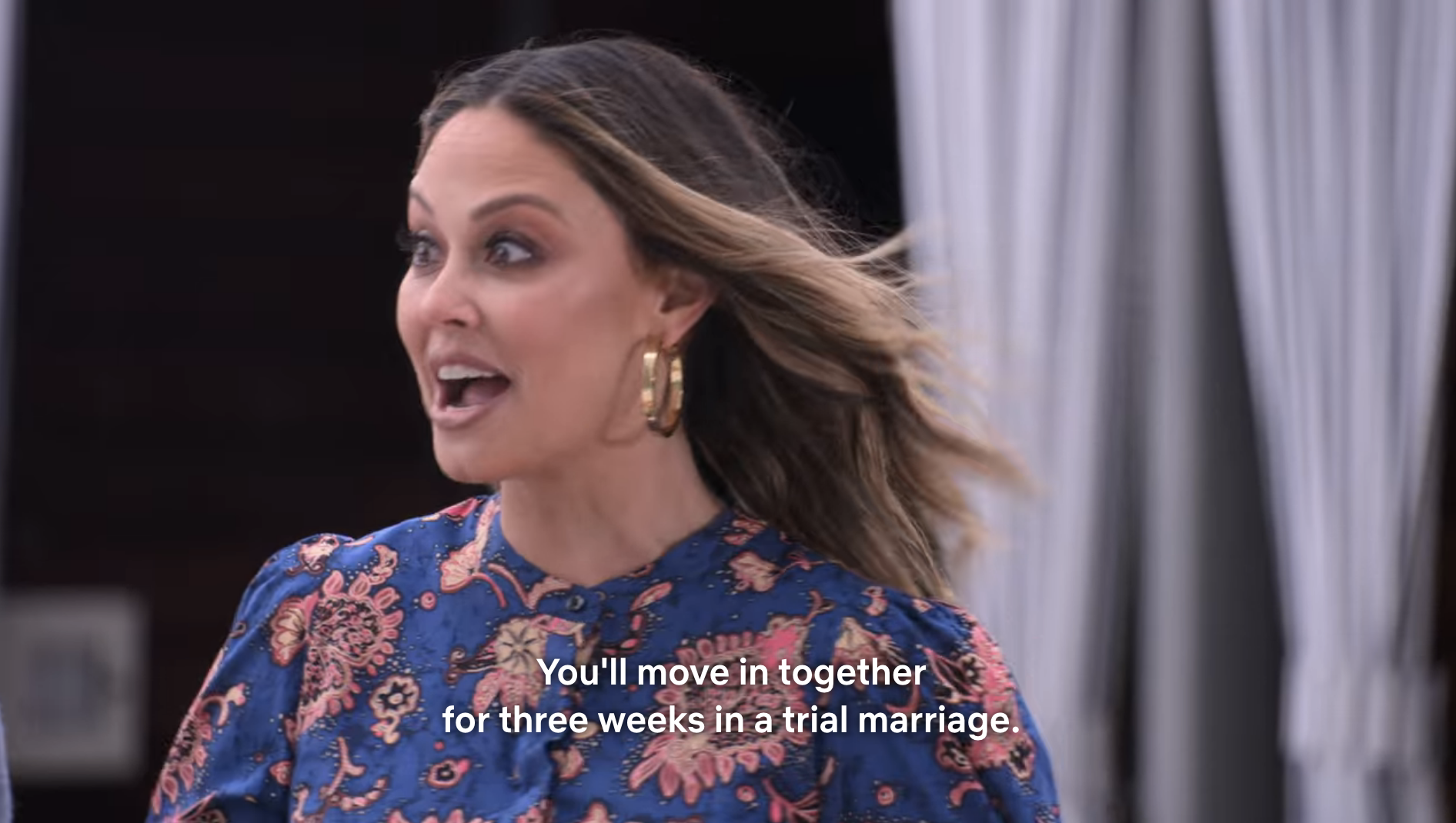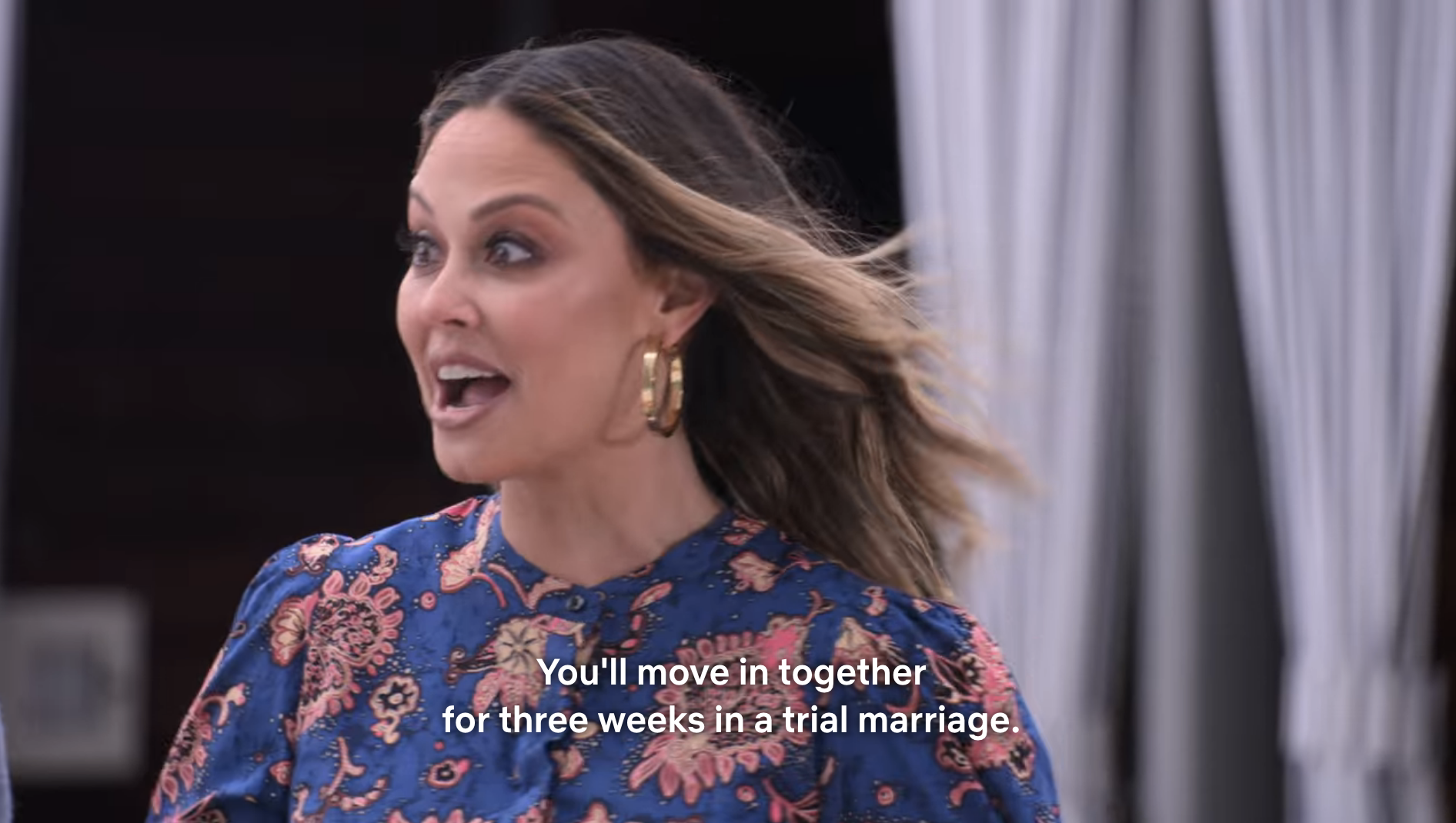 Netflix
Like, correct me if I'm wrong, but spending three weeks with a shiny new toy and then returning to your tried-and-true partner doesn't seem like the best breeding ground for making important decisions.
7.
GWORL! If you're already feelin' this type of way, then you should not be considering marriage, let alone be in a committed relationship: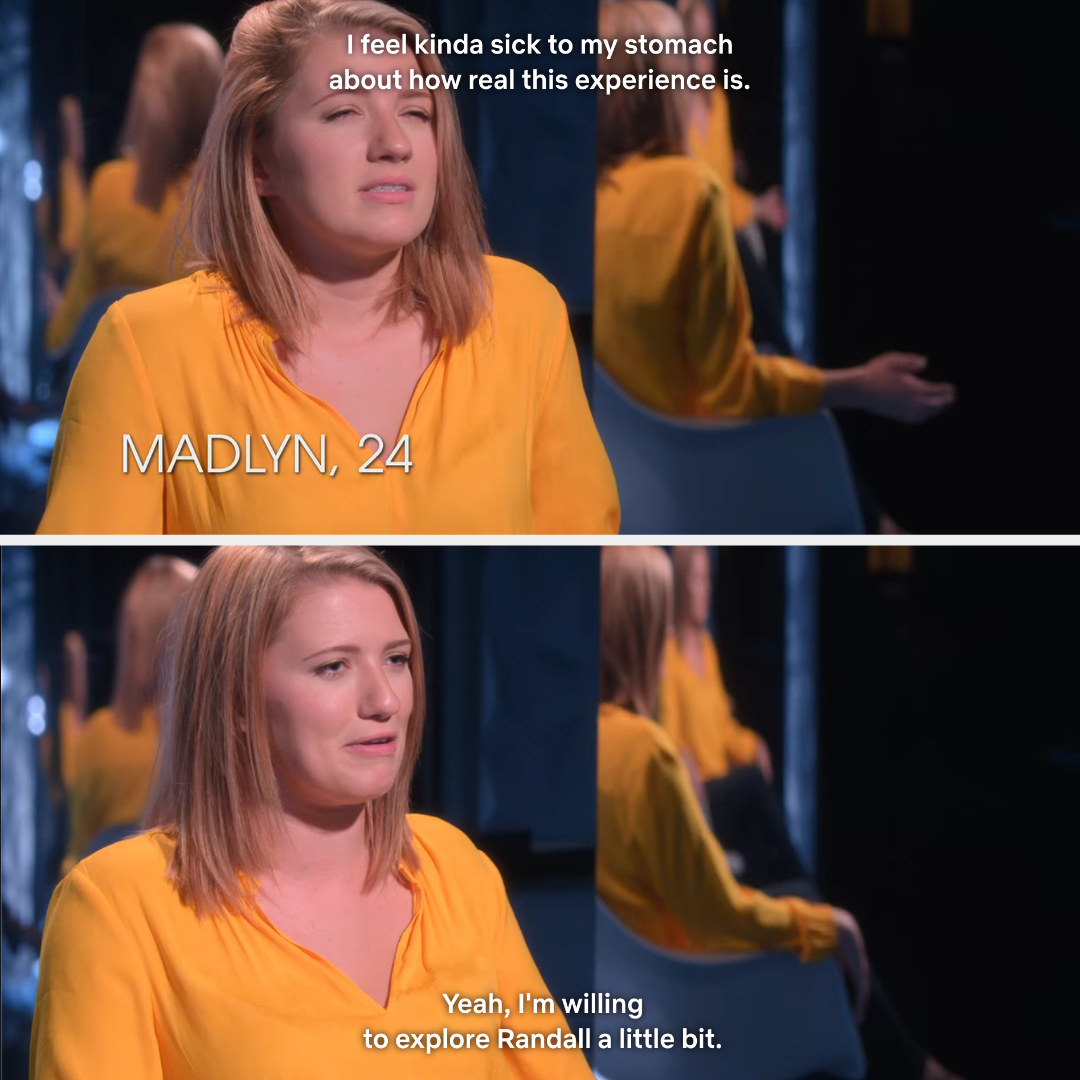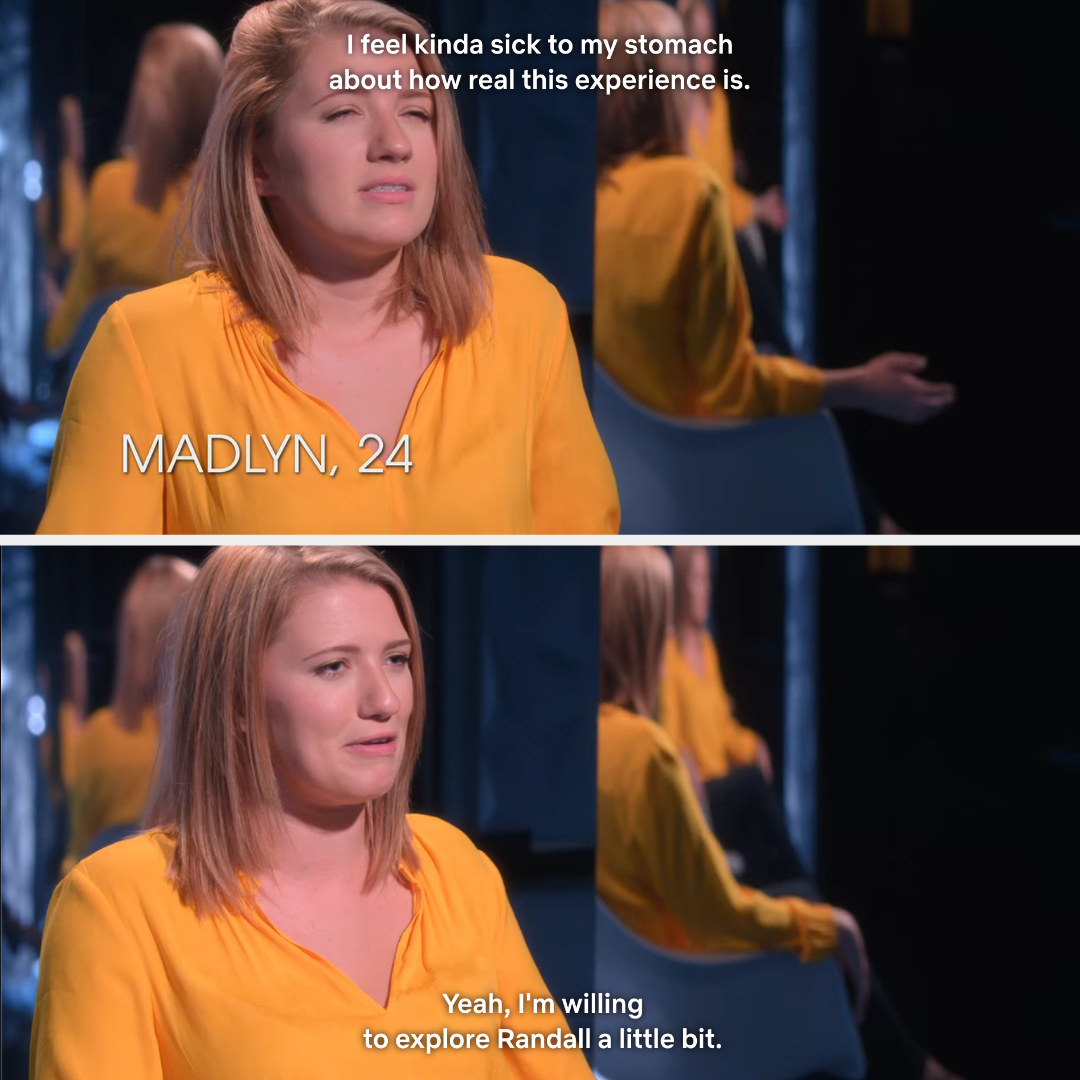 Netflix
I take it back. This girl is enemy No. 1.
8.
So far, no one has been, like, "I wanna spend the rest of my life with this person." It's always answers like this: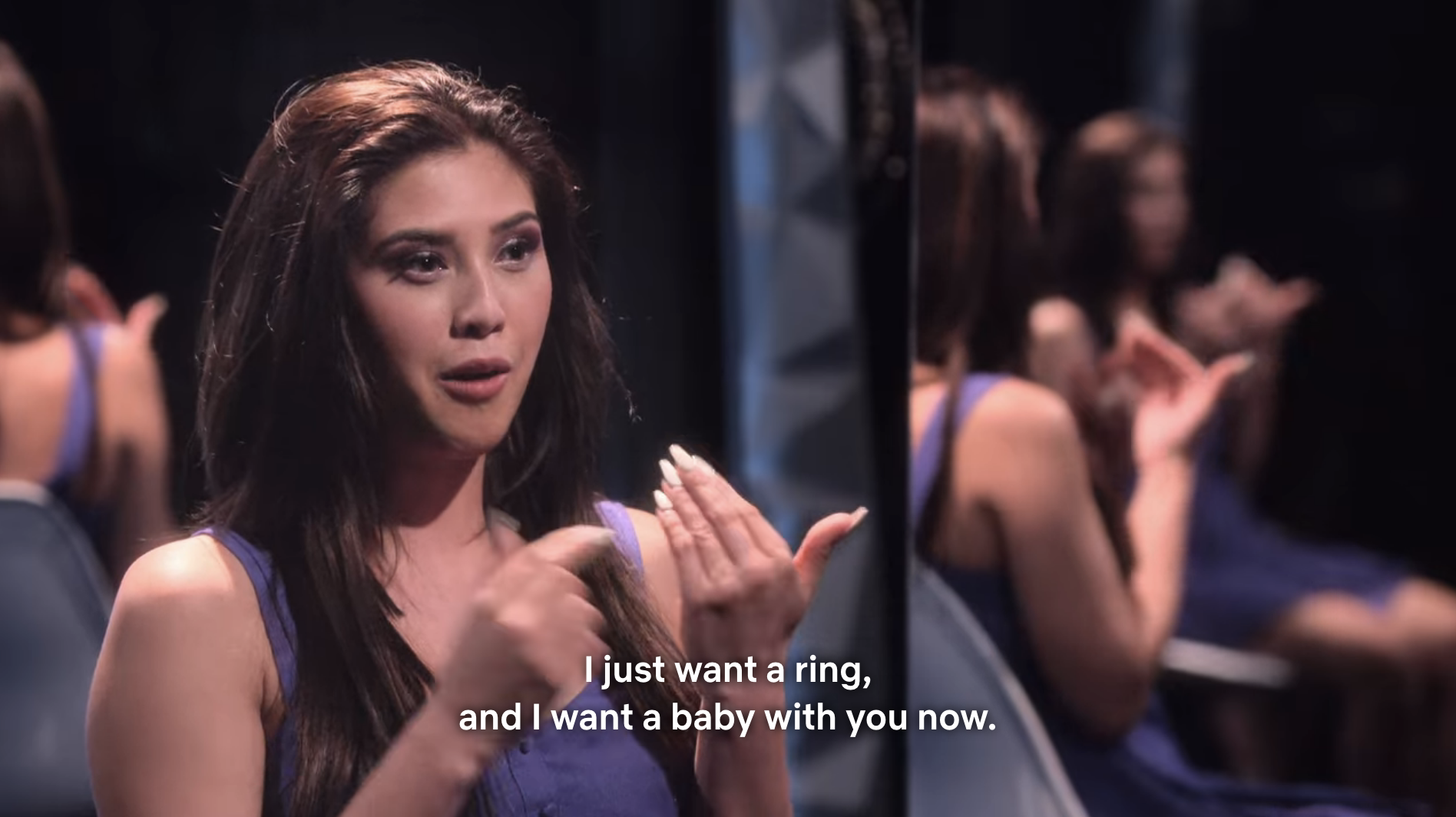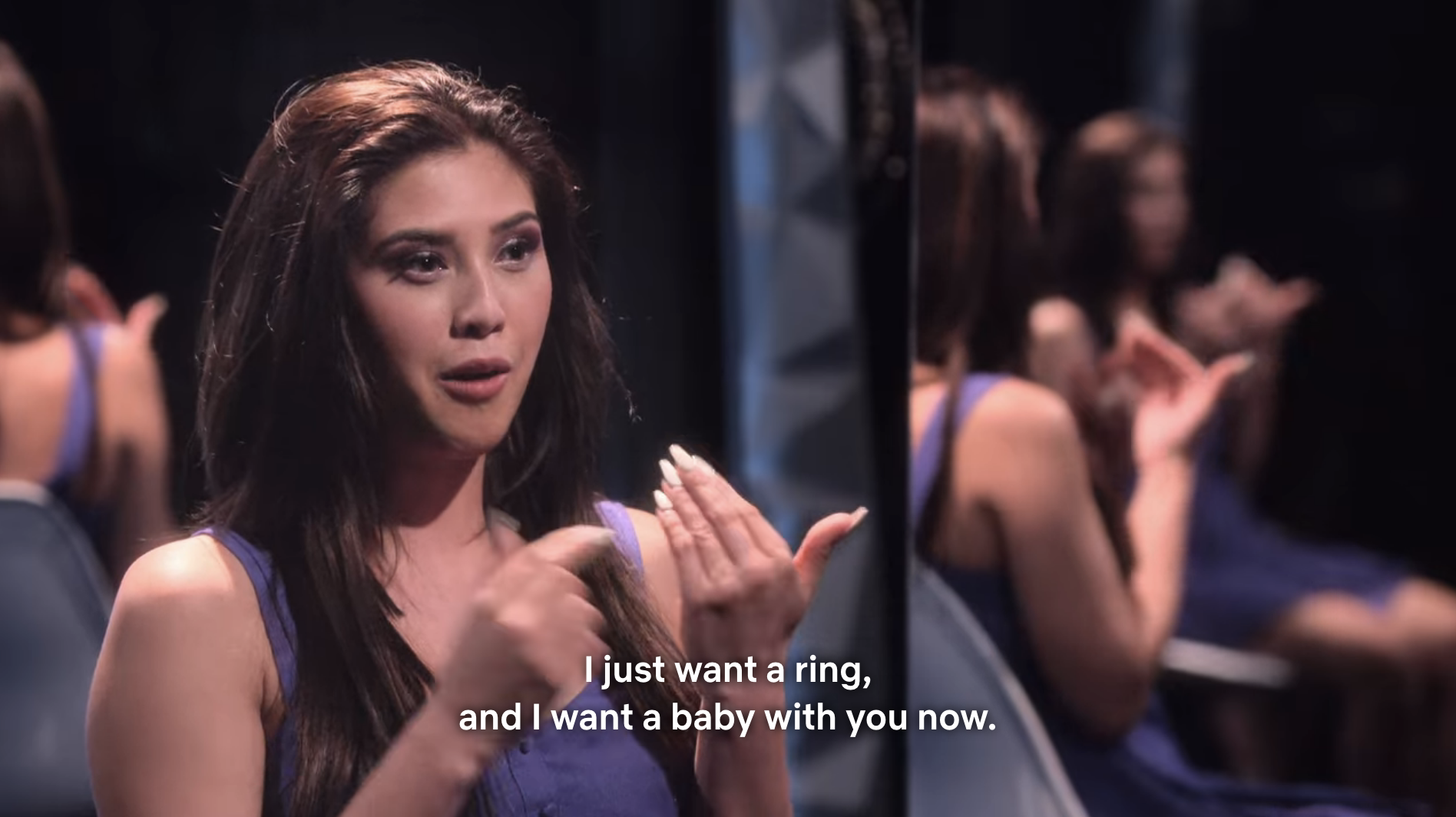 Netflix
If you want a ring, buy one! No need to get married, just go to the Macy's jewelry counter.
9.
DO THESE PEOPLE KNOW WHAT IT MEANS TO GET MARRIED???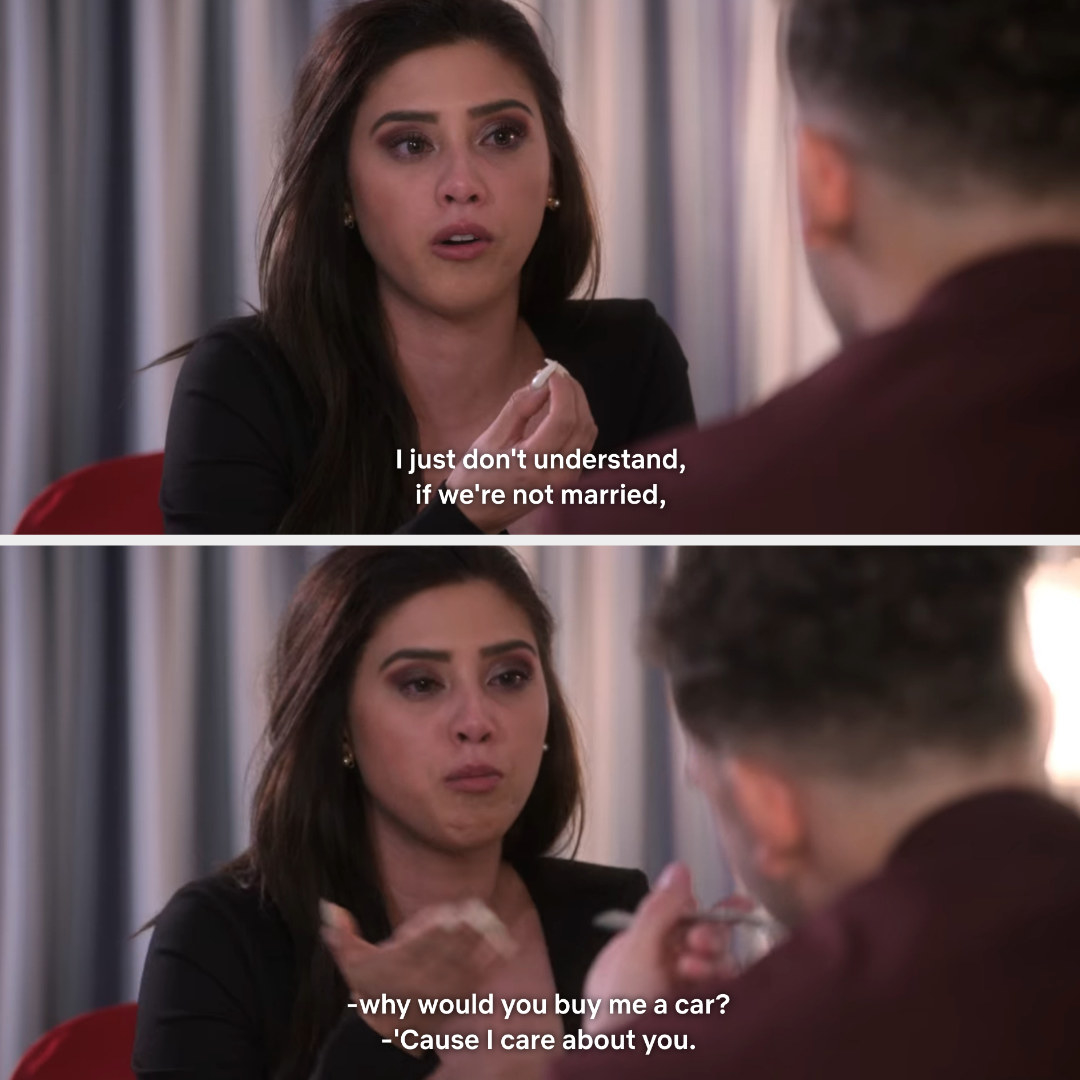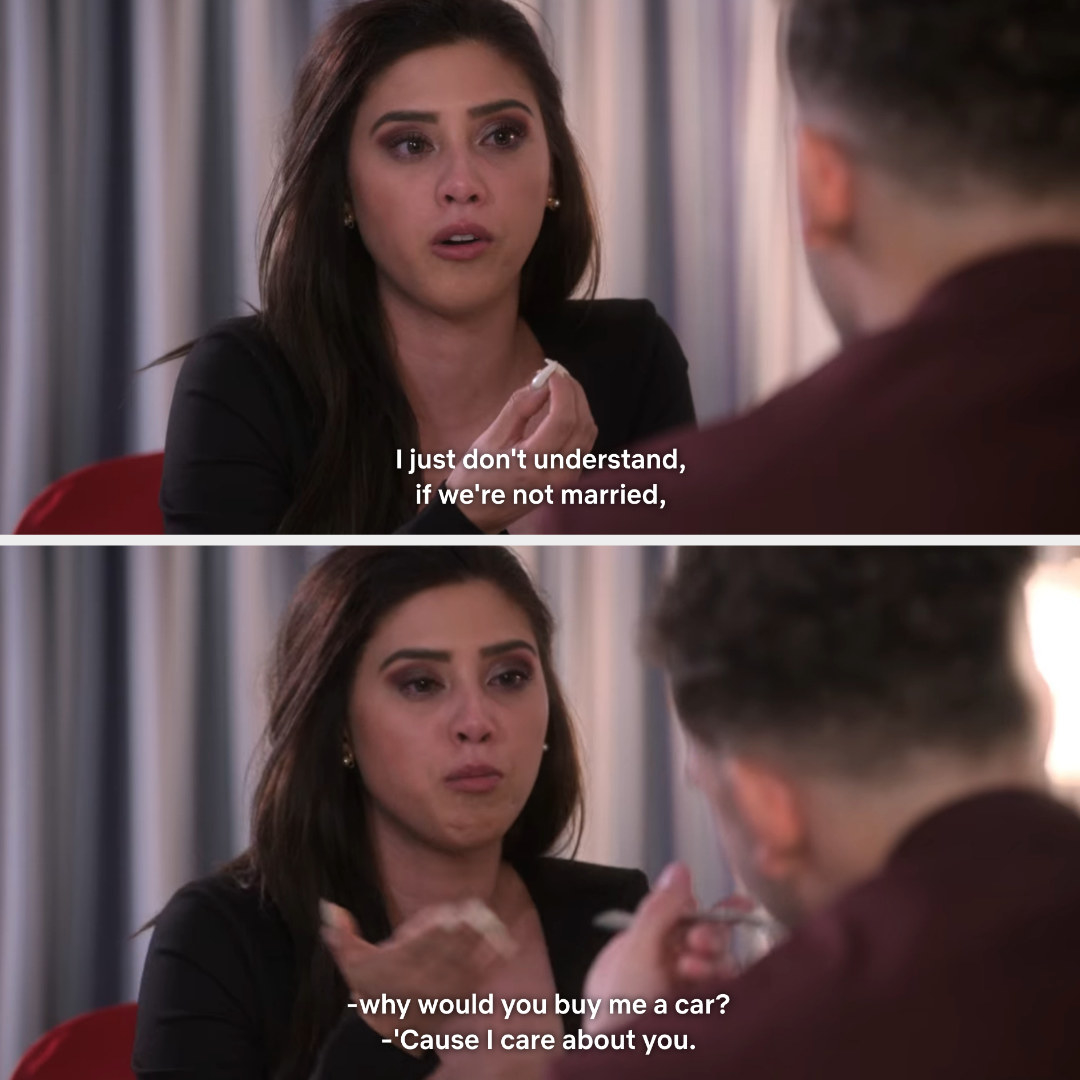 Netflix
April isn't even old enough to rent a car and she's already talking about getting married???
10.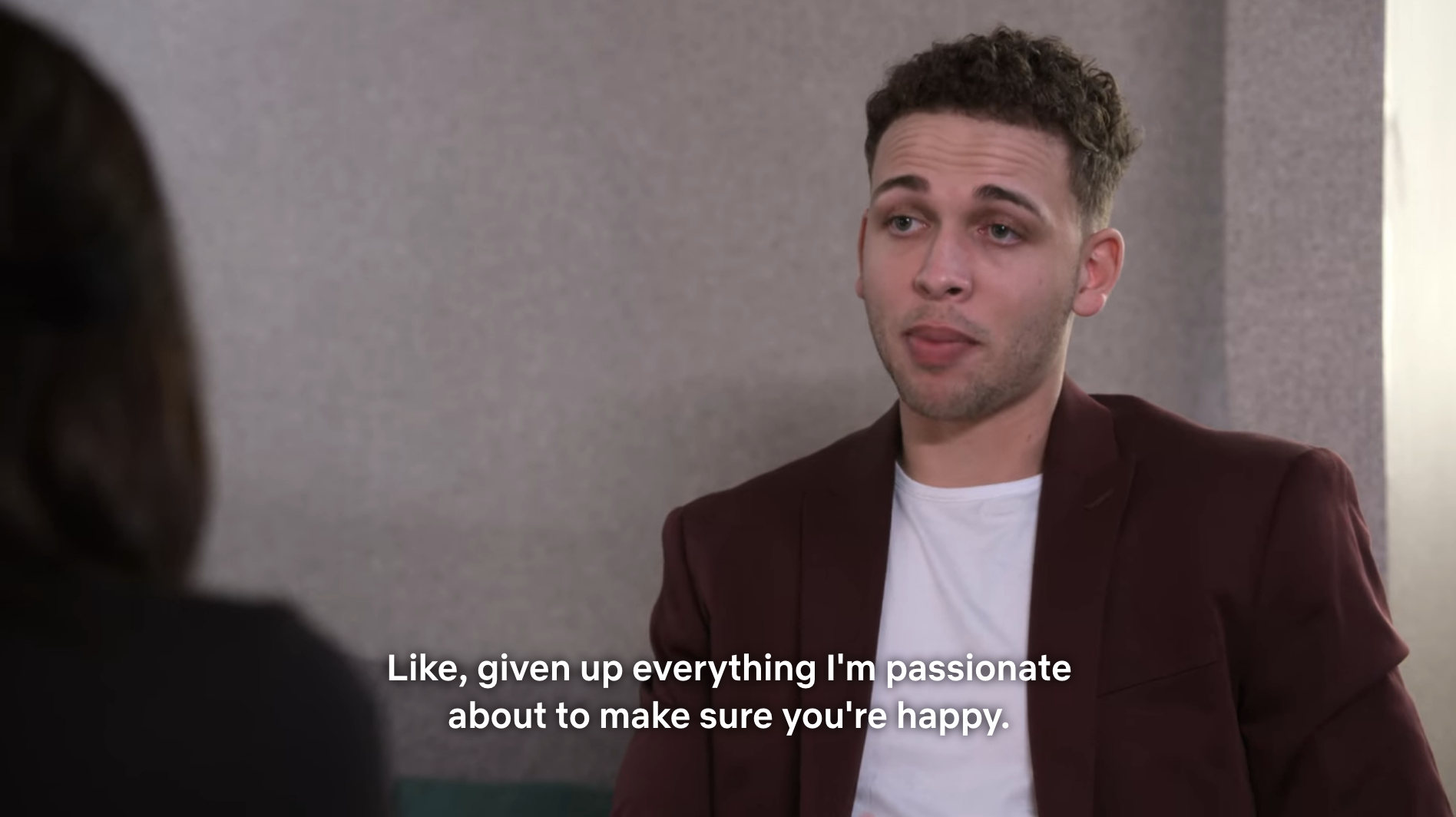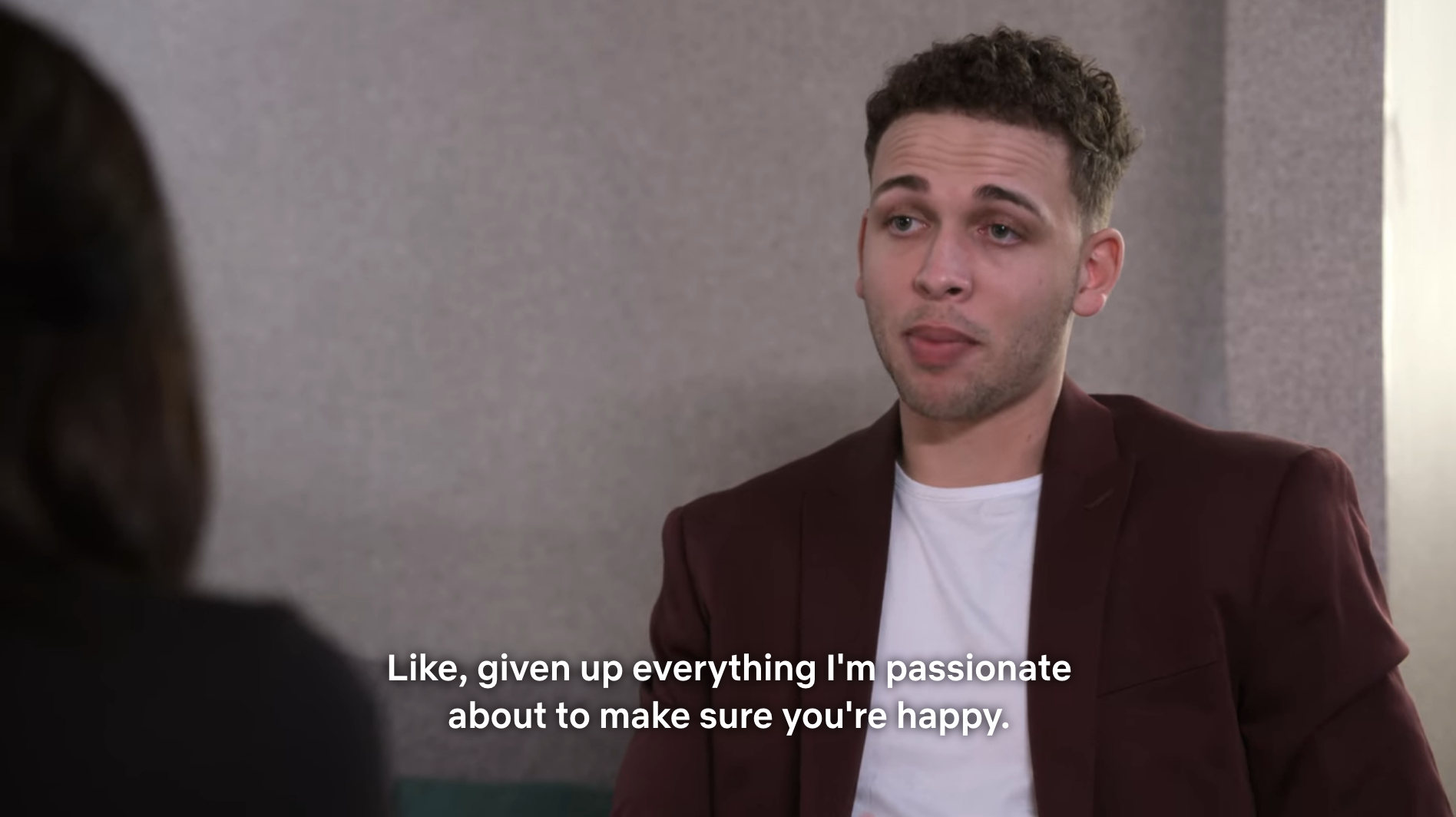 Netflix
You shouldn't have to give up parts of yourself to make your partner happy! Period.
11.
Live reaction of me listening to all these children wanting marriage but none of them being "financially stable":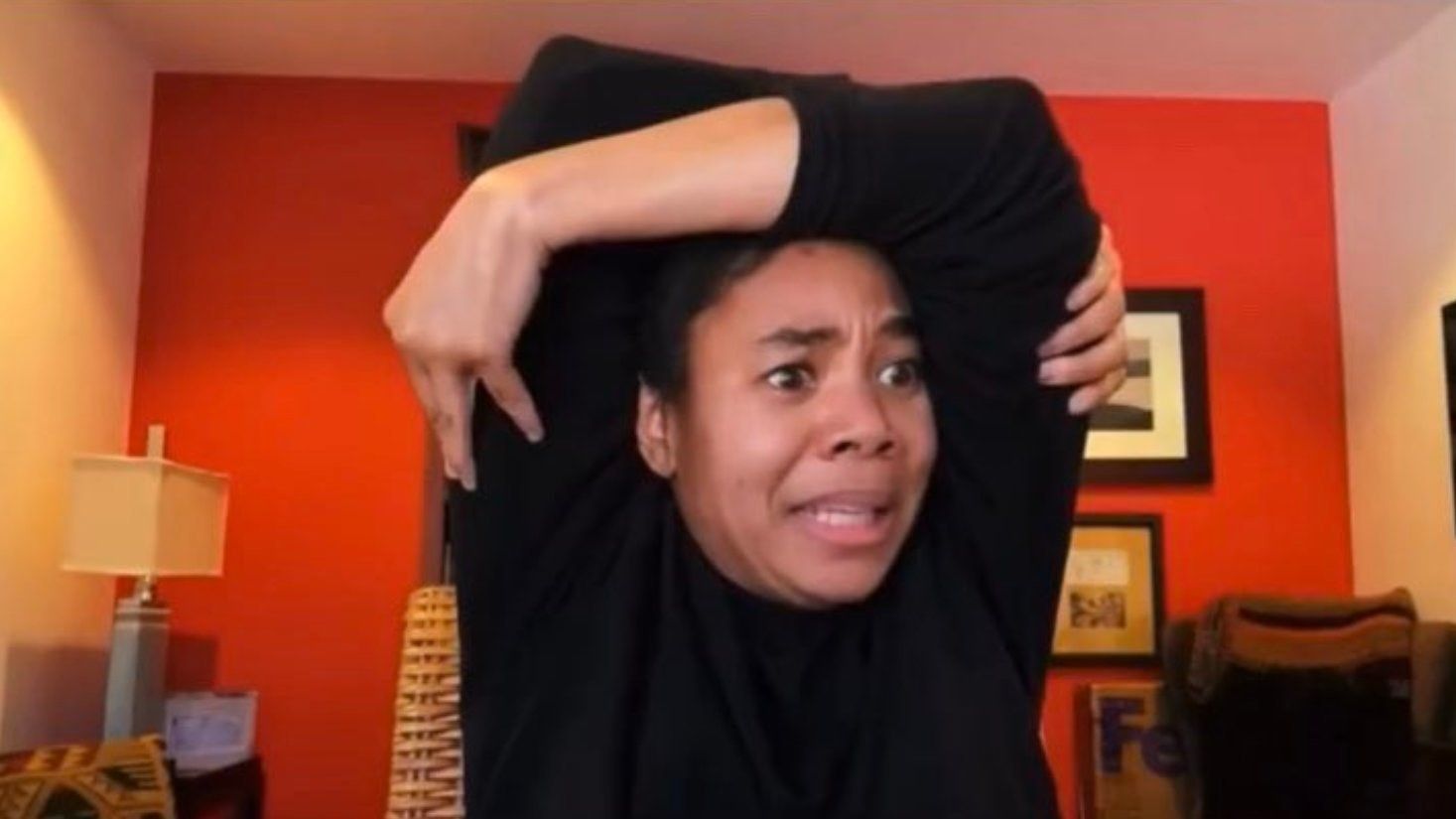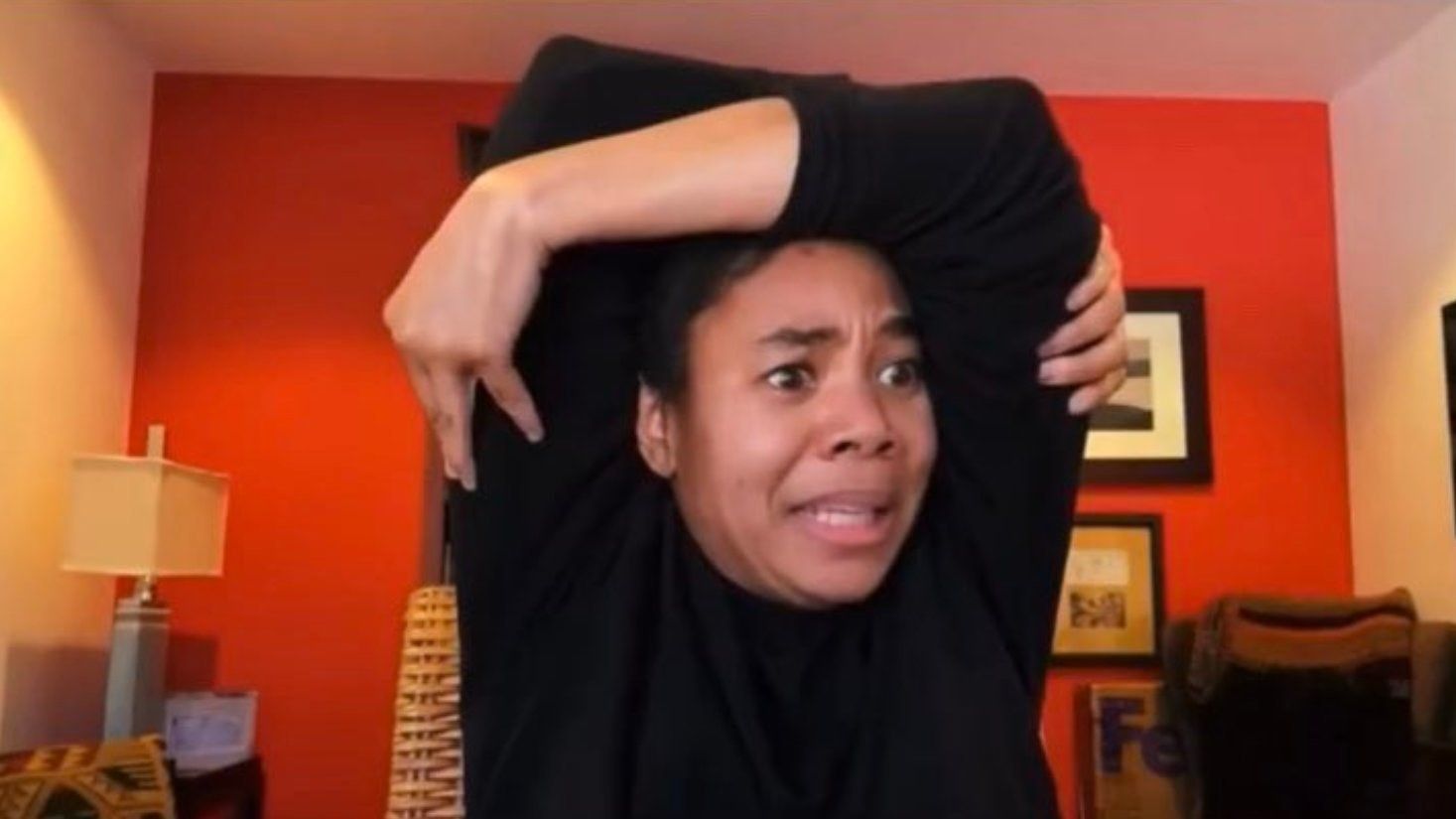 YouTube
12.
OK. HOLD UP. If someone wants kids and the other person doesn't…then there's no "compromise."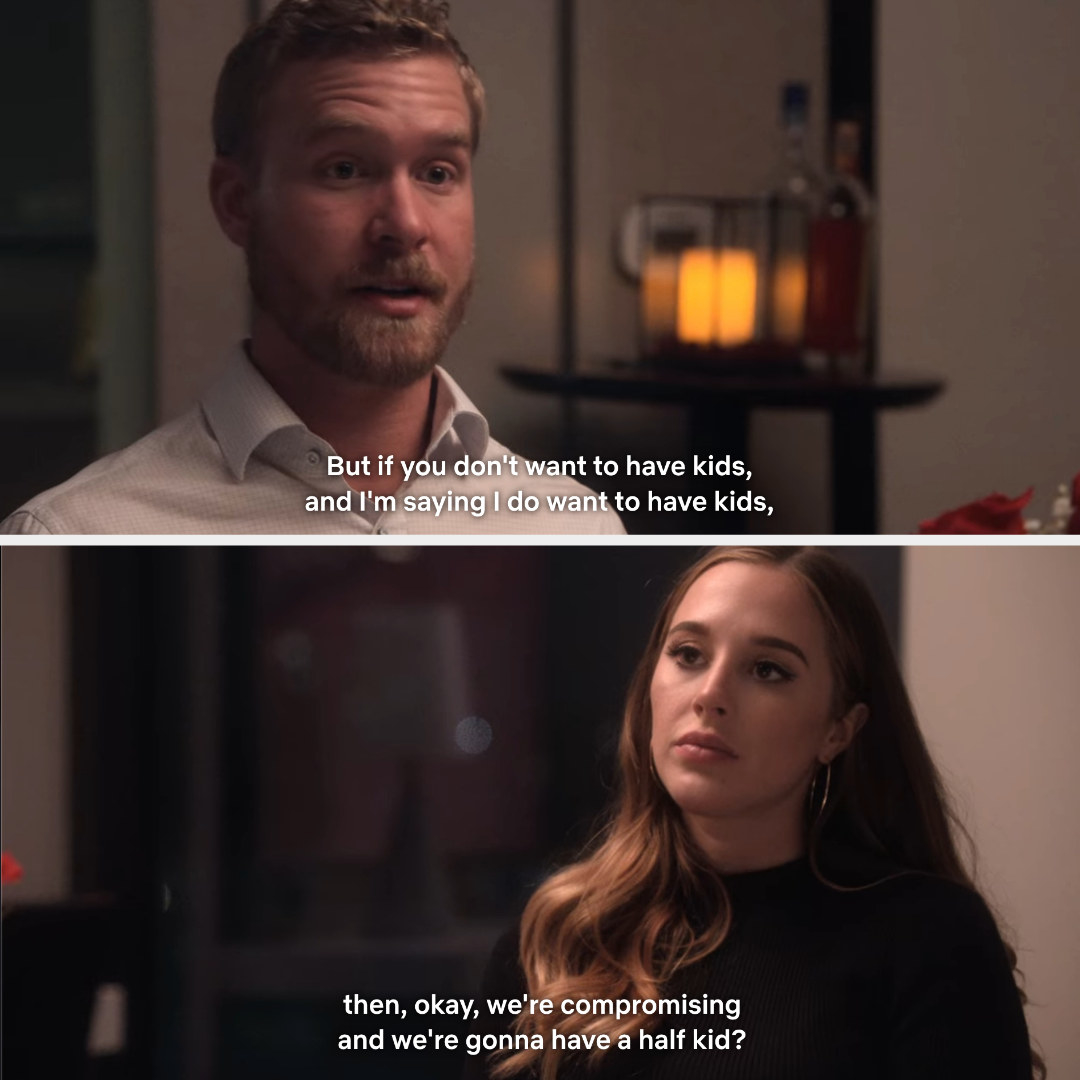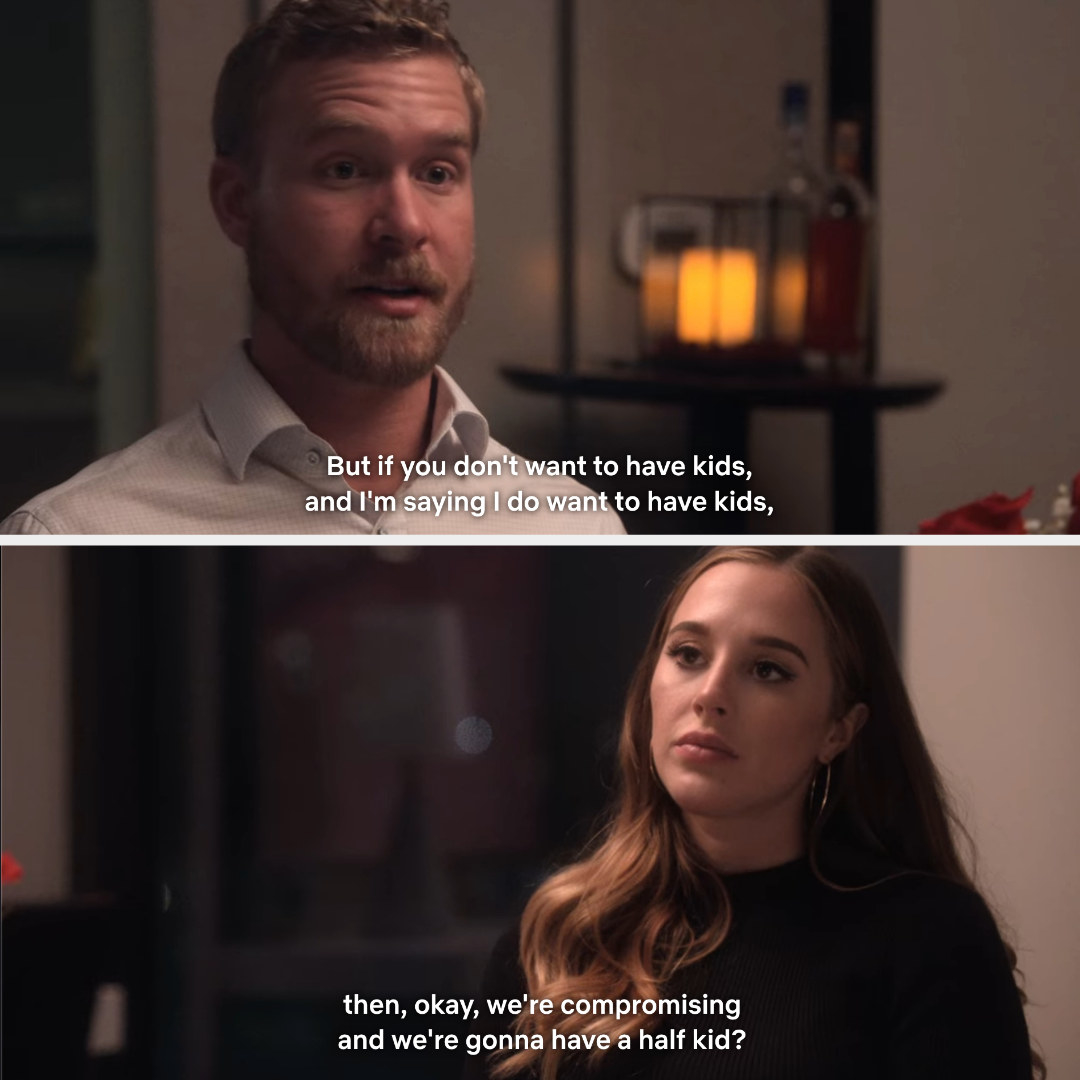 Netflix
Lemme save you the time. Y'all should just break up. No need for this experience.
13.
One person's full package is another person's "OK, me too, what's your point?"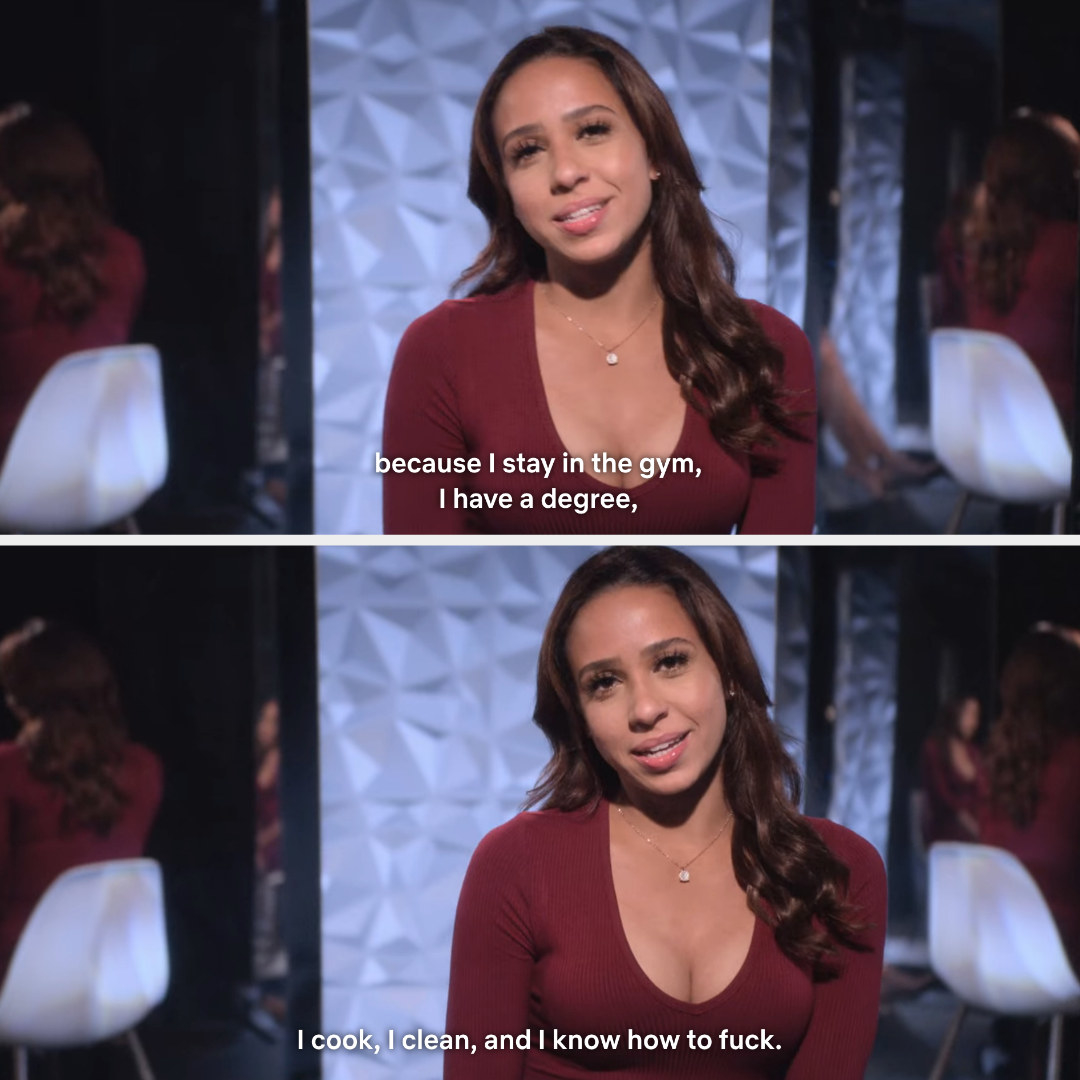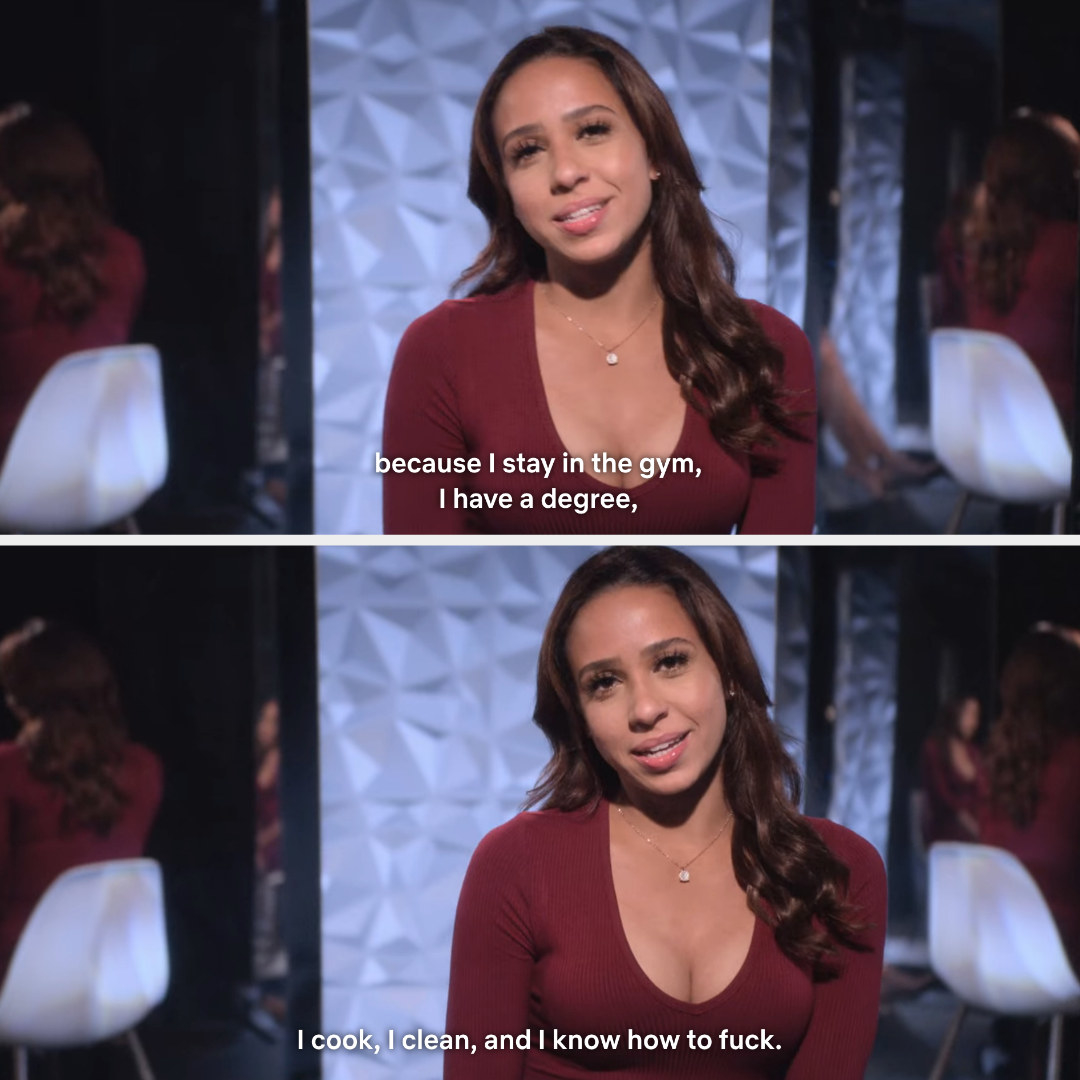 Netflix
Like, do y'all have similar hobbies? Core values? Life goals???
14.
So far, I'm 20 minutes in and everyone who wants to get married isn't giving nearly as good enough reasons for wanting that over the people who don't want to get married: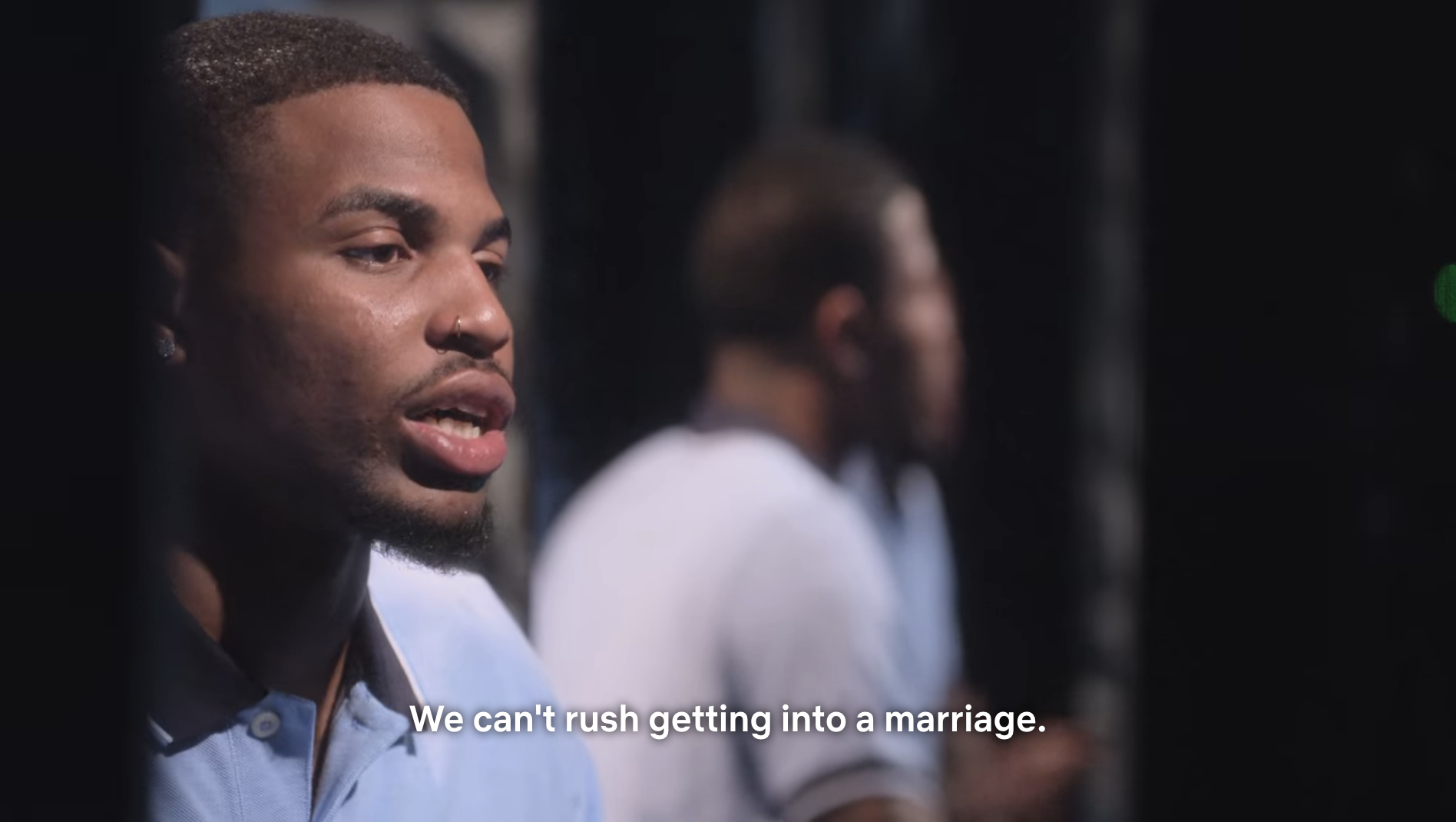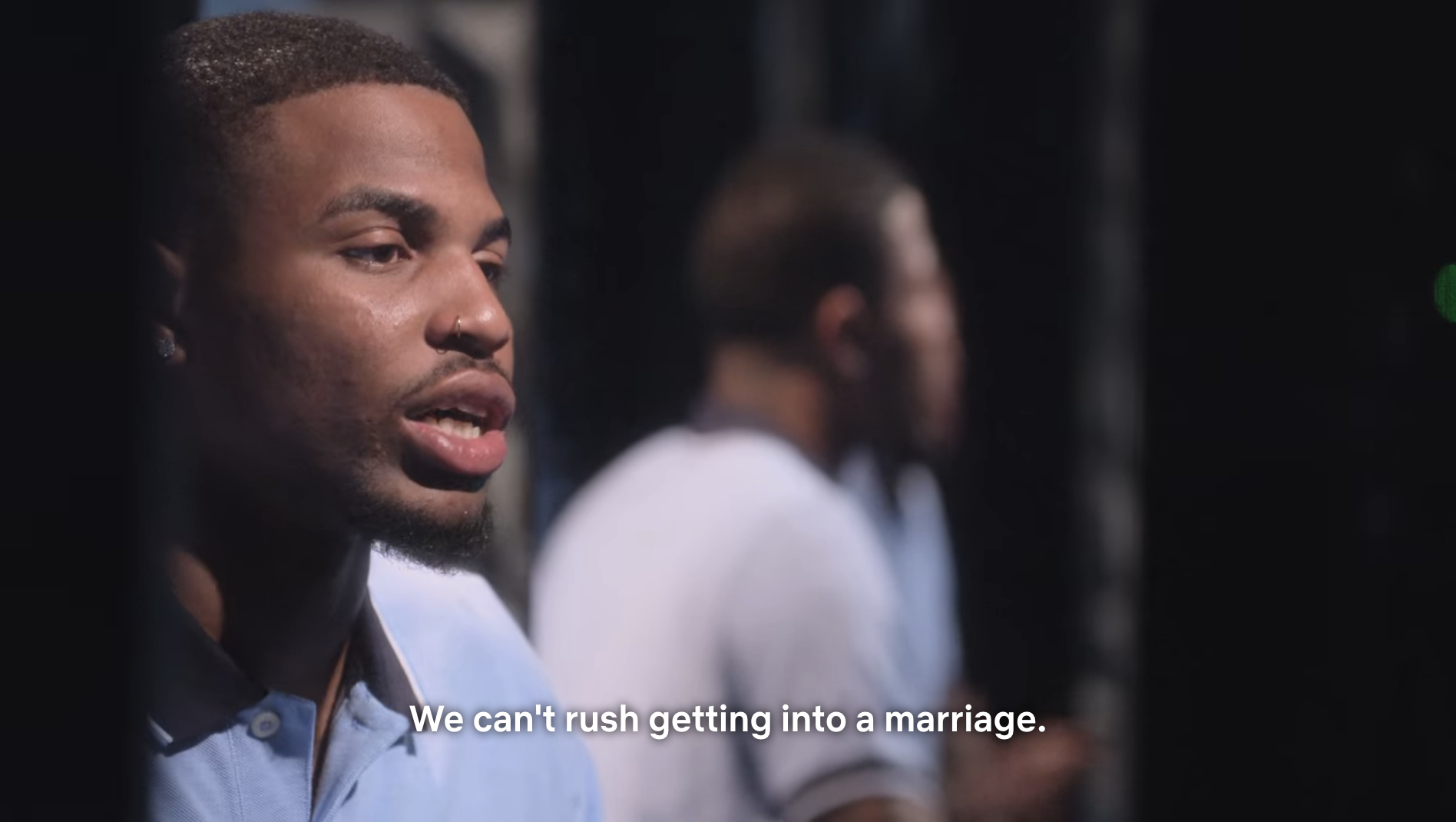 Netflix
Y'all need to walk into a therapist office, not down the aisle.
15.
RAE CAN'T EVEN TALK TO THIS MAN…YET SHE WANTS TO MARRY HIM???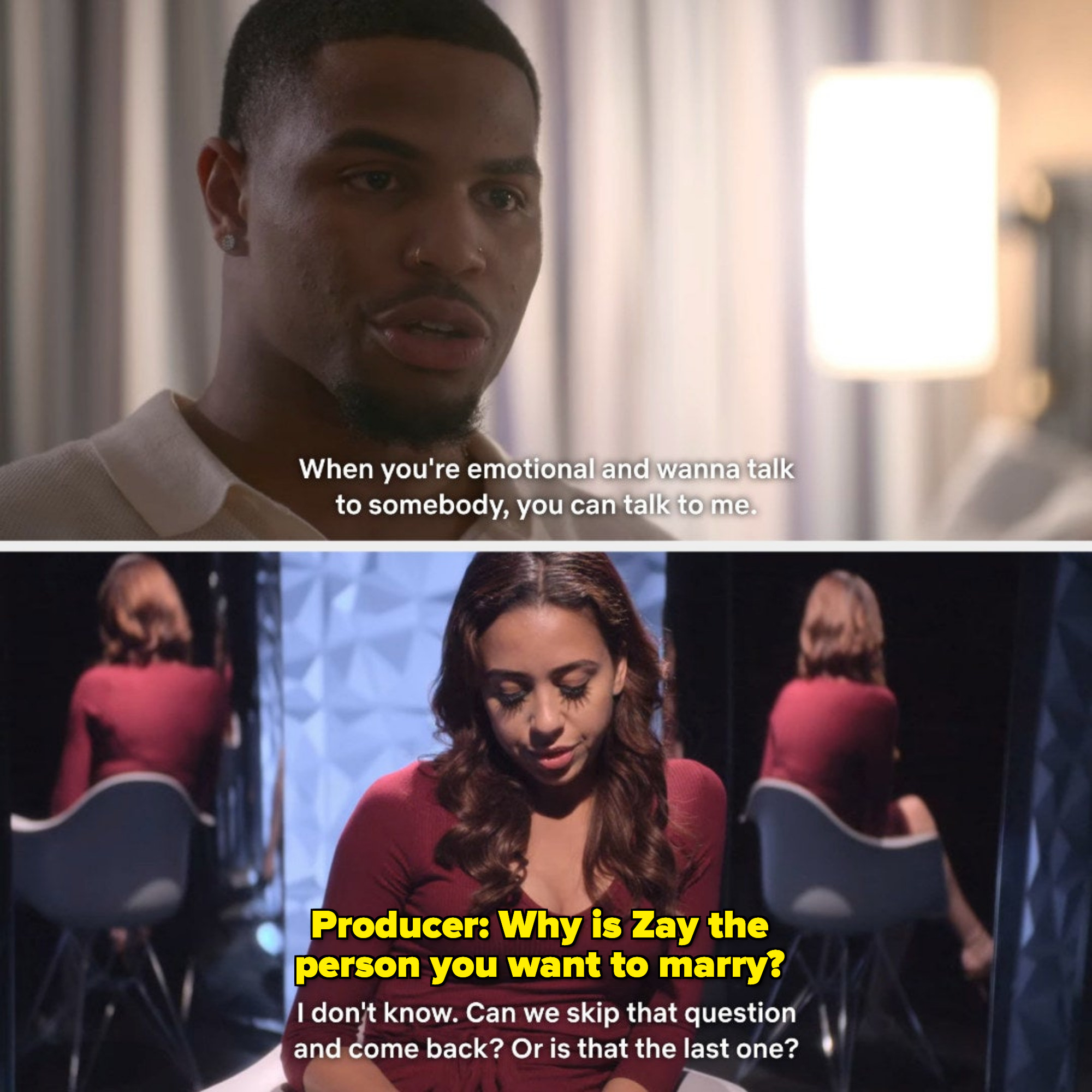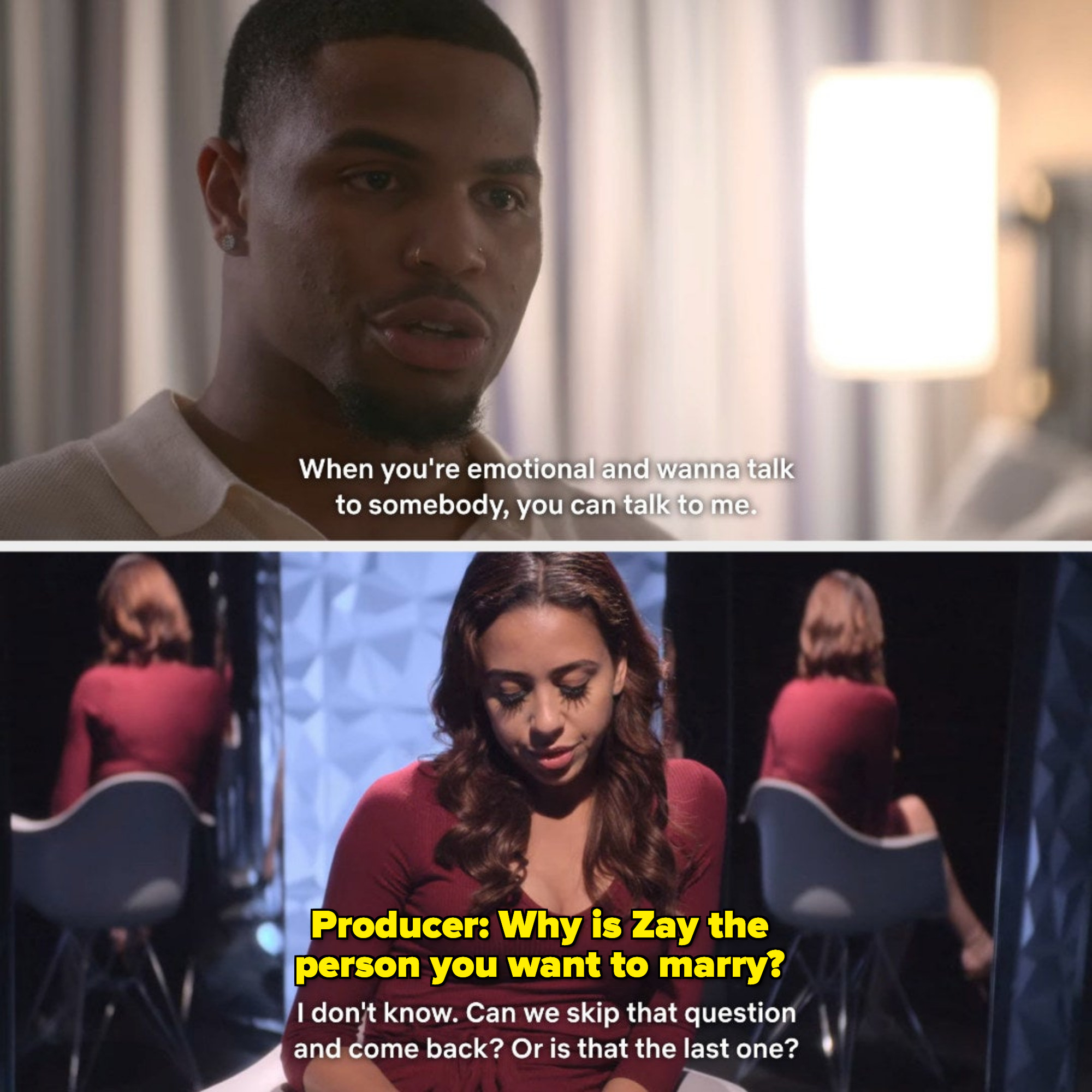 Netflix
Rae legit can't even express why she why she wants to be with this man…Break up. Break up right now.
16.
So far, Randall and Zay are the ones making all of the sense.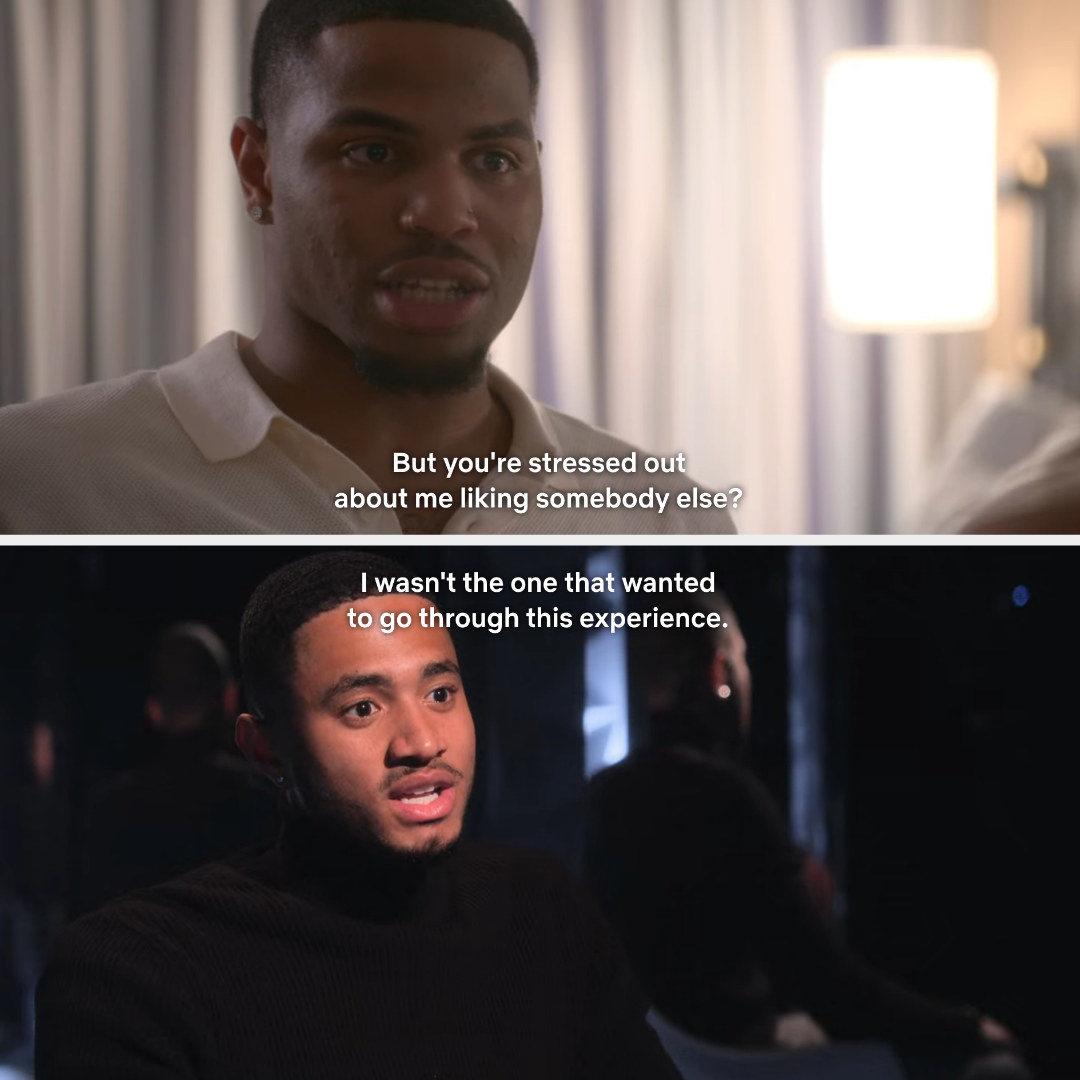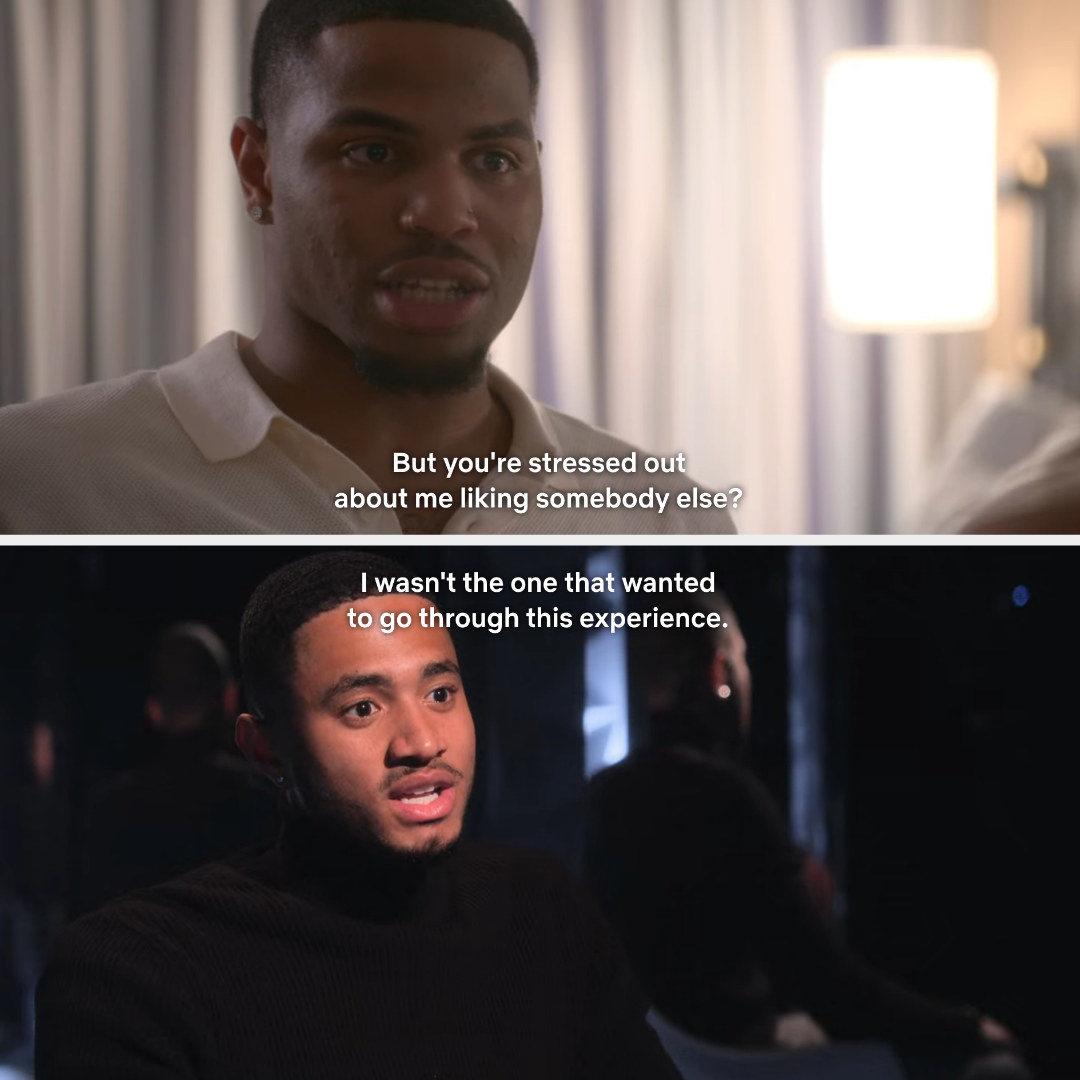 Netflix
I wish nothing but the best for these two men…and I feel like that is NOT the women they entered this experience with.
17.
I mean…I see nothing wrong with moving in together before marriage???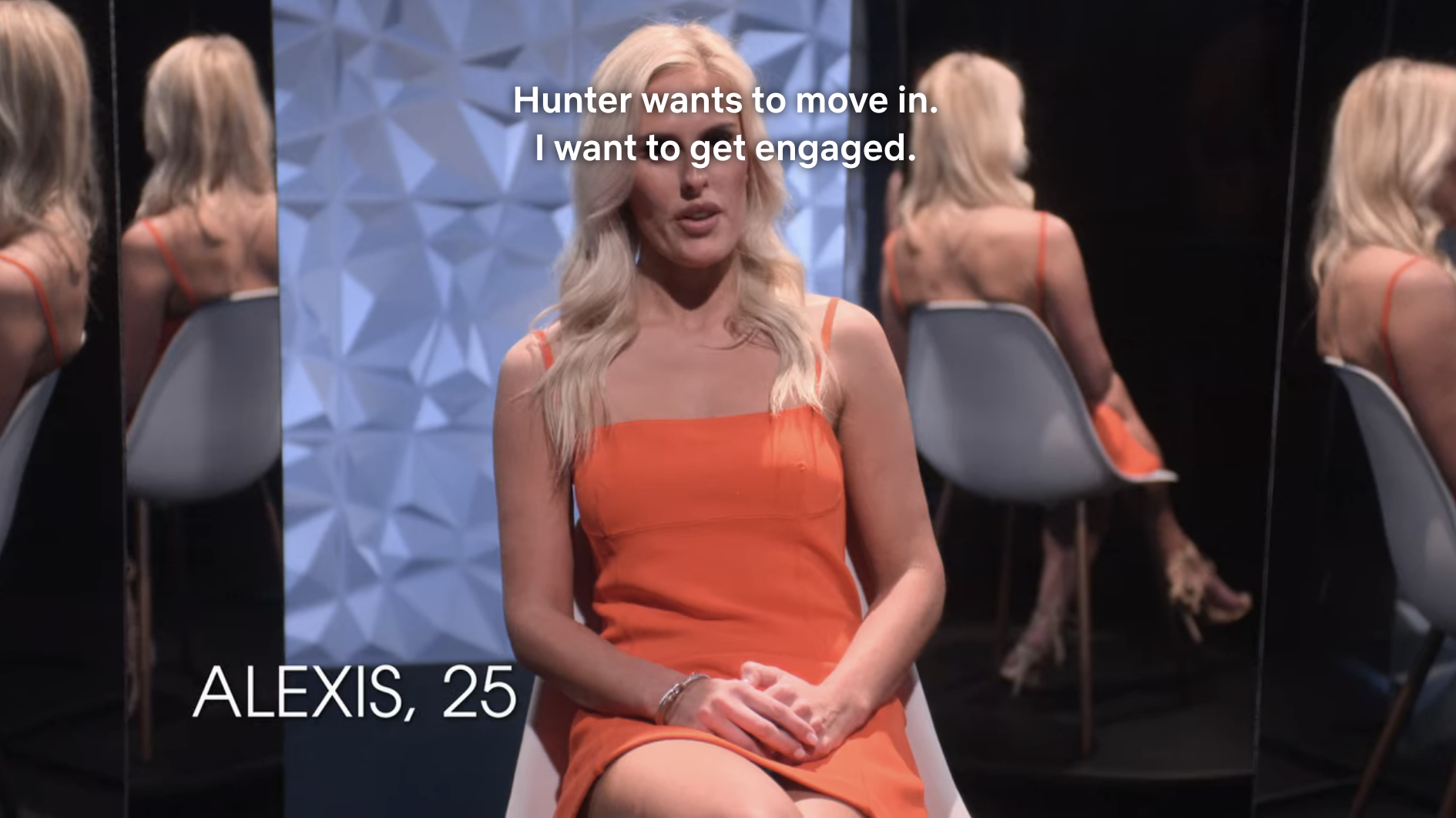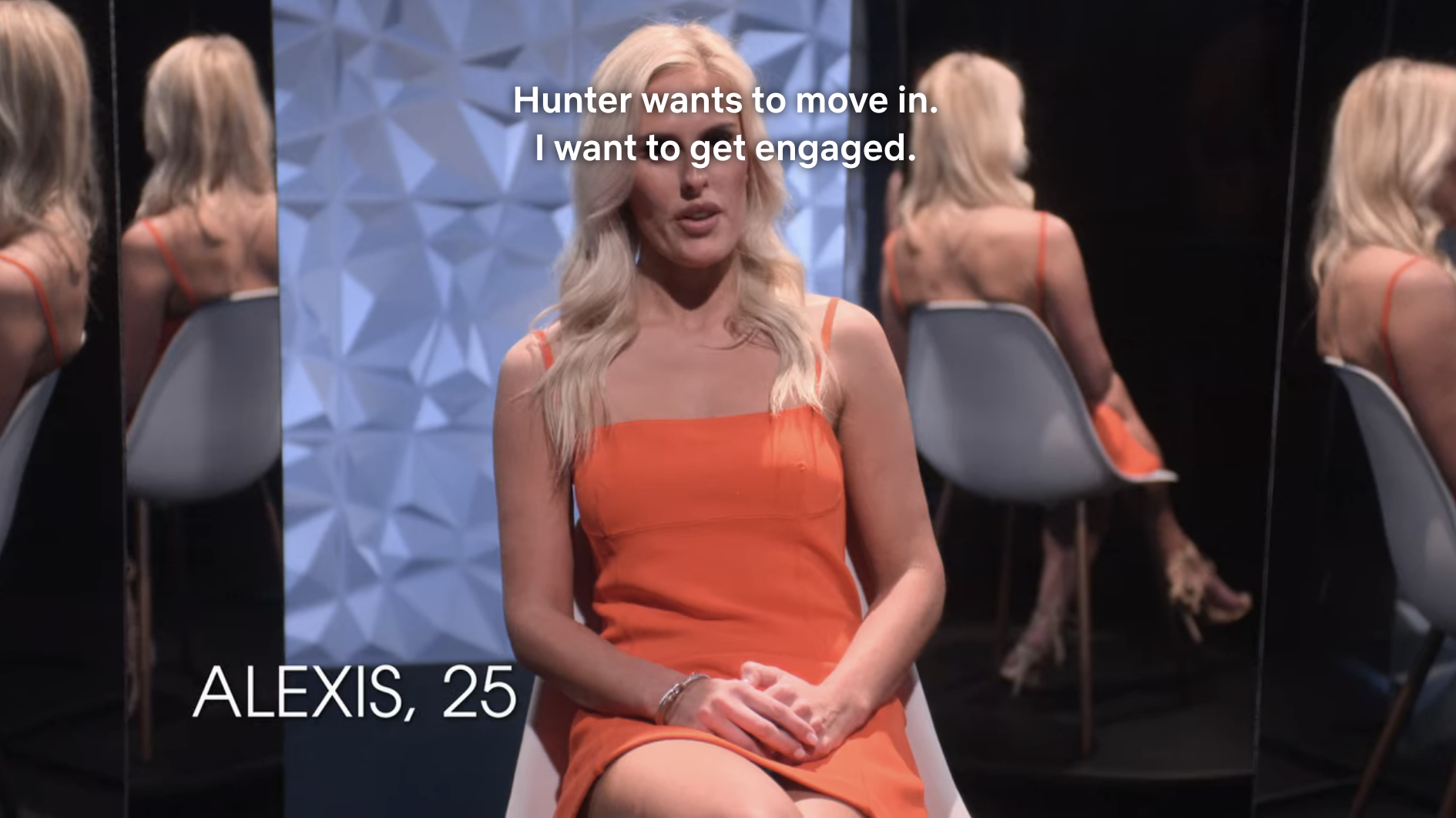 Netflix
Don't you wanna see if you're compatible cohabitating before tying the knot? No? Just me?
18.
WHY IS THIS EVERY WOMAN ON THIS SHOW'S PERCEPTION OF MARRIAGE????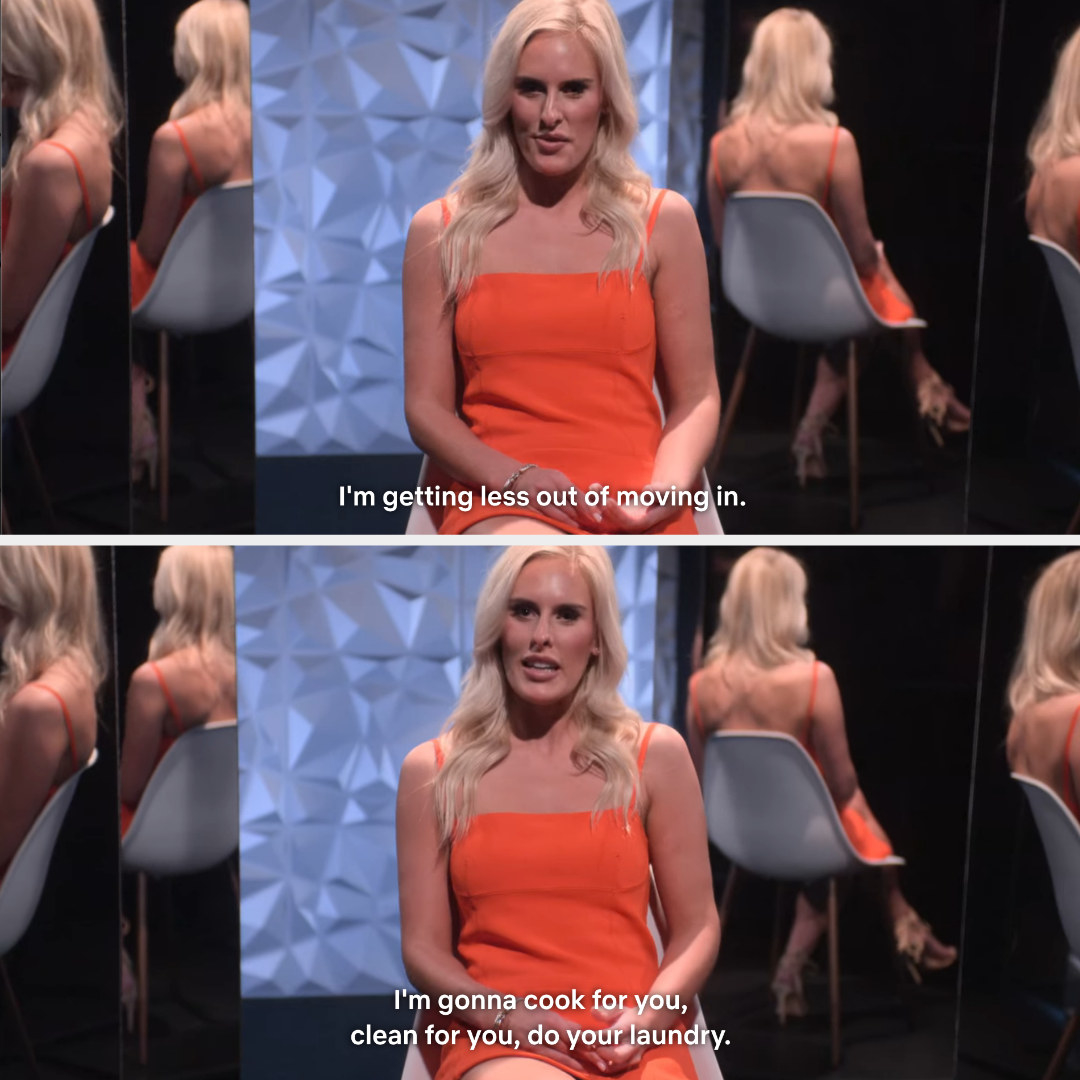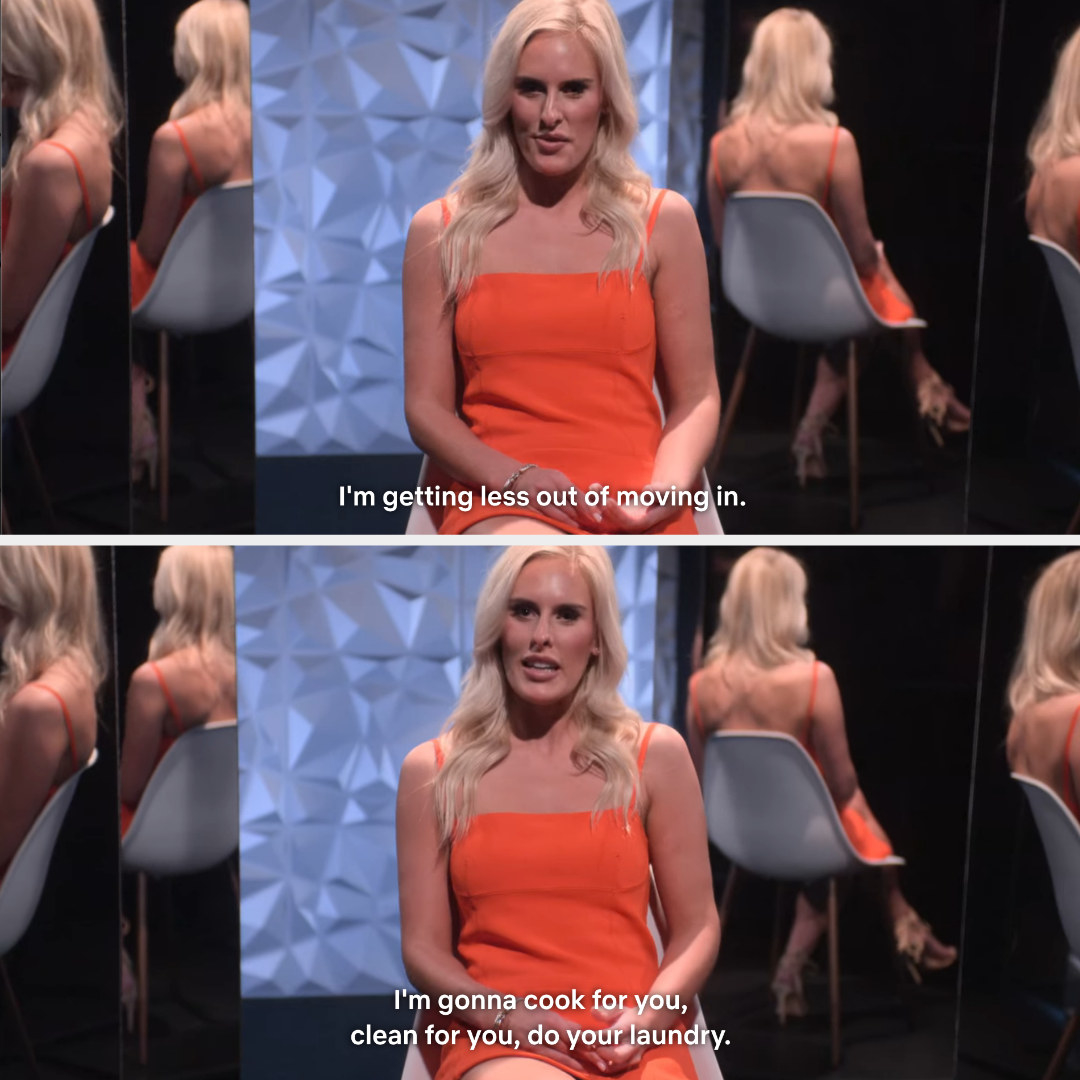 Netflix
It's giving 1960s housewife.
19.
OMG, OK the couples are now uncoupled and are dating around to see who they want to conduct the experiment with. What could possibly go wrong*?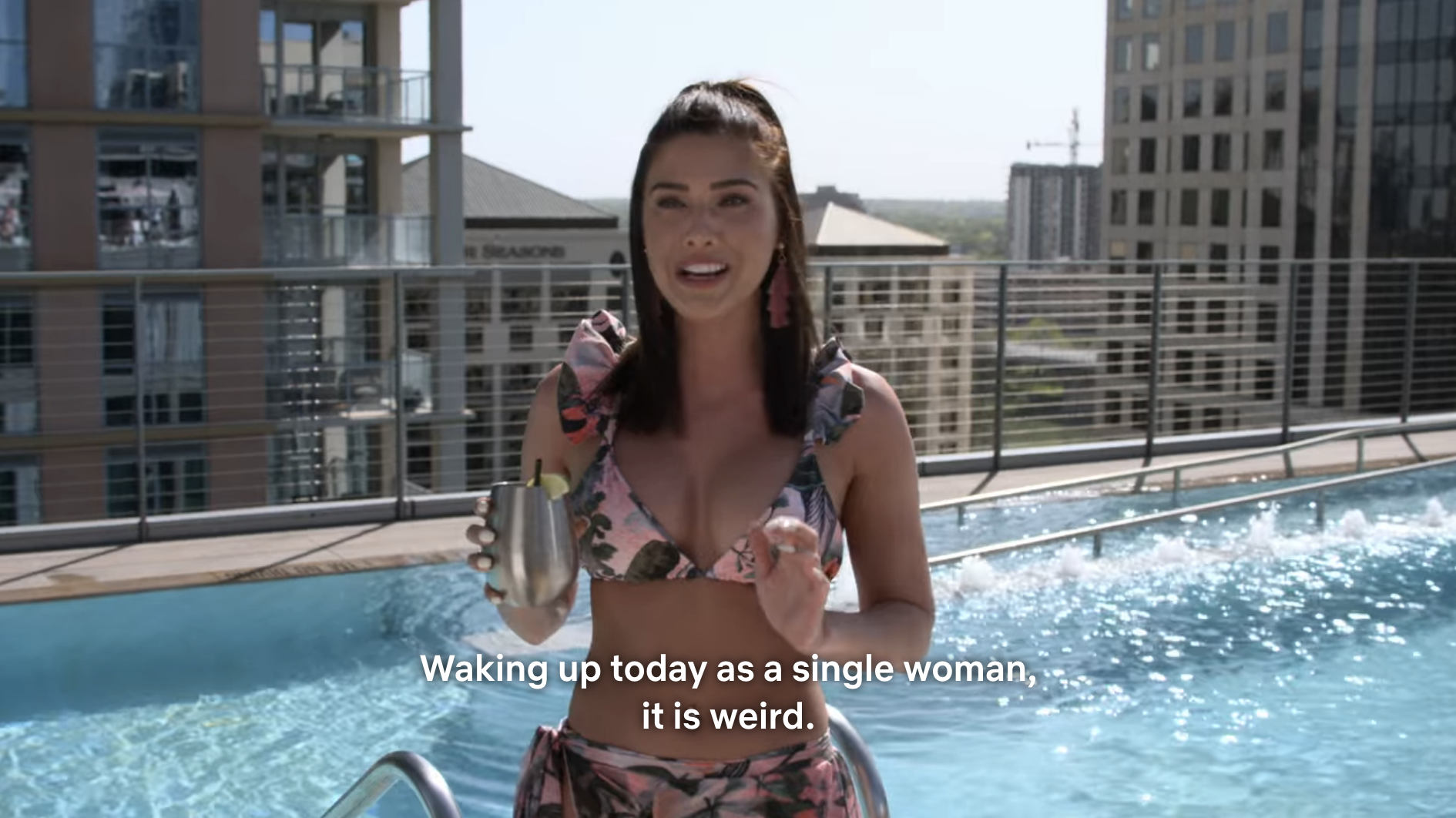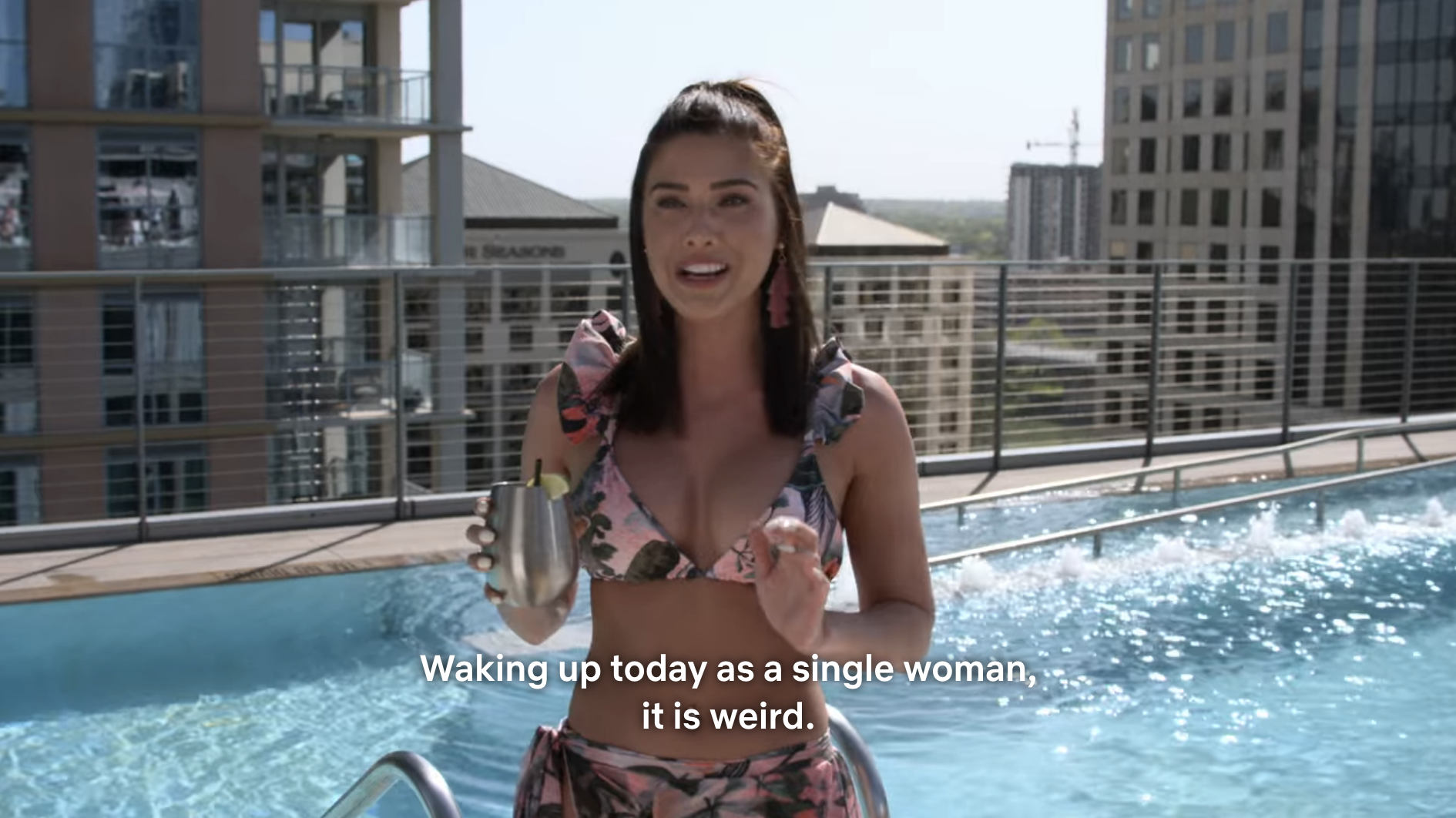 Netflix
*A lot, a lot could go wrong, but I signed up for mess!
20.
This is the first time April has said anything worth a damn this entire episode: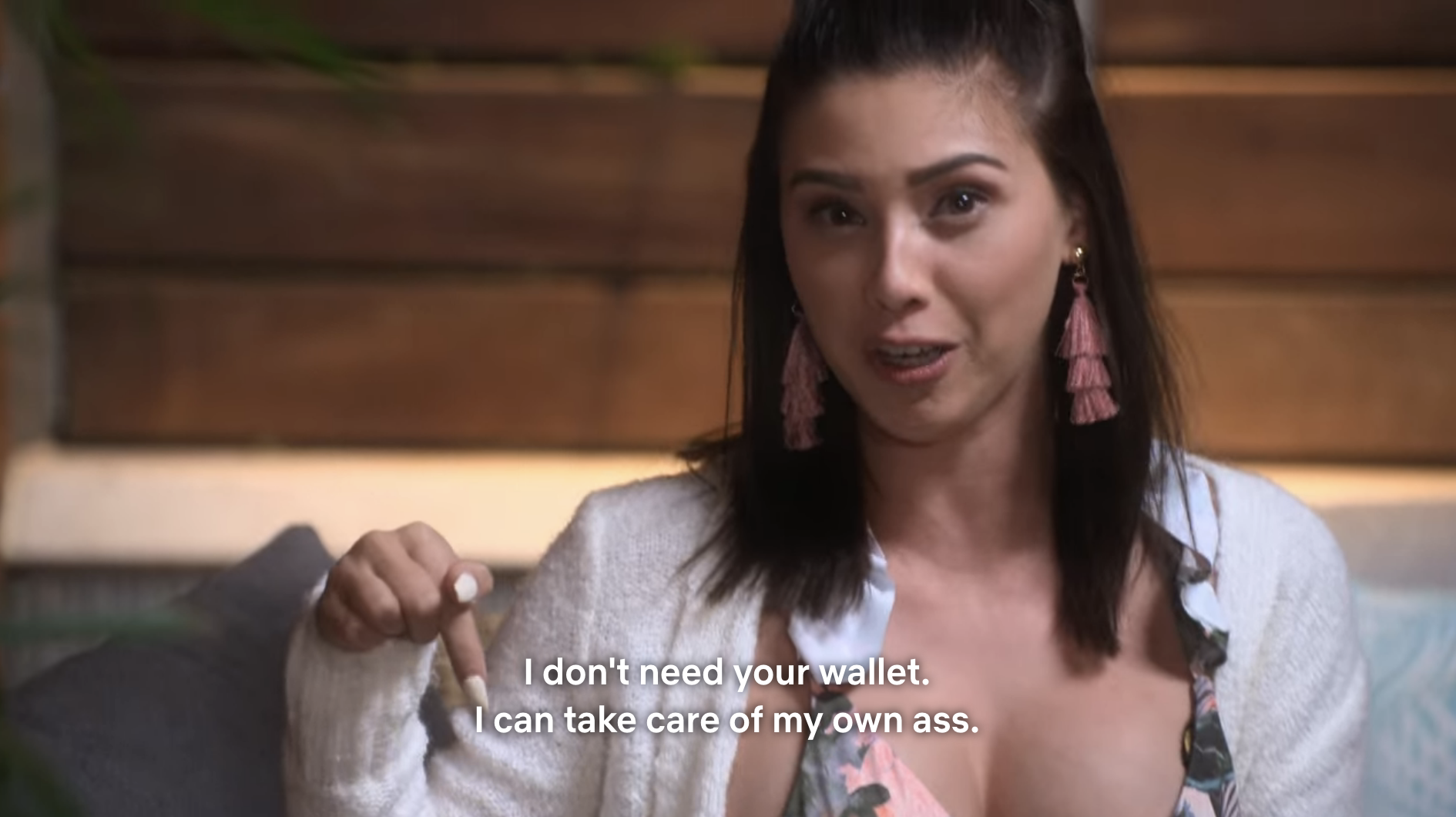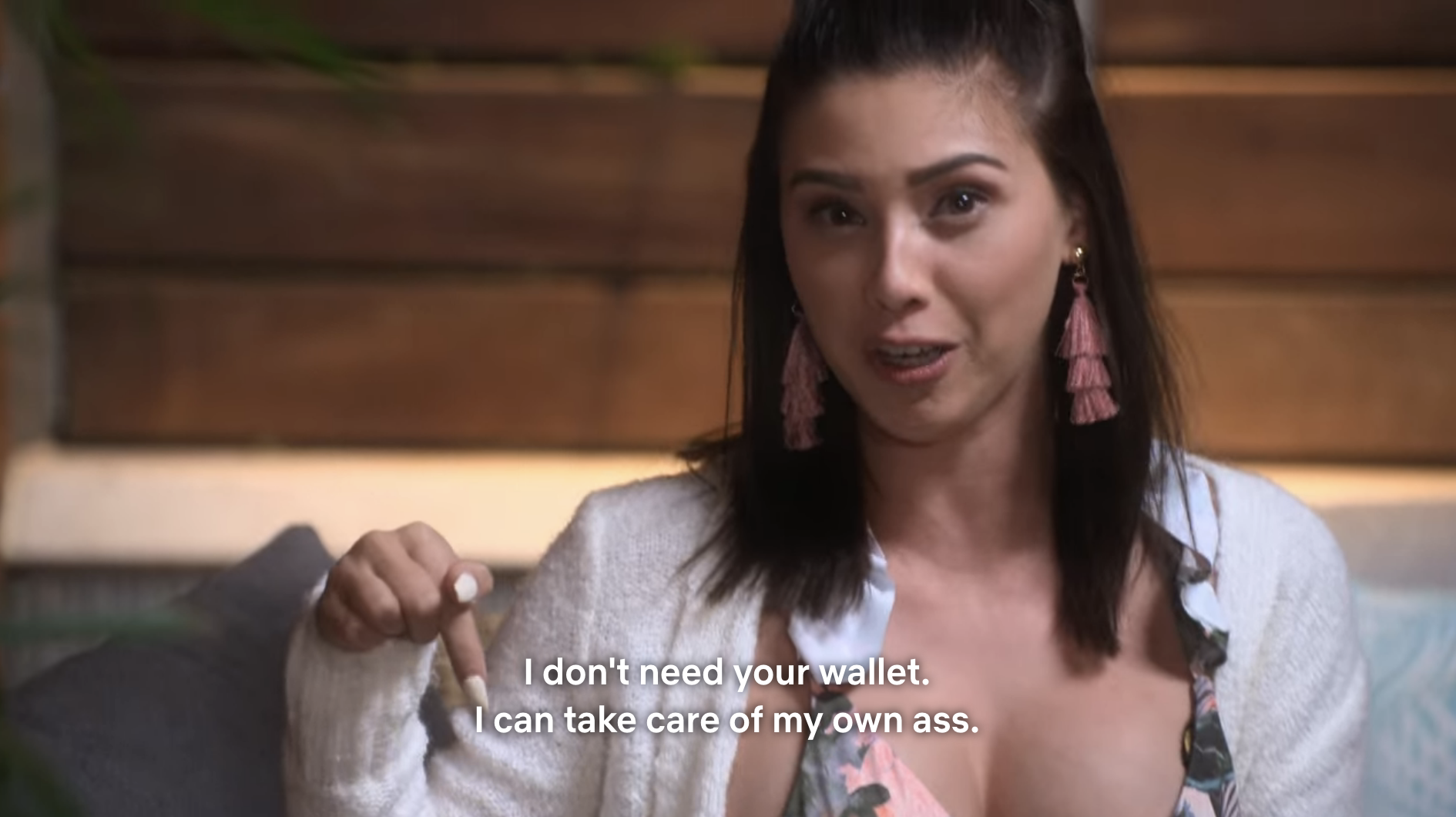 Netflix
However, even if you're financially stable, that doesn't mean that your partner is and is ready to get married. It takes two to tango!
21.
Randall asked Madlyn how things are between her and Colby and her IMMEDIATE response was that he was annoying… Honey save all of us some time and just break up with that poor mans: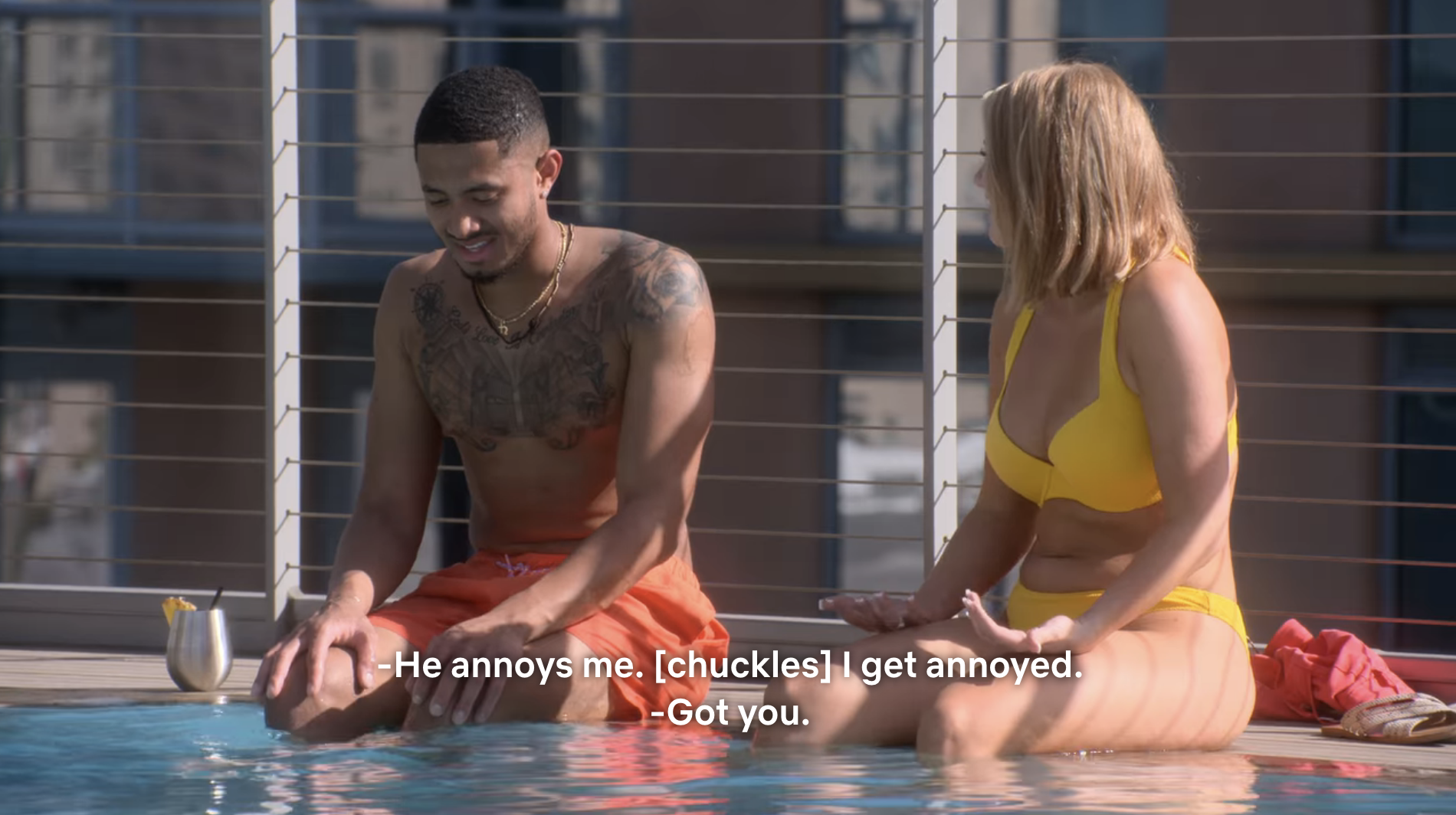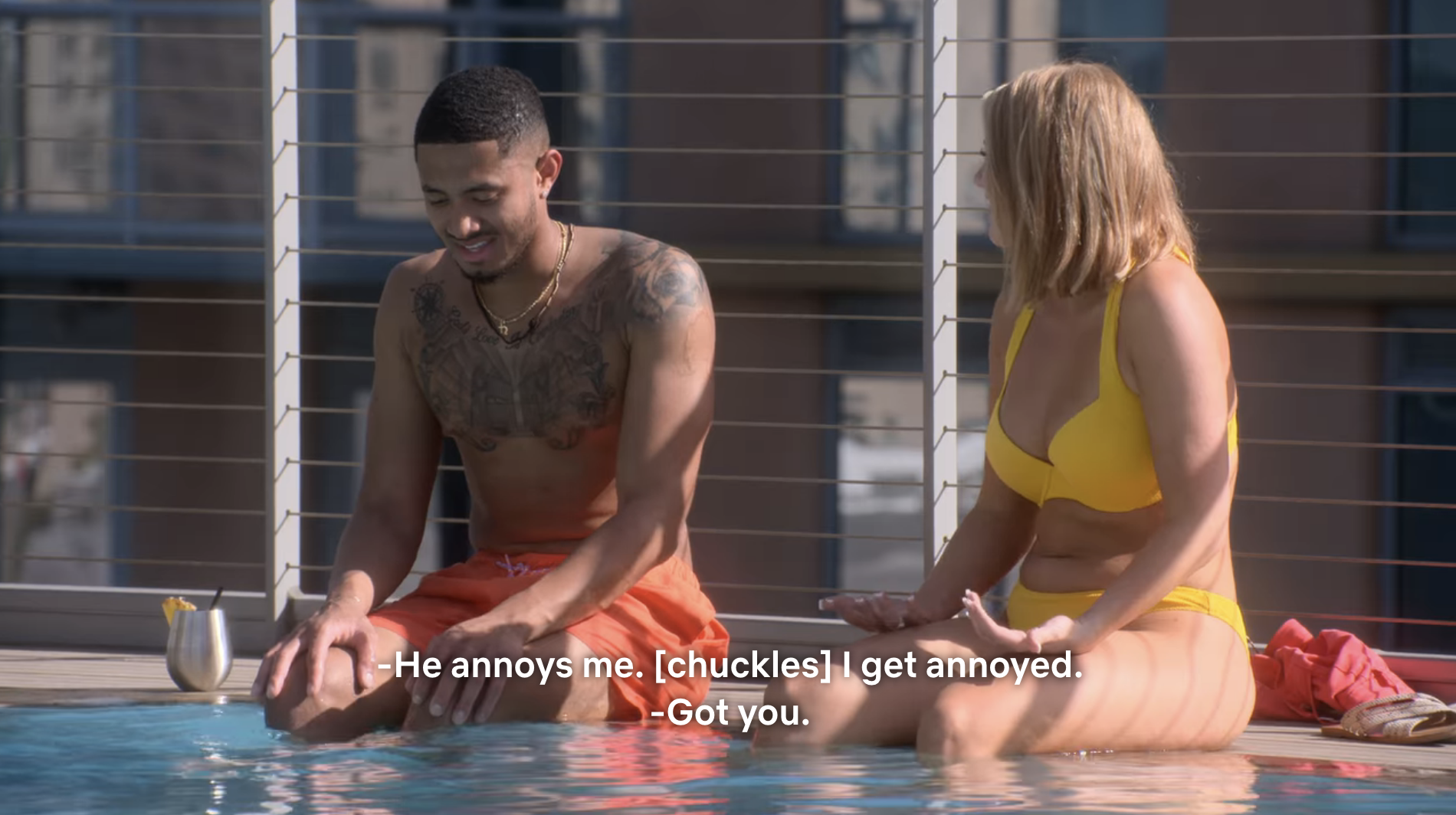 Netflix
Madlyn is solidified as enemy No.1.
22.
Unpopular opinion, but I see nothing wrong this.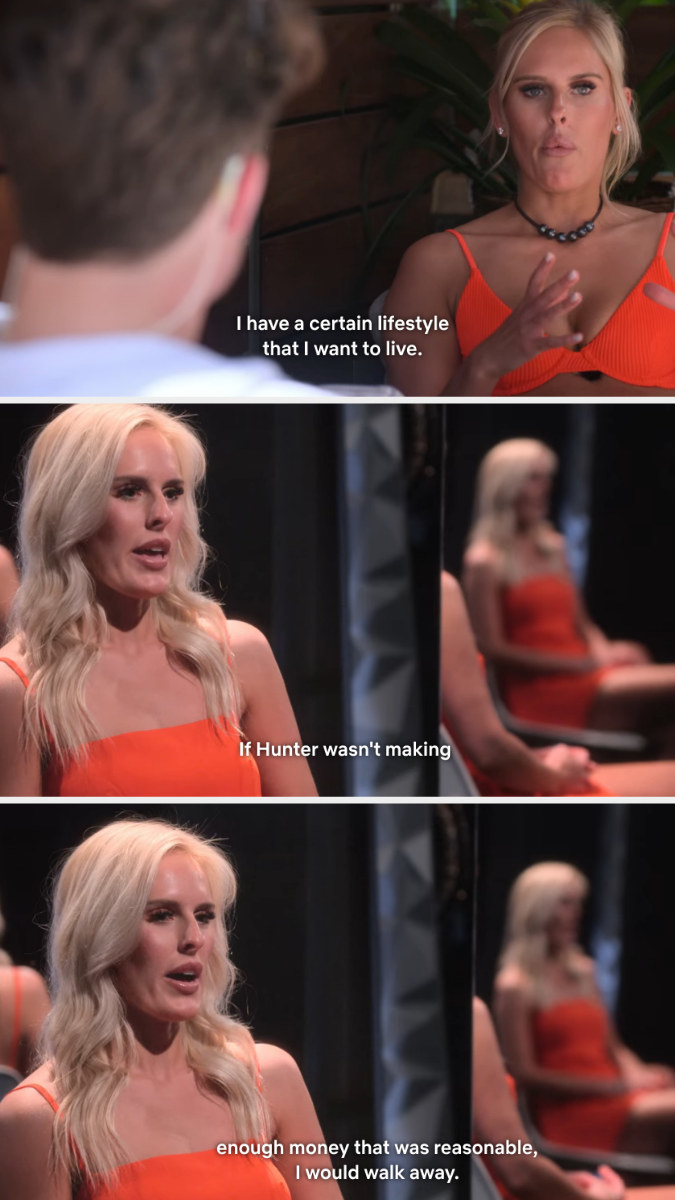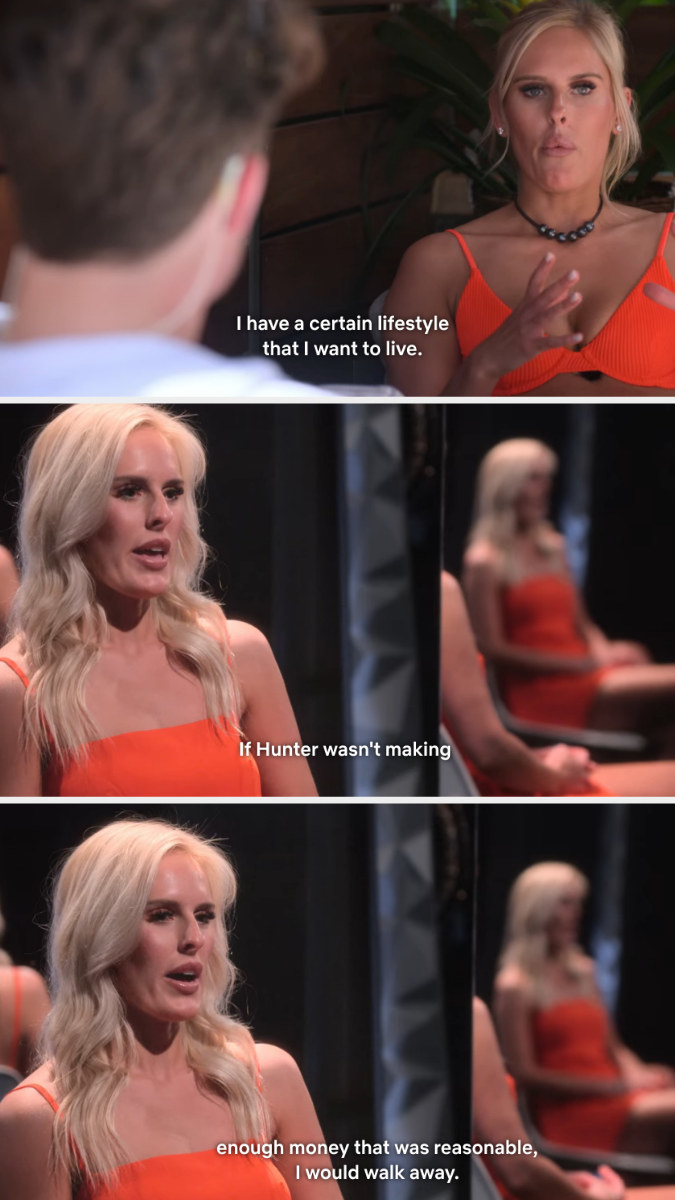 Netflix
Is it how I feel? Not particularly. But if she wants a bougie lifestyle, she should try to find someone who also feels that way.
23.
OK, first April and now Lauren? These ladies are seeing something that Madlyn is clearly missing.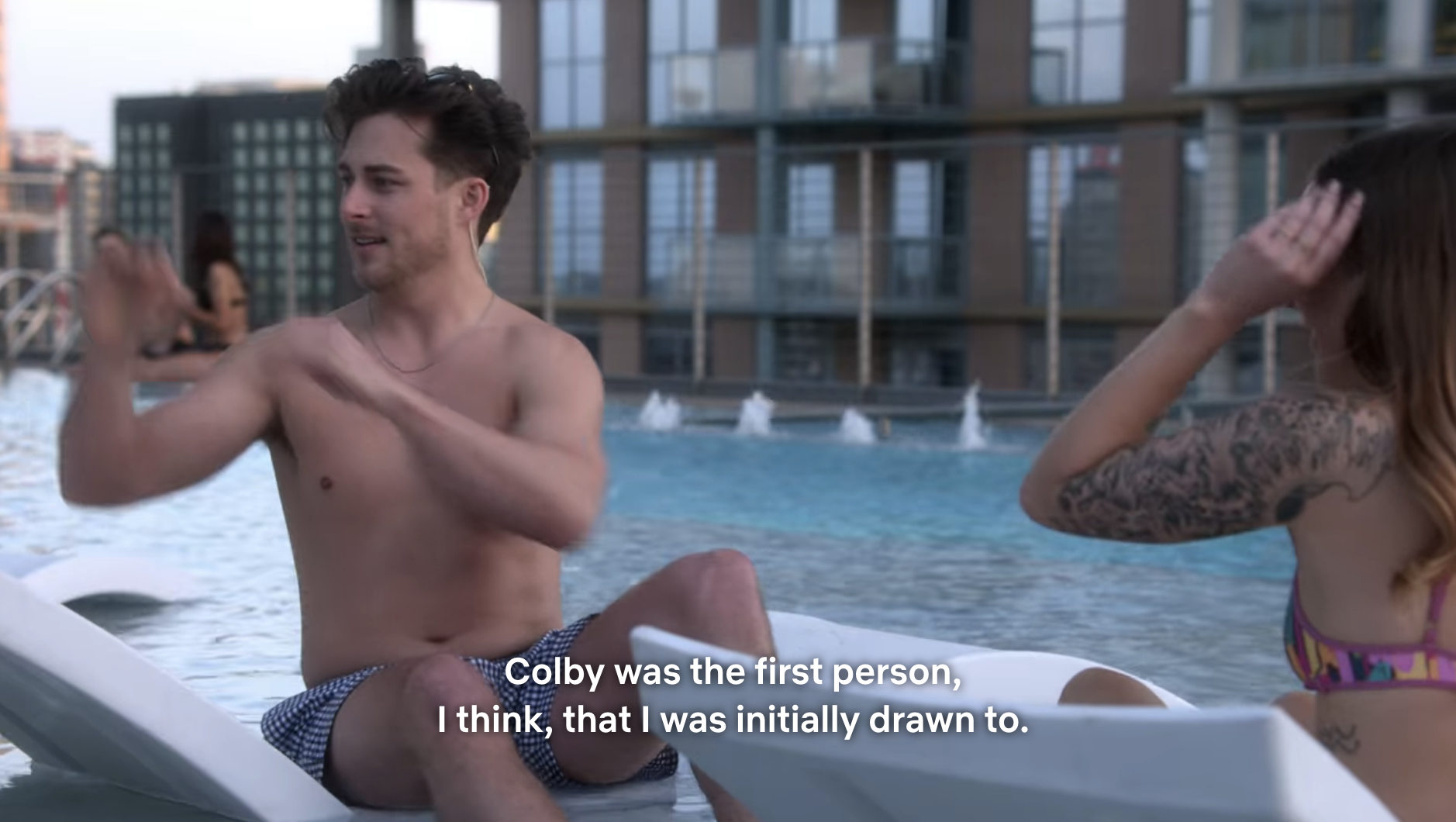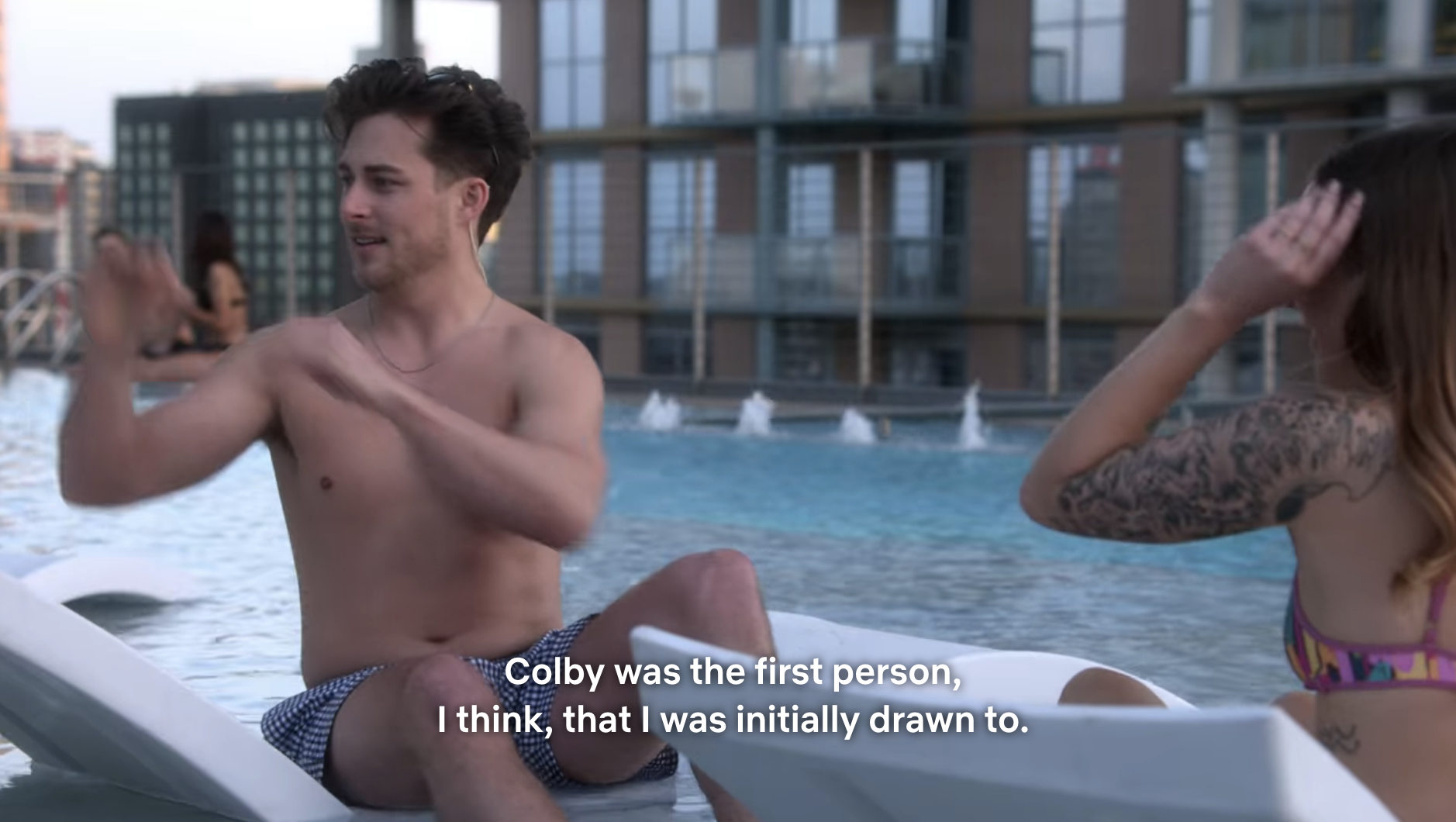 Netflix
I can already see the rivalry sparking between April and Lauren and all the other women vying for Colby's attention.
24.
The common through line I'm sensing is that all of these couples just needed to gain another perspective on their current situations, whether it's having kids or what it means to be financially stable. But YOU DIDN'T HAVE TO COME ON A DATING SHOW TO FIND THIS OUT! THERE ARE PAID PROFESSIONALS TO HELP YOU WITH THESE THINGS!!!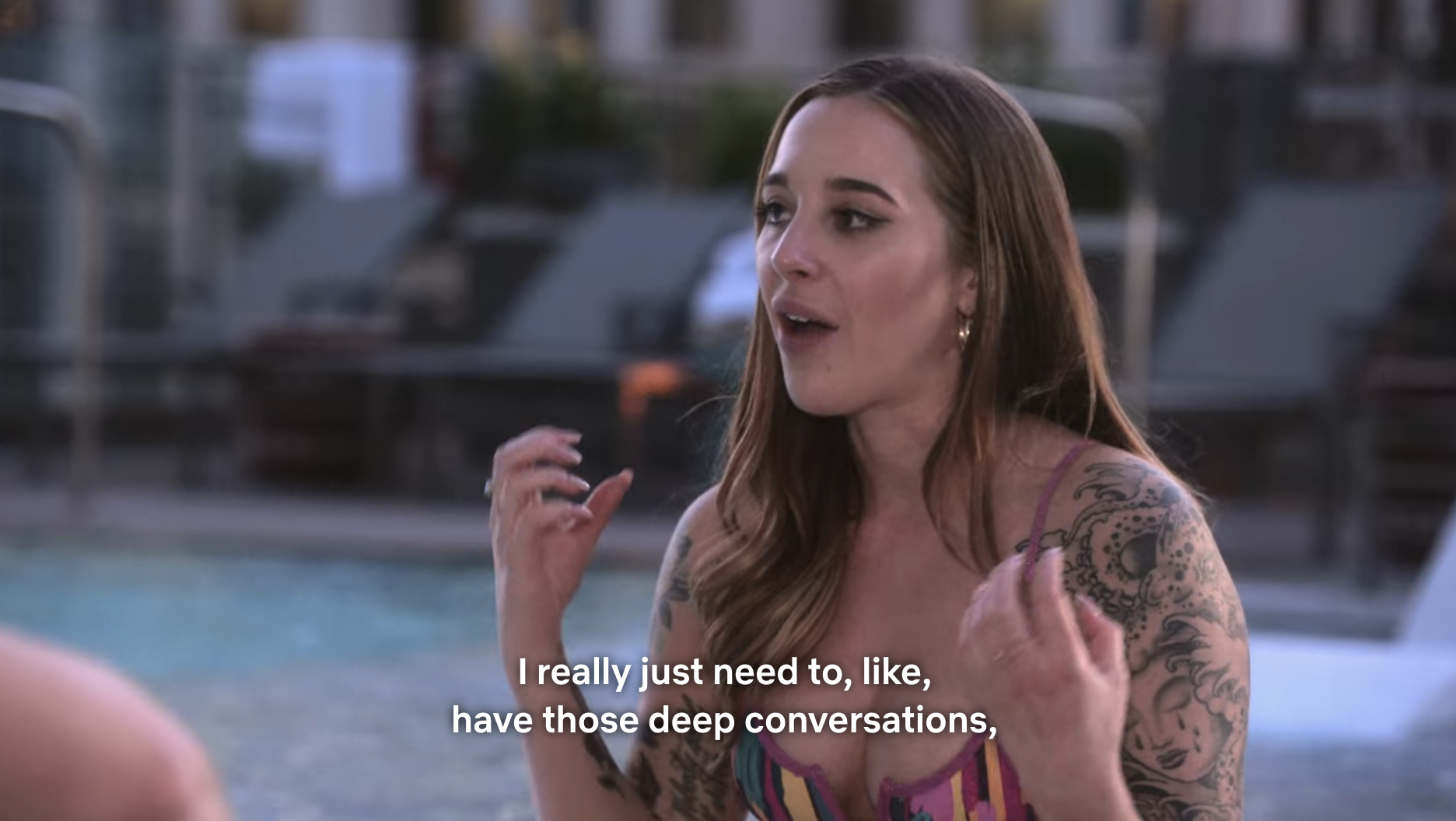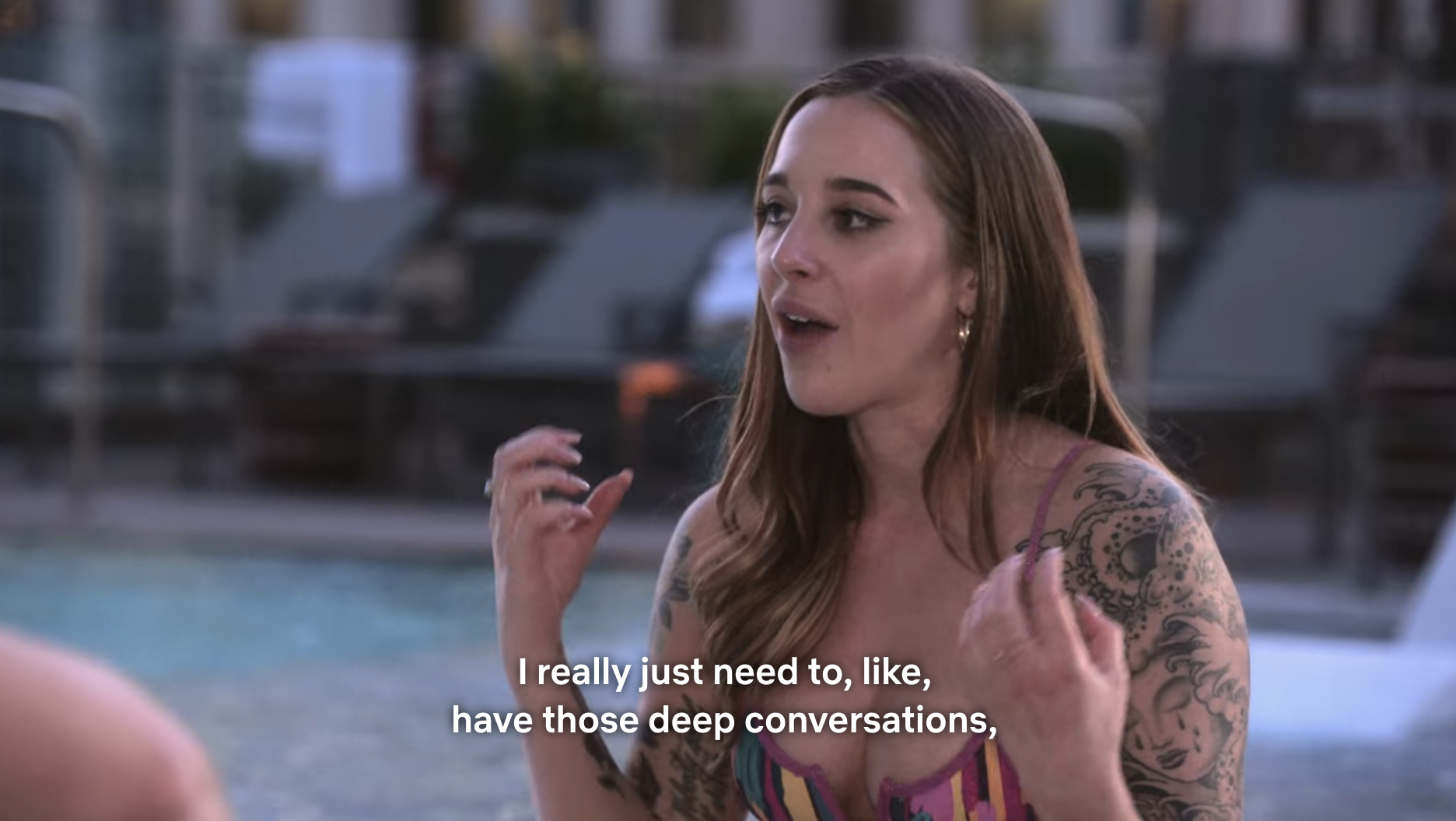 Netflix
Lauren is bringing up her fear of going through parenthood alone since her partner (who really wants kids) works so much. But, instead of telling him this, she tells Colby??? MAKE IT MAKE SENSE.
25.
LMAO, Colby really said, "Madlyn WHO??"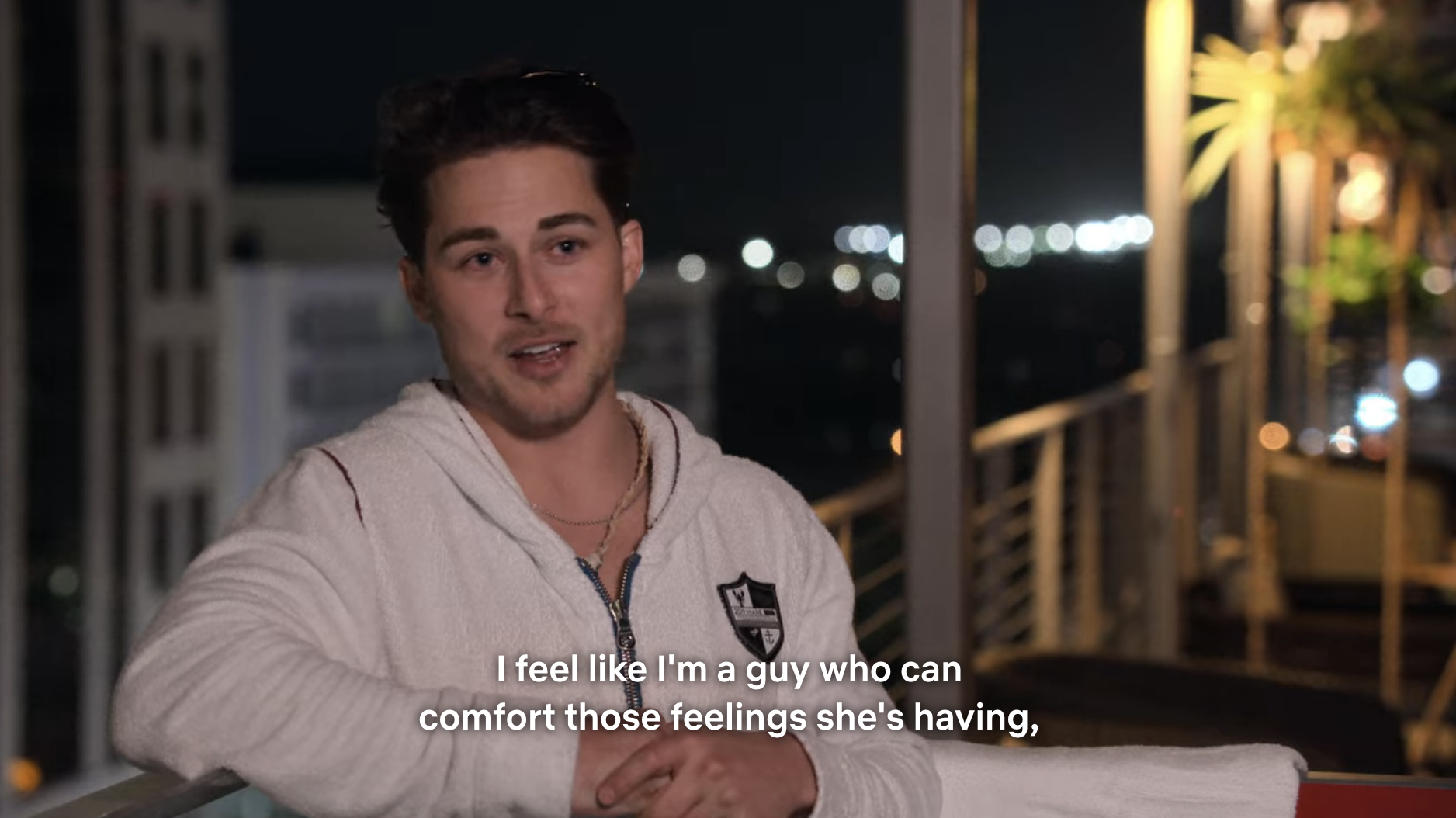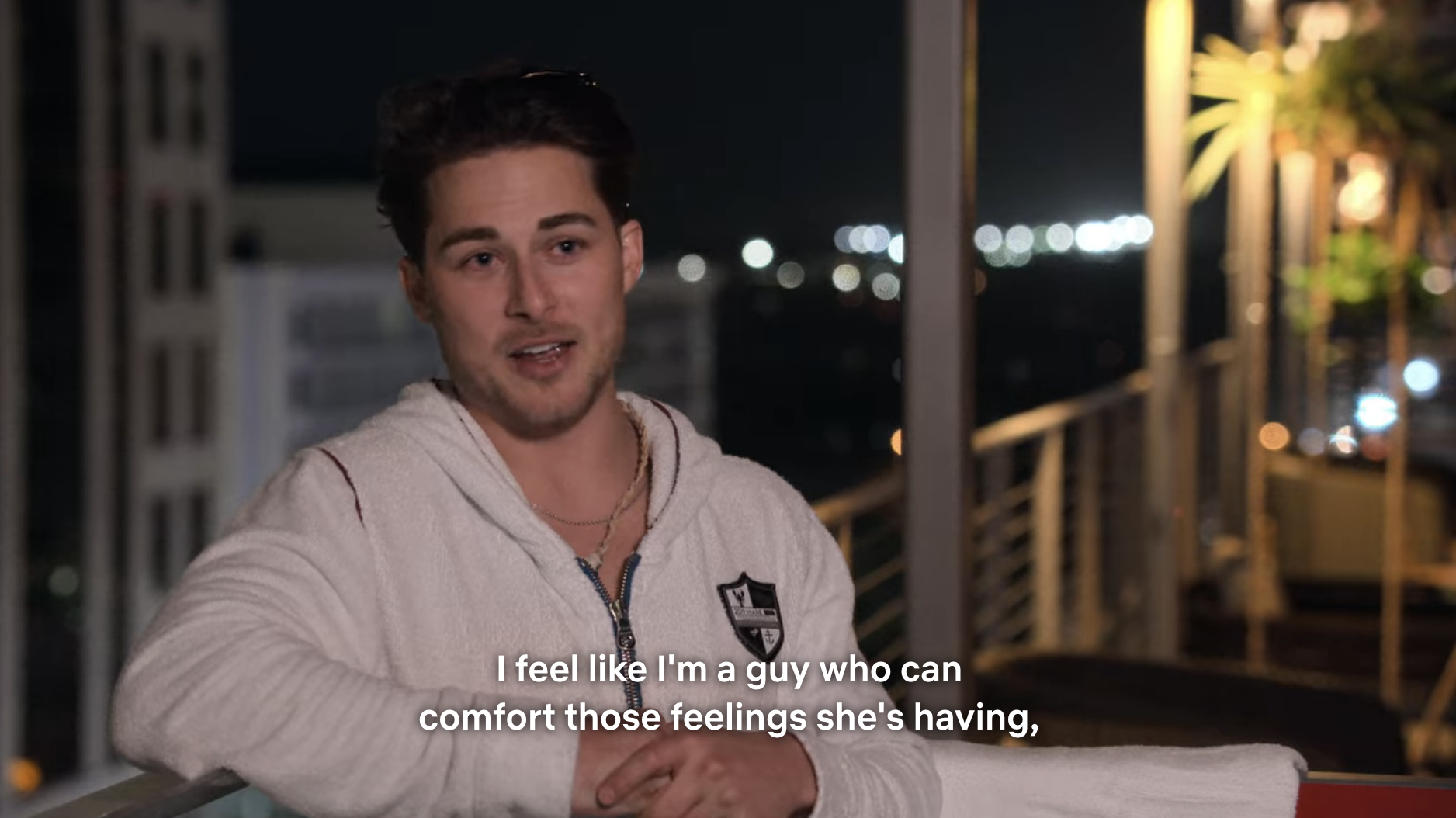 Netflix
Colby is all aboard the Lauren express.
26.
Jake's like, "April? I've never heard of her."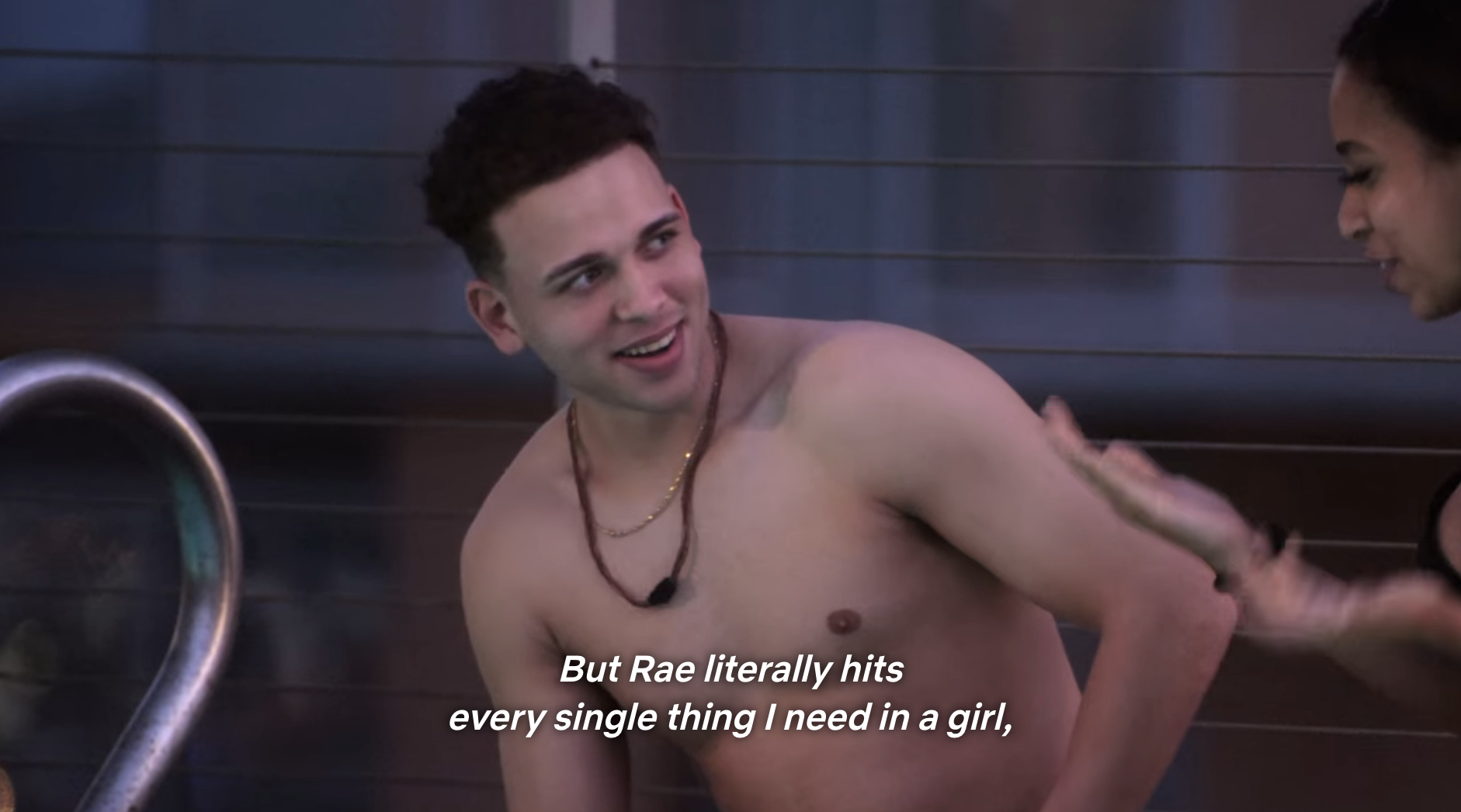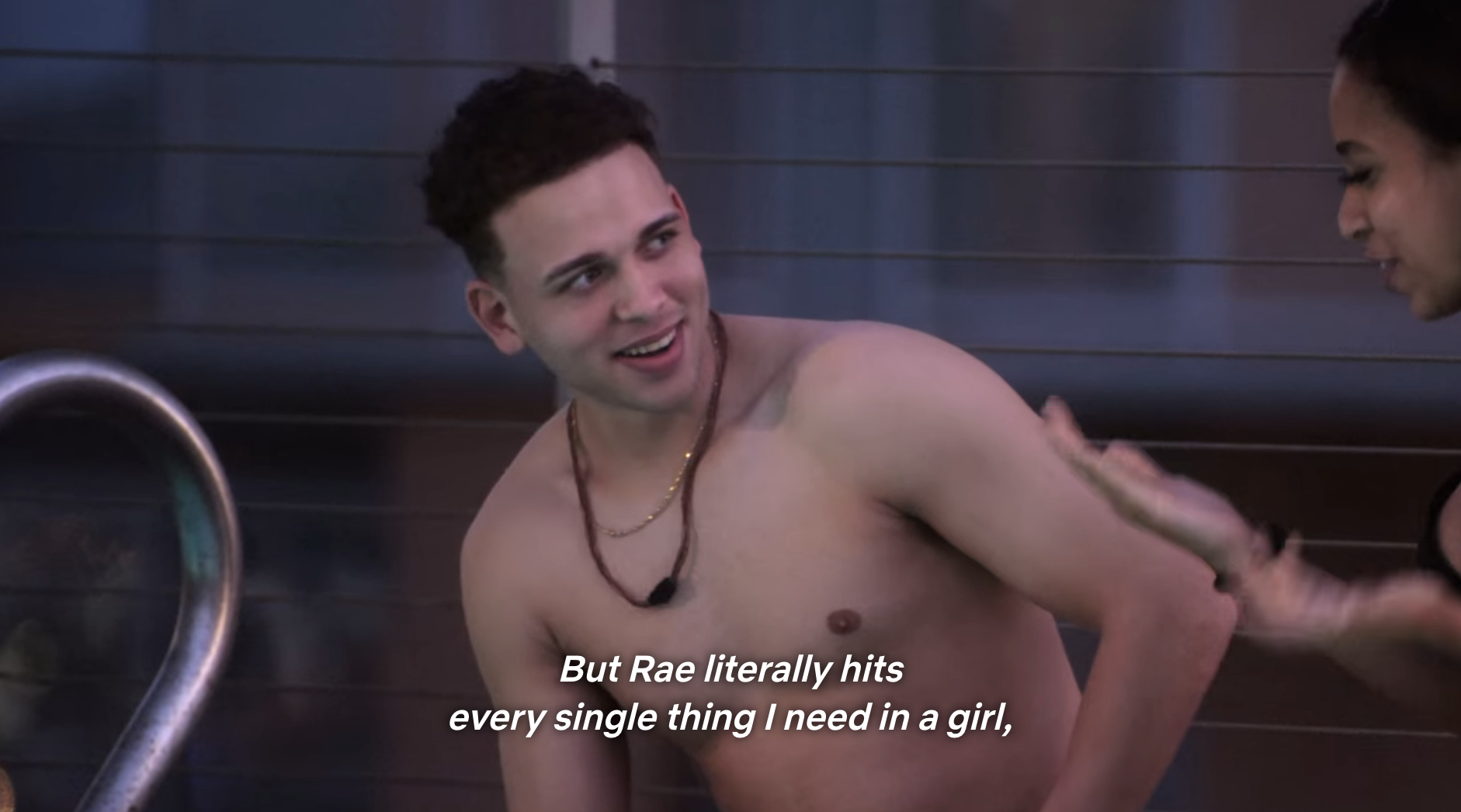 Netflix
Looks like Jake just hitched his caboose to Rae's.
27.
Jesus, take the wheel.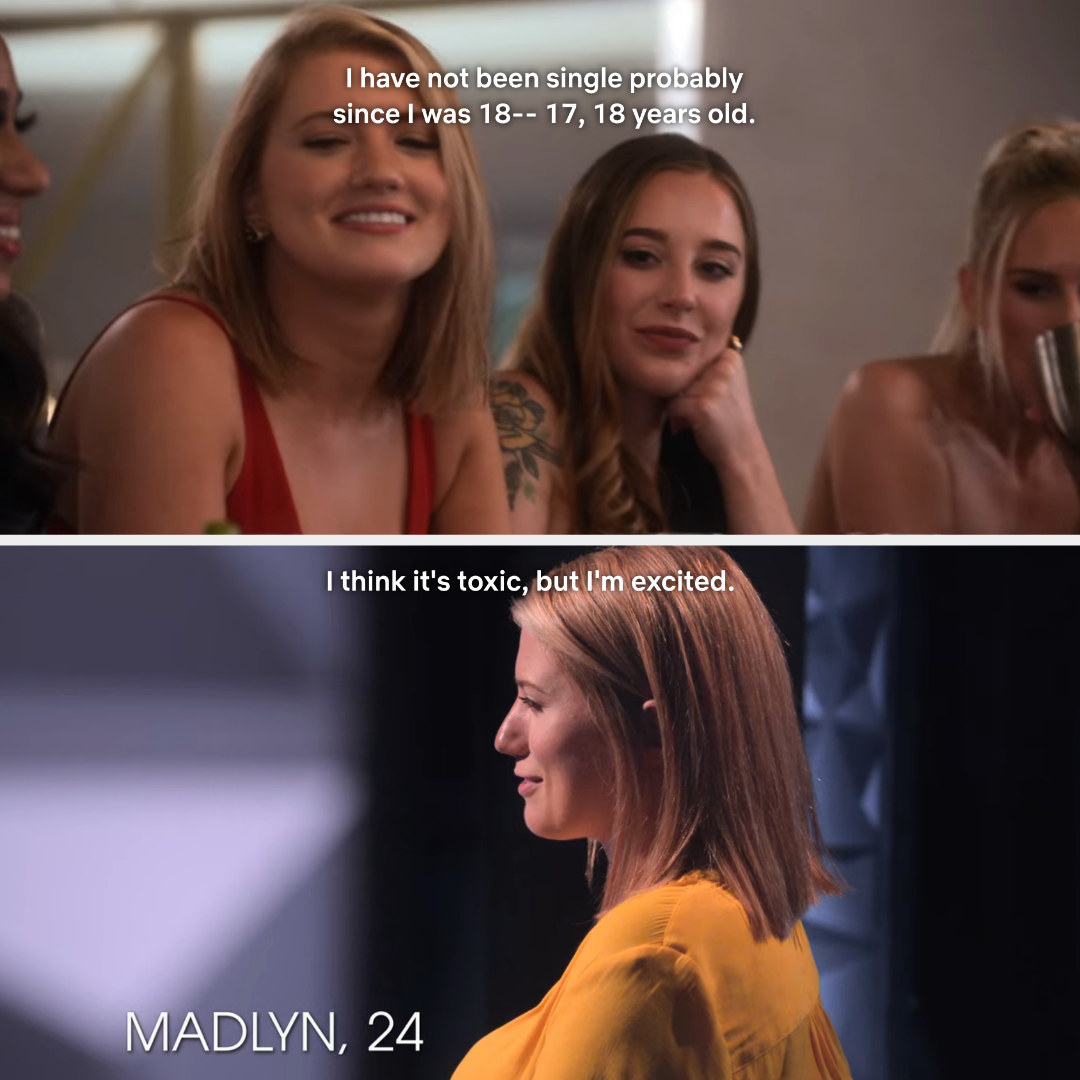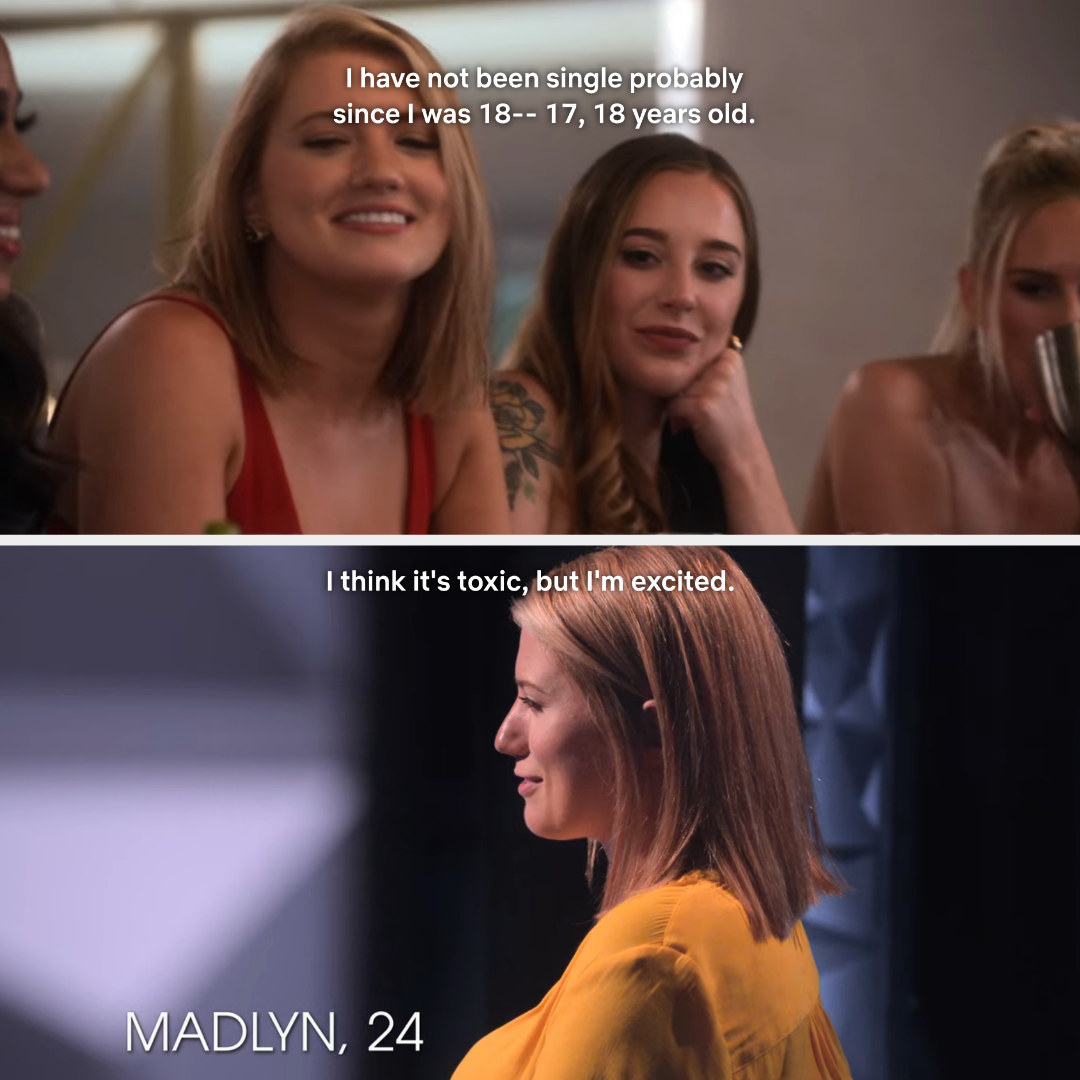 Netflix
At least Madlyn KNOWS she's toxic.
28.
OK, I hate to say it, but I'm kinda shipping Jake and Rae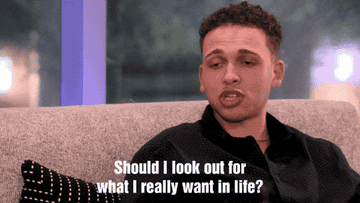 Tap to play or pause GIF Tap to play or pause GIF

Netflix
They just…make sense? You know?
29.
AND THINGS JUST GOT AWK!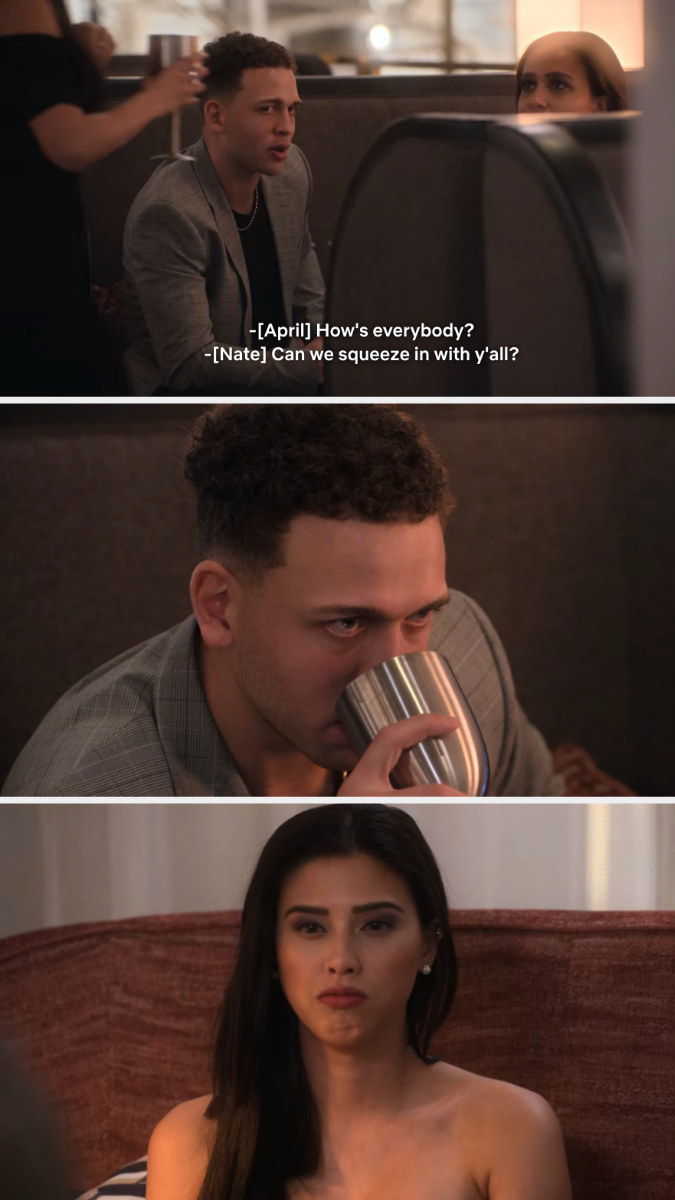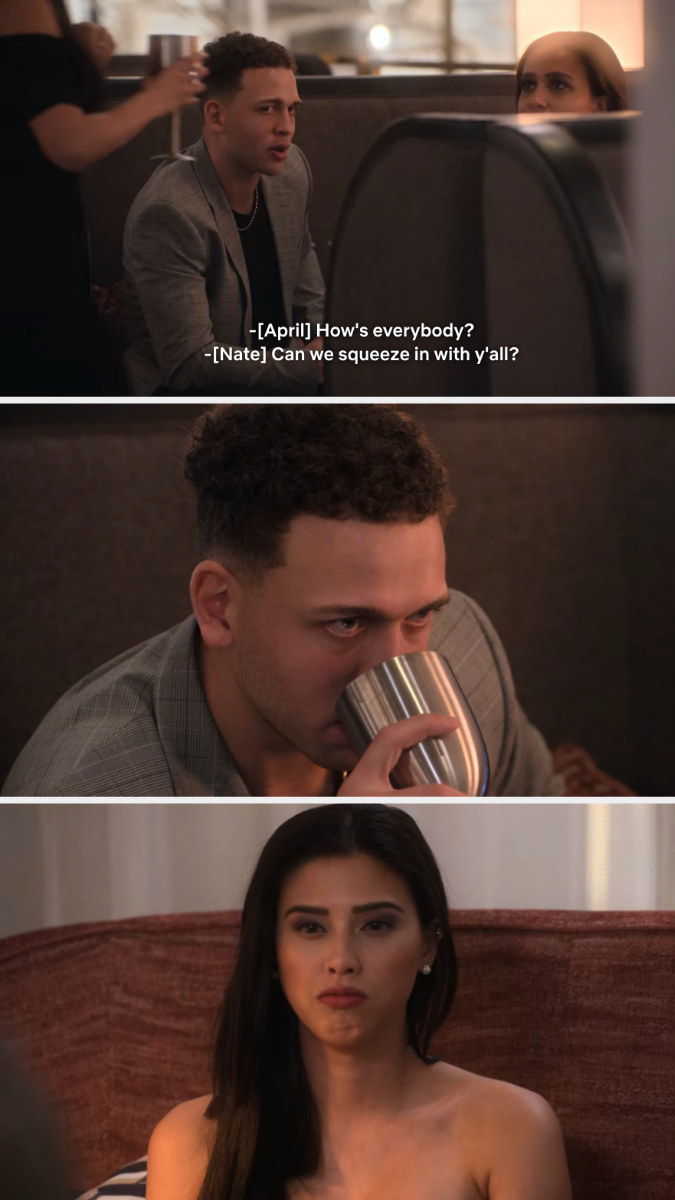 Netflix
There should be a rule against you butting in on the date of the person you came here with.
OH ME, OH MY! Well, ya girl is officially invested. At this point I don't think ANYONE should go home with who they entered this experience with, but only time will tell! Catch me watching the rest of this series in a single setting with a bottle of red wine.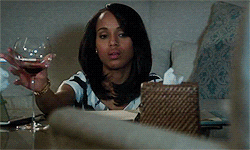 Tap to play or pause GIF Tap to play or pause GIF

ABC